VIDEO: Tactical Advance to Battle (TAB) Instruction + Gear
This is a video that Hunter and I made last weekend during the Combat Team Tactics (CTT) Class:
This is the type of training you should be doing for the MVT Rifleman Challenge, among other things.
We have just brought out Tactical Fitness Training Plans, which include tabbing as a part of the tactical fitness training.
When I am tabbing out in public, this is the kind of gear I will wear. This photo was taken at the Manasass Battlefield: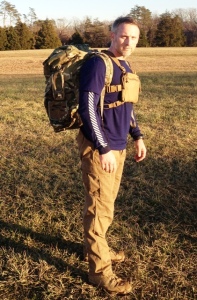 British Army MTP Bergen, short back version, with 'militaryops.co.uk' after-market side pouches, including magazine pouches.
Hill People Gear Runner's Kit Bag. Coyote brown, on chest. Carrying Glock 26, 2 spare magazines, phone, concealed carry permit.
Garmin 910XT GPS watch for time, distance and pace.
Manassas Battlefield, 5.4 miles, 40 lb. 11:30 min/mile pace.
Max