Videos
CQB: Methods of Entry: Step Center
This is a segment from the Max Velocity Tactical CQBC (Close Quarter Battle Course). The three day class covers Tactical Clearance methods. This specific period of instruction concerns the number one man entering an open doorway via the Step Center method of entry.
The CQBC class is a three day event, day 1 on the flat range conducting individual skills and entry drills, using live fire and frangible ammunition. The latter two days are force on target and force on force at the CQB complex.
---
This series of instructional videos illustrate tactical concepts described in the Tactical Manual: Small Unit Tactics (link below) available on Amazon or via any reputable book retailer.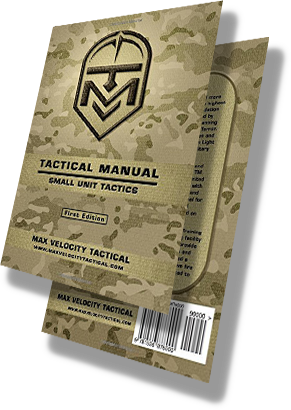 Max Velocity Tactical (MVT) has established a reputation on the leading edge of tactical live fire and force on force training. At MVT we are dedicated to developing and training tactical excellence at the individual and team level.
Max Velocity Tactical operates the Velocity Training Center (VTC) tactical and leadership training facility near to Romney, West Virginia, where we provide training for US Special Operations Forces and Responsible Citizens.
Max Velocity Tactical classes utilize professional quality combat marksmanship, tactical and leadership training, in order to develop situational awareness, teamwork, leadership, decision making and communication.
---