Description
***We are on a back-order till end of July for GT Plates in 10 x 12 SAPI and Shooter cut. This is due to the GT plate being replaced by the GT2. The GT2 will be lighter and better for the same price. If you order 10 x 12 GT plates here now, you will receive the GT2. All pre-orders for the Duritium® GT2 model are first come first serve.  ShotStop advises that the production run is underway and will be on shelves within by end July.***
***GT2 applies to the 10 x 12 SAPI and Shooter cut plates at this time.***
Max Velocity Tactical is proud to be a dealer for ShotStop®, body armor plates with ground breaking Duritium® technology.
The Duritium GT plate: a special ultra-thin, light weight multi-hit protection option rated to green tip (SS109/M855) protection.
Protection Type/Level: Special Threat
Special Threat Testing: 5.56x45mm 62 grain ball, 7.62x39mm PS ball (MSC), 7.62x51mm 149 grain M80 FMJ, 5.56x45mm 62 grain steel core, NATO M855 (SS109), M855 A1
Material Type: Alloy-Composite
Weight (10×12 SAPI Cut): 4.7 lbs. (2.18 kg.)
Thickness ( /-0.125″): 0.5 in. (1.27 cm)
Warranty: 15 Years
Note: This plate stops M193. These plates are not affected by heat (i.e. locked in a hot car) or by cracking (i.e. as per ceramic plates).
See below for  information on other Shot Stop products.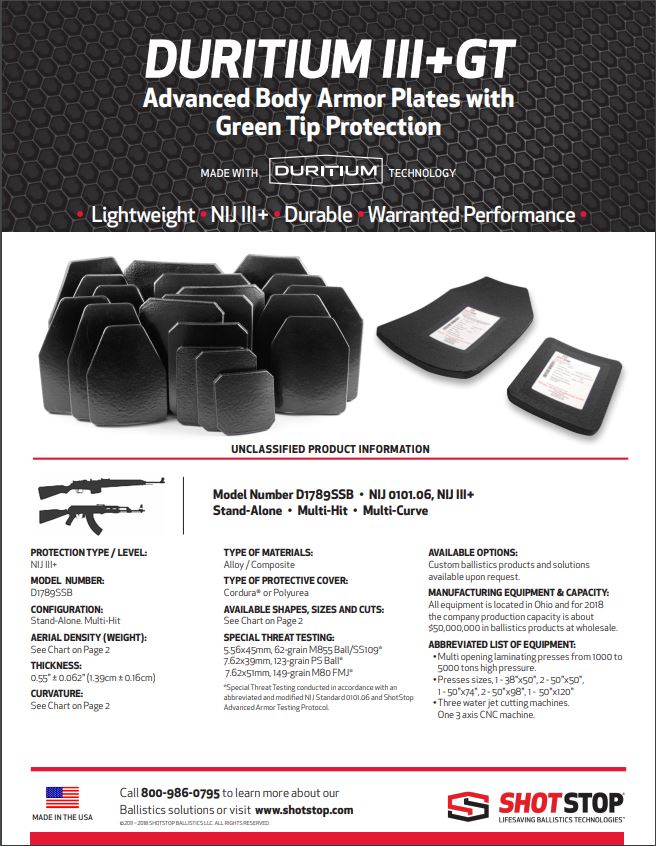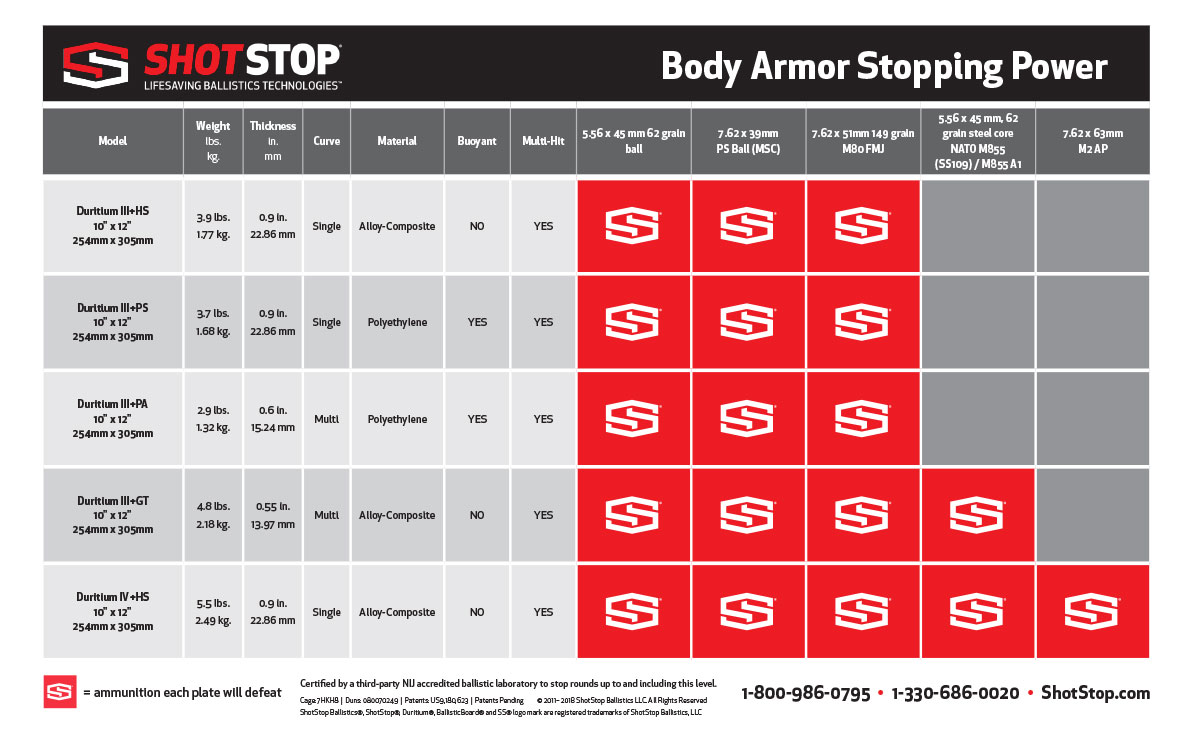 If you are interested in other plates by Shot Stop, please take a look at their website HERE. Max Velocity Tactical is an authorized dealer: Contact Us (maxvelocitytactical@gmail.com) and we can order the plates for you.
Depending on in-stock availability, orders may be may be shipped 7 to 10 days (plus manufacturing lead times) from placement.
Note: depending on stock availability, there may be an up to eight week manufacturer lead time on orders. If there is a delay with a specific product you have ordered, you will be informed.
*Special Threat Testing conducted in accordance with an abbreviated and modified NIJ Standard 0101.06 and ShotStop Advanced Armor Testing Protocol.
**All Plate thicknesses are 0.9" ± 0.125" All size (profile) dimensions are ± 0.375"
*** All weights are ± 4% or .50 lbs., whichever is greater. Specifications are subject to change at any time.
ShotStop Ballistics®, ShotStop®, Duritium®, BallisticBoard® and SS® logo mark are registered trademarks of ShotStop Ballistics, LLC