Student Review: TC3 + 6 Day combined class 27 Sep -3 Oct: Matt from California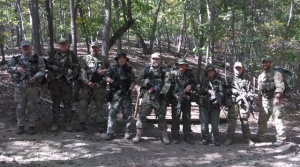 TC3+ 6 Day combined class 9/27/14-10/3/14
Logistics
Traveling from California was a relatively easy process.  I flew from San Diego to Washington DC/Dulles using Southwest Airlines. Yes, Dulles is in Virginia. Just don't cross the river into DC with your firearms!!!.  I checked two AR15 type rifles (bullet button included) and one Glock 30. One rifle was in soft bulldog case inside of a locked Samsonite f'lite 30 hard roller case.  The second rifle was packed the same as the first rifle with the the addition of the Glock, ACH helmet,  esapi plates w/ carrier, and 12 pre-ban USGI 30 round magazines. My NOD was in my carry on bag with all the batteries. It was never questioned by TSA. Just declare the firearms to the person at the check in counter,  they will give you a little card to fill out,  they will place the card in the bag and send it on its way.  Some airports will have TSA search the bags but it is fairly painless. Just allow enough time for the screening. Max was nice enough to pick up my ammo from his UPS mailbox. If you don't want to hassle with all of this,  just rent the AR and mags from Max. He will even sell ammo to you if you give him advanced notice.  Living in one of the more restrictive States is no excuse to not get trained. However you decide to do it,  get to West Virginia  and get the training provided by Max and his Cadre. I have trained all over the left coast and even in West Virginia and nothing I have seen comes close to the facilities or skill set provided by Max Velocity Tactical.
TC3 9/27/14
Was well structured and very informative. I am now confident that I could provide the basic life saving care needed in a combat environment instead of just freezing with a blank look on my face while a family member bleeds out.  It doesn't do much good to carry that IFAK around if you have no idea how to use it. Now I just need to practice these skills with my family members to keep everything fresh in my mind. These are perishable skills so a dedicated training regimen is necessary.
CTT 9/28/14-9/30/14
A few words on fitness.  I had read the many reviews and posts emphasizing the importance of PT but I still wasn't really sure what to expect. I am 31 years old 5'10" and 165 lbs (161 Lbs after the class). Before signing up for the class,  my workout routine wasn't much more that running a 10 minute mile a couple times per week with a few push ups and pull ups here and there.  In preparation for the class, I decided to do the GORUCK 6 week plan with my Wife. Having a workout partner really helps.  At the beginning,  I scored 154 out of 300 on the APFT test (2 Miles in 20:44, 60 Sit-ups in 2 min, 38 push-ups in 2 min) and 6 weeks later I got a 200 on the APFT test (2 Miles in18:16, 65 sit-ups in 2 min, 50 push-ups in 2 min) still not a passing score but it was an improvement. While the drills at MVT were physically challenging and I was definitely huffing and puffing after each drill,  there was plenty of rest between each drill and none of the exercises were the grueling death marches that I had read about. At home I was doing a lot of my PT with my plate carrier and four steel plates. Two front and two back. Trust me, training at home is nothing compared to assaulting up a hill. Even with lighter ceramic plates. Day 1 I tried wearing my ceramic plates with a camel back and it was pretty rough. I took out the front plate and the camel back for day two and it was manageable.  Day three, I worked back up to two ceramic plates and it was survivable but it did slow me down. The takeaway for me was that steel plates are a joke. Unless you are superman (or woman) there is no way you can run these drills with steel armor.  Even ceramic plates will be too much for most people. This class has given me a new outlook on the level of fitness required to physically defend myself and my family and I have every intention of continuing the GORUCK level of PT as a new base line for my fitness throughout my life. Without these classes provided by MVT, I may not have learned the importance of PT until it was to late. Thanks Max!!!!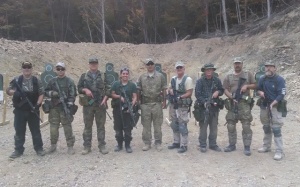 CTT Day 1 (previously RMP) 9/28/14
Aaron is an awesome instructor. He is very calm, confident, and knowledgeable with a great sense of humor but he can ramp it up when he needs to. I was very glad that Max added the third (first) day to CTT. It gave everyone a chance to brush the cobwebs off and it gave Aaron a chance to break some of our bad habits before moving into fire and movement.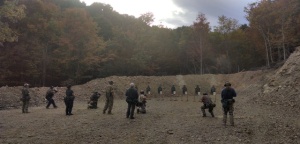 NODF 9/28/14 19:30-23:30
This class is a must if you have any intention of operating at night or defending against others that have  NOD capabilities.  Max, Aaron, and Chris were very capable at moving in low/no light and this class will give you a glimpse of what it really takes to work at night. The experience from this class was also very useful during the night recce patrol in the combat patrol class.  There were three students in the class including myself.  I was using a somewhat less capable Armasight Nyx-14 Gen 2+ unit mounted to my ACH. While this unit isn't as good as the PVS-14, for $1700, it will make a great backup unit and it was still plenty capable. My laser was an OTAL purchased from TNVC and as long as you take the lens cap off it works great. (Yes, Max and Chris had to walk me through that embarrassing moment).
We started on the square range with basic firing techniques and then onto fire and movement.  We then moved onto a team fire and movement onto a simulated enemy position.  The whole time there was an instructor within a few feet and they made sure that safety was always a priority.
I went into this class fully expecting to NOT own the night based on previous reviews and blog posts but I was still very humbled by my lack of capability in the dark. Walking around my property at night didn't even come close to the experience provided Max and his team.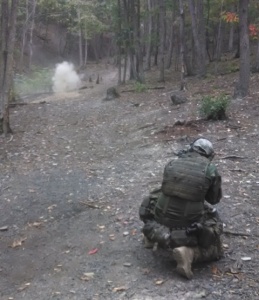 CTT days 2-3 9/29/14-9/30/14
The remainder of CTT covered the many contact drills that Max and Chris are amazingly skilled at. It was very impressive that they were able to take a group of individual strangers with widely varied levels of experience and turn us into a squad sized element capable of moving and fighting in a coordinated fashion. Yes we received the occasional "correction" from Max when we behaved randomly but I'm sure that the stress induced my Max's verbal corrections is nothing compared to the stress of a real life and death contact.  Just suck it up, listen to what Max is saying,  and correct the behavior. No ego's!!!!
We were also fortunate enough to have Fred visit our class during the Jungle Walk and the glimpse we got of his knowledge of CBRN is astounding. I have read the books and most of the Internet info out there but Fred's level of understanding based on actual experience cannot be found on any forum or book that I have seen. Thank you Fred!!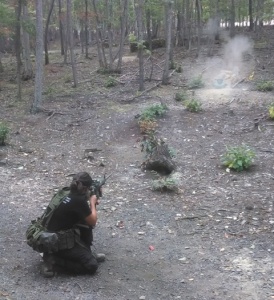 Combat Patrol 10/1/14-10/3/14
Day 1 of Combat Patrol gave the class a chance to recuperate from the previous two days of running up and down the hills of West Virginia. Max and Chris reviewed the basic patrol concepts and ruck setup and finished the day with instruction to setup our gear for the next two days.
Day 2-3 10/2/14-10/3/14
Day 2 consisted of more theory and practice on the patrol base which has been covered on previous student reviews. Max provided a thorough safety briefing for our Recce patrol (actions on) in the event of injury, individuals separated,  individuals lost,  patrol lost. The whole process was very controlled and between the radio, individual whistles, light sticks,  map, and compass.  It seems very unlikely that the exercise could go wrong.  Our 5 person patrol moved out about 19:00, just as the sun was setting, and I set a "moderate" pace, cross graining the terrain (billy-goating was the term my team accusingly used), to reach the ORP about 15 minutes after it got dark. Myself and one other from the NODF class used NOD's and they were extremely useful in designating the best path and locating any light sources that may be emanating from the enemy camp. I found that it was almost easier to walk in the moon light without the NOD and flip the NOD down occasionally to locate the best path and to scan for any additional light sources. Another student used a FLIR scout to scan during halts or linear danger areas and it was very educational to see what an advantage you or your enemy has with these technologies.  Our team moved around the enemy base camp to perform four separate close Recce patrols. Despite our teams impression that we were stomping around the woods making enough noise to be heard miles away,  we found that we were never actually heard by the enemy camp.  This exercise was very educational and provided a necessary lesson on the importance of the Intel provided on a Recce Patrol. After our close Recce was complete we exfiltrated to our base camp and completed our mission in three hours (one hour early). After taking the NODF class,  navigating through the woods in the dark was plenty manageable.  Our team never needed the map,  compass,  or other contingencies and the whole exercise felt very safe and controlled.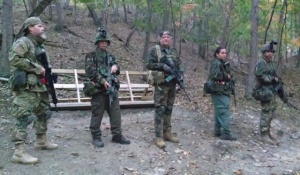 After a quick debrief,  our squad occupied the patrol base for the night and worked through our sentry roster until morning stand to. In the morning,  Max ran us through a few more of his very inspiring exercises and the day wrapped up with a full squad assault on the enemy camp that we Recce'd  the night before. Awesome!!!
Conclusions
I had very high hopes for this class based on other student reviews and Max and his team definitely delivered…and then some. I started this journey after reading Contact,  Rapid Fire,  and Patriot Dawn but even though these were excellent resources,  it was obvious that I needed to go to West Virginia and actually perform the drills with Max's instruction if I wanted any hope of actually practicing these drills at home.  All of my fellow classmates were great people from the patriot community and it is a true testament to Max and Chris's abilities that they were able to turn us into a mostly functioning squad in one week. Bring your wife or girlfriend if you can convince them to go. Women need this training too. My battle buddy was a female and she was unstoppable. If you want to have any chance of surviving what is coming.  Don't just read about it on the internet. Get the training now while you still can.
Matt from California