Long Range Marksmanship: VTC Romney
Map Unavailable
Date/Time
Date(s) - 09/12/2020 - 09/13/2020
All Day
Categories
This is a new version of the Long Range Marksmanship Class with Dave (BIO PAGE ) Special Forces Master Sergeant and Sniper. This class will utilize the 1000 yard range at the VTC Romney. This comprehensive 2 day course has been designed for the average shooter up to the experienced long range marksman. We employ the most advanced approaches to long range marksmanship currently in use by the Military, Law Enforcement, and Long Range Competition.
Held at the MVT Training site, LRMS encompasses the full spectrum of West Virginia topography with targets located over 3 ridge lines out to 1000 yards. This environment creates a rich learning atmosphere for any ability level.
During the course of instruction you will be immersed in both a classroom and range environment. The key aspects of instruction are:
Proper Equipment Selection and set-up
Long Range Marksmanship Fundamentals / the Shot Process
Introduction to Internal, External, and Terminal Balistics
Range Estimation
Wind Estimation and Calculation
Proper Zero / Individual Rifle's Chrono-graphed
Target Engagement out to 1000 yards
After completing LRMS students will have the working knowledge and ability to zero their rifles, set up and utilize a ballistic calculator, properly use their chosen scope and reticles, estimate range, estimate and adjust for wind, and have working data for target engagements out to 1000 yards.
NECESSARY EQUIPMENT
Rifle capable of shooting Sub-MOA at 100m and reaching out to 1000 yards with consistency (.243 or higher caliber preferred). Note: AR-15 variants will be allowed to be used, but are not recommended due to their inability to hit 600+ yard targets consistently. If this happens continuously during the course we will adjust the targeting to fit your rifles actual capability. 150 – 200 rounds of Match Grade Ammunition. 10x Magnification or greater scope with a functional reticle system, BDC's are allowed but not preferred, you will get the most out of this class with a Scope that has turret systems that allow you to dial in MOA or MIL. All of the proper tools to adjust your scope, both turrets and mount. Note: We will have some on hand but DO NOT RELY ON THIS, there are literally thousands of different designs and manufactures out there. Bipod (preferably not knock off brands, but whatever works for you) Rifle Rear Bag / Sand Sock Empty Note Book / Data Book (preferably Rite in the Rain) Folding Chair Ear Protection / Eye Protection
ADVANCED EQUIPMENT
(Not necessary, bring if you have and want to) Ballistic Calculator or Ballistic Phone App Scope Level Shooting Mat Spotting Scope with Tripod Wind Meter / Kestrel Range Finder Chronograph Class Price : $600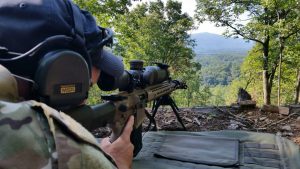 Bookings
Bookings are closed for this event.