AAR #4: CRCD/Patrol April 5-9 – David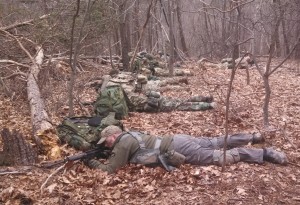 April 5-9 Combined CRCD and Patrol Class
John our prayers are with you and your family, thanks for being my partner.
Everyone talks about how Max is a great teacher. You have to see him in action to understand just how incredible he really is. He uses so many different teaching methods to help you understand the principle he is transferring. He has such an innate understanding of the topics and so many personal experiences that he flows from one area to another seamlessly and links all of the principles together in an understandable manner.
I came to the classes because even after reading the books the tactics used in an asymmetrical battlefield eluded me. Max teaches asymmetrical tactics for small sized unit operations. This is not a class where the focus is on expending ammunition. The principles are transferred through a series of short lectures, activities, and drills, to teach students how to: understand the tactics that a well trained adversary would utilize against your family/team; become situationally aware of the activities occurring around you; and, tactics used to defeat those actions. Again, Max teaches tactical classes. This is training on what to do to survive/win an encounter.
One more comment about Max's training methods, even though there were 12 of us in the class, the training, to me, was very much personalized. Max was transferring so much information during the training that you were indeed treading water (he mentions this would happen at the beginning of the course). However, Max sees when you don't get it, at the individual level, and will reach down and pull you back up with personal attention when needed. His mission is to transfer his knowledge and experience to the class attendees and he does it as fast as you can receive. It felt like it was fire hose speed, but in retrospect I realize that at times, when needed, he was just spoon feeding me. I'm NOT saying that if you do something unsafe that Max is going to run over and offer you tea and crumpets. Unsafe examples would include flagging other students, walking into the fire range without explicit approval, preparing to fire from an unsafe fire position, or other random acts. No, if one is unsafe, be prepared to receive another type of individual attention, but that is because for Max, safety is the first and foremost issue. Max said that he was going to introduce a new transitional class to help students move from the range to the field. Regardless of your experience, I would strongly recommend this course. We got a taste of it while there and it included things I would have never guessed (my favorite was the rifle jam/clear where the round is stuck and partially hidden above the carriage bolt).
One of my concerns when signing up for the CRCD/Patrol classes pertained to safety. That worry was invalid. Max utilizes safety rules and drills which are then coupled to safety personnel to ensure that all the participants are safe. The location of the facility and ranges aid in this as well, but it is the constant management of the students by the safety personnel that makes the difference. One doesn't notice the watchful eyes of those administering the tasks unless one does not abide by the safety rules. I never felt I was in danger in any way during the training. I was NOT.
There is so much information covered in the training that I will be taking the class again. Returning students say they learn just as much the second time as the first and I believe it. Great job and thanks Max.