Update to the Cadre Page: Aaron & Chris
You may not have caught this, but I have updated the Training Cadre page to reflect Aaron & Chris.
Here is the text:
AARON
Aaron has been in the US army for over 10 years with multiple combat tours to both Iraq and Afghanistan. He has experience in both conventional and Special Operations within the US Army as well as working with foreign militaries, GO's and NGO's. He has trained thousands of military personnel from all branches of service as well as foreign military personnel and civilians. Aaron specializes in small arms, weapons manipulation, small unit tactics, convoy operations and personal protection.  Aaron was selected for the Max Velocity Tactical cadre after careful consideration.  He is an excellent instructor with a great demeanor and ability to connect with students. Aaron's primary responsibly is running the Weapons Manipulation Classes.
Aaron: deployed in Afghanistan
CHRIS
Chris spent 12 years of his life in the United States Army as an infantry officer.  He has attended Jump School, Ranger School, SERE  (survival escape, resistance, evasion) level 3 and many others.  Chris has one deployment to Iraq where he commanded a mechanized infantry platoon in the Baghdad area. After Iraq, Chris was promoted to Captain and ultimately took a Rifle Company to Afghanistan to train, mentor and conduct combat operations along side Afghan Border Police in the southern provinces of the country.  There he conducted operations with conventional, Special Operations and Other Government Agency entities along the Afghan/Pak border.
Above: Chris with his Bradley Fighting Vehicle opposite an Iraqi T-72
After several more assignments, Chris left the army with 12 years of service and went in to the private military contract sector.  He spent time in Kabul, Kandahar and the Helmand area of Afghanistan escorting government and business officials through high threat environments while simultaneously training afghan personal protection forces (APPF) and conducting site assessments and security vulnerability of numerous static locations through out the country.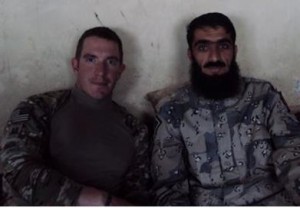 Above: Chris in Afghanistan with his Afghan Counterpart
Its been Chris's lifelong career to serve his country, train and mentor US soldiers and their allies and now bring his experience and training expertise to Max Velocity.  His expertise centers around Small Unit Tactics, Operational Planning, Small Arms Weapons Manipulation, Unconventional Warfare and Night Operations.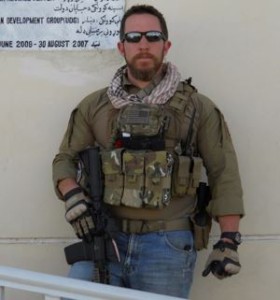 Above: Chris as a contractor
Till Valhalla.
Max