Update on the ARKTIS B110 Windproof Smock
I just received my Arktis B110 windproof smock a couple of days ago. I have blogged previously about the smock concept HERE (which links to the other previous posts on this concept!).
The smock is excellent quality. It is an improvement on the issue smock that I am used to. Below is a photo of the B210 smock, which is identical in its exterior features. I got the DPM, as per the photo, but they are available in a number of colors, such as multi-cam (MTP).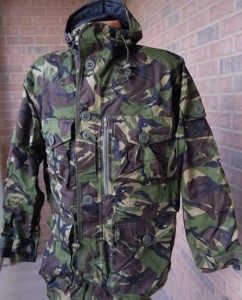 Here is me wearing the B210 in the snow: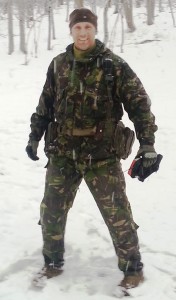 So basically, the B110 has no lining but is windproof/ripstop, hard wearing. The B210 has an inner liner, whcih increases the windproof performance. The liner is reminiscent of those nylon parachute material jackets that used to do the rounds. The B310 has an inner liner that is waterproof and breathable.
For the purpose for which I want a windproof smock, the B110 is perfect. It is a design improvement over the issue basic  windproof (better pockets, design, durability etc.) I also think the inner liners may make the jackets too hot (for exertion), and the nylon liner on the B210 has more potential for tearing with hard use. The basic B110 won't break.
Why don't I want a waterproof jacket? Because my smock is for use as a combat over-jacket, in which I can work hard. If I want to stay warm, I layer it underneath. If I am doing hard exertion, I can do it in the B110. Basically, I'm not looking for a parka.
I was asked the question about what to do for a rain jacket. For light rain, these windproofs will take care of it. If you are going to be out for long periods in harsh weather, then you need a waterproof. You can carry a separate gore-tex that you put on over the top or that you replace the smock with when it is raining hard. Someone recently emailed me and let me know that they had just received their B110 windproof and they had also purchased the A310 inner waterproof liner. Sold! I'm waiting for mine to arrive.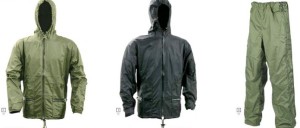 This to me is the best of all worlds. It allows the A310 liner to be used and convert a B110 into a B310. There was a certain 'old school' argument that a waterproof should always be worn on the inside of your smock, to prevent the sound, which was more of a problem with the old style 'plastic bag' waterproof shells. If you think about it, the B310 will get its outside wet when it rains, because the waterproof liner is on the inside. No different with using the A310 liner. It allows you to always use your smock on the outside, will reduce rustle, and is all out convenient.
I am about to take my B110 up to the woods to test. I will also test and let you know how the A310 liner works when it arrives.
Please don't email me for orders, I don't have anything to do with it (nor do I receive a commission from sales!).
ARKTIS USA: www.arktisusa.com Hours: M-F 10am-6pm EST  Phone: 513-422-6181  Email: sales@arktisusa.com
Apparently the B110 was never stocked due to lack of interest in the USA. People wanted 'parkas'. They have started to sell and they are starting to stock them.
Below: MTP version.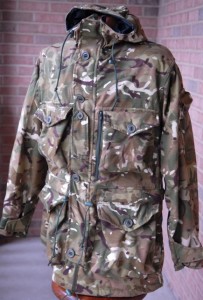 Live Hard.
Die free.
Max