Texas HEAT 1 02/28 – 03/03 2022 – Confirmed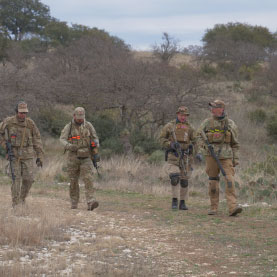 The Texas HEAT 1 class, which takes place Monday 28 February to Thursday 03 March 2022, following on from the annual Alumni Class in Brady, Texas, is now confirmed.
This means we have 8 people who said they are coming, and I am asking for a $250 deposit at this time to secure those spaces. There is a maximum of 12 spaces available on this class.
This is a HEAT 1 classic class (description at link above), taking place over 4 days on a ranch in Brady, Texas. Accommodation is available at the Hunting Lodge on the ranch. This is a live fire class, and this can be completed with 800 rounds per person.
Attendance on this class will make you eligible for future Texas Alumni classes. Note: any MVT alumni, who has completed HEAT 1 at any location, is eligible for the Texas Alumni classes.