Student Review: TC3/RMP, CRM, 15-17 Aug: Arthur
Class Review TC3, RMP & CRM August 15-17, 2014
This review comes on the heels of 3 excellent reviews of the CRCD and Combat Patrol classes from 8/2/14 to 8/6/14. This review coming after those reviews seems appropriate, since for almost everyone reading this review of CRM, you will need it. Unfortunately, you don't know it. As I drove home last night, reviewing the weekend it occurred to me, that most do not know how much they need this class until they have taken it. That is unfortunate.
Let me back up a few months. I originally scheduled myself for CRCD for this weekend. I have taken some square range courses, read a lot and look at YouTube videos like most and do a lot of PT. Then in the Spring the discussion of taking CRM before CRCD began. But if you had previously signed up you would be grandfathered in. However, it was clear from the posts that CRM was strongly suggested and as I read the early CRM AAR's  I decided to switch. Hindsight being what it is, this turned out to be a very good choice.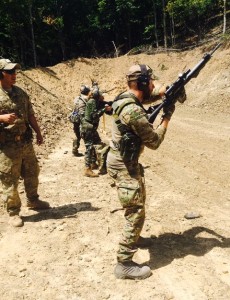 TC3, RMP  & CRM for August 15th, 16th & 17th.
As noted above, I had signed up for CRCD and at the same time signed up for TC3 & RMP. When switching to CRM I decided and was encouraged to stick with TC3 & RMP.
Quickly on TC3, since format is changing to a full day class, all I will say is take it. Someone in your family, group, tribe needs to know this. You don't need to be a medical wizard, you need to be willing to step up, keep your head in the game when it's all going to hell, be able to act perhaps save your buddy, spouse, child, friend, etc. because, if this happens there most likely isn't going to be a 911. You will be 911. Max does an excellent job of conveying the information, equipment needed and going to full day will be value added.
As I understand it RMP is being rolled into CRCD and will be day one of three, which is another good idea. Here's my take. When I showed up Friday I was probably like most, nervous, apprehensive, don't know anybody, etc. As it turned out RMP was the perfect "tune up" for, in my case, CRM. Got to meet the instructor (Aaron, discussion of instructor later), began doing some drills, meeting other students, albeit compressed into 4 hours. However, the time spent doing zeroing your rifle, speed & tactical reloads, and malfunction clearances was the perfect way to get you into the right mindset. As much as you may think these are boring, tedious, mind numbing they are crucial to running your rifle and from what I saw we all would not be wasting time practicing these drills. In my case I brought an M1A in scout configuration. It is much easier to clear than the AR (in my opinion). That said, I participated in the AR clearances because it seems that I could be faced with having to use a "battlefield" pick up and knowing how to get it back into the fight would obviously have great value.
Moving onto CRM, this is meat and potatoes. Again, there is going to be some juggling of courses so I will leave to Max what that will but it sounds like another excellent refinement. As stated above, you do not know how important this is until after you have taken it. First let me say that we were fortunate in this class to have only 5 students. I do not know the max size but clearly this was good for the students.
I would say that this class and its format is highest and best use of square range training. Why is that? As I see it, it has been created to build you towards CRCD. How? The curriculum is laddered to slowly and deliberately increase your knowledge, develop skills and create confidence to move you towards stepping into CRCD. As Aaron put it, each segment of the course is a building block. Each building block may have sub building blocks. As an example, malfunctions is a building block with 5 sub-building blocks.
We started with the basic building block, marksmanship, gathered a whole bunch of other building blocks and progressed over the next two days to the final segment of buddy team movement. We were bounding down range, fire & movement. I do not know of any square range course where that happens. At the end, when we finished buddy team movement we had assembled all the blocks necessary to create the building block to take to CRCD. That is how I analyze and perceive it. In addition, after each segment we would do mini AAR allowing us to extract more info from Aaron. Aaron NEVER moved on to the next segment unless everyone understood what we had just done.
All the above is great but doesn't happen without well trained, professional instruction. First, safety was never an issue. Everything we did was controlled and checked. We walked through drills (perhaps multiple times) before the drill got run. Anyone with a question got it explained to satisfaction. Anyone wanted to repeat and we would do it over. The best way for me to put it is, Aaron has the skill to weave his real life and personal experiences (which are many) into the drill being done and make it more interesting and understandable than it might otherwise be. During the instructional phase of a drill he was never condescending or short tempered. He took the time to make sure we not only got the mechanics right but understood the theory as well. As we ran the drills he would turn up the stress levels so that everyone could experience operating under pressure. So as not to make it sound like it was all easy and only good stuff was happening, there were plenty of mistakes, cascading malfunctions, etc. made and Aaron would deliver the appropriate "correction", pushing you to correct and perform the drill.  As best I could tell no one had there ego with them for the weekend, so you took your "correction" and moved on. I think we like to call them teaching moments.
In summary, you need to take this course or whatever its next iteration is. As stated earlier you don't know how important this is until after you have taken it. There are drills and knowledge you will pick up here that you will not get anywhere else right. A final note on PT, just get in shape since it is one of the building blocks, only you need to do that one yourself.
Arthur