Student Review: TC3/RMP, CRM, 15-17 Aug: Dane
Arthur's review is a tough act to follow, and I'm not sure there's anything left to say that he hasn't already said. However, my experience was slightly different than his in that I showed up to TC3/RMP thinking that I'd be doing CRCD the following day. It was at RMP that I realized that although I'd spent quite a few years shooting handguns (including USPSA matches) and had put many rounds through ARs and other various semi-auto rifles (Appleseed, anyone?), basic rifle manipulations didn't feel second nature to me. I didn't have any big issues or safety violations in RPM nor was I lagging behind the rest of the class, but I was left with the nagging concern that despite my desire to proceed to CRCD the next day, I needed professional training in rifle handling before I'd be truly ready for team-based combat rifle training under pressure. I knew I would spend CRCD with my head in my rifle rather than where it needed to be in that class – learning tactics.
I approached Aaron and Max after RMP and asked their opinions on potentially switching from CRCD to CRM for the weekend. They didn't pressure me in either direction, and Max very kindly agreed to let me switch classes if it's what I wanted. So Saturday I showed up for CRM and haven't regretted it since.
I think Arthur really described the CRM curriculum well – it starts with the basics of marksmanship and then just keeps progressing throughout the weekend until you're doing buddy fire and movement drills on Sunday afternoon. Also, the cadence of drills is perfect, and transitions to the more advanced drills are very smooth. I believe CRM is everything I wanted/needed to prepare me for CRCD.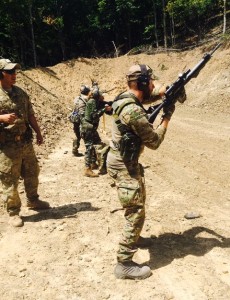 What really made CRM shine for me was the instructor, Aaron, and his passion for teaching and sharing what he knows with his students. This is a guy who has done multiple tours in Afghanistan and Iraq and who knows what works and what doesn't, and yet he was completely approachable and more than willing to share his experiences in ways that effectively drove home his teaching points. I ended up asking his opinion on everything from the setup of my battle belt to the configuration of his rifle and a slew of other things. In this world of mall ninjas putting out "tactical" videos from their mom's basement, you take advantage of it when you meet someone with Aaron's level of skill and experience who is willing to give you advice. He also had a no-ego approach, which is not something that is in abundance in the whole tactical training industry. CRM's training curriculum is great, but Aaron is what makes it excellent.
In summary, one of the biggest takeaways from the weekend was that it's extremely naïve to look at training as a one-time event. I went into the weekend thinking that I would only have one chance to take a course like CRCD – no sense in wasting time on things I already know or can learn online or via video, like rifle manipulation. In reality, combat shooting skills are highly perishable, and need to be continuously refreshed. If you're really serious about building and maintaining your skills, you'll be taking lots of training in the future – why not do it right and learn to walk before you try to run?
(Also, don't delay booking your room at the Koolwink! It fills up quickly on training weekends – if you wait you'll be stuck at the South Branch Inn like I was, and you'll miss out on that Koolwink 70's vibe…)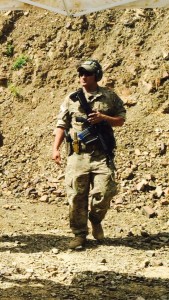 Note: TC3/RMP has gone away as of September 1st. CRCD has gone to a 3 day class that starts on the square range on the first day, subsuming RMP into the curriculum. TC3 has become an optional pre-day prior to CRCD, a full 8 hour training day.
CRM, although getting off to a less than popular start, is gaining momentum. It is an excellent class, and as we see in reviews, Aaron is an excellent instructor. The problem was students not knowing what they don't know!

Because of this commercial aspect – this isn't the army and we can't force students to book anything – we went to the 3 day CRCD and have not made CRM a prerequisite. This is somewhat taken care of by the first day of CRCD. But that first day is RMP-heavy, not CRM-light. It is designed to get you off the ground for the tactical training on CRCD, and get your head out of your weapon so you can get more out of the CRCD class.
CRM is excellent, and more of you should take it, both before and after CRCD. Heather came back for this last weekend having already done CRCD. Next year, we will be adding C2G, which is combat 2 gun, a three day class also  run by Aaron. This will cover rifle and handgun and EVEN allow you to do sexy stuff like transitions. Oooooh.