Student Review: MVT Rifleman Challenge March 2015: Steve AKA Airforce
Just got back from a challenging weekend at Max Velocity Tactical.  Completed the MVT Rifleman Challenge and let's just say that Max has truly come through with another great training opportunity/standards for the Rifleman.
I will put this plug out there that I am extremely glad that Max and Hunter put together training programs to prepare oneself for the challenges that the Rifleman Challenge involves.  I used the intermediate fitness plan and let me just say that had I not used it I probably would not have attained the Rifleman patch.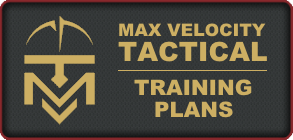 This event was well planned out and as always Max delivers a great product.

Day one involved the 2 miler and let's just say in the words of Max "It's a ball buster".  However it was attainable due to the fact that I got my lazy ass out there and trained for it.  We also had the shooting qualification and unfortunately I failed it the first run through.  I passed it on my second attempt.  Shooting right after the 2 miler was difficult to say the least.  I know that with changing up my training I will improve my recovery time which is what is needed.  After that we went through an abbreviated TC3 and then completed trauma lanes.  Definitely gleaned some great information from that and will be expanding my knowledge level and revisiting our teams IFAKS.
Day two started with the land nav course and yet again I am glad that I trained hard with the intermediate training program.  PT was just as important in this event as having basic land nav training.  We then went to the ranges and completed movement under direct fire and break contact under direct fire.  There was an added element to this event, there were 2 targets to engage on both drills and it was a 4 man team movement.  You had to make sure to suppress both enemies while your team mates moved.  That added great value to the training and brought in a new element to deal with.
Day three started out with a casualty evacuation.  What way to get the blood flowing first thing in the morning!  Training prior to arrival was a huge asset to this event as well.  For those that have trained with Max you will know the route we ran.  We started in the parking area and went up the hill toward the pavillion.  Our team worked together really well and changing out went seamlessly.  We then went to the square range and larned CQB.  that was some seriously fun and informative training.  I will always fight from the door.
Max out did himself again with another great training/standards test that any patriot should go and experience.  My group went to set standards for our training.  I did not get Vanguard but I will when I return in September.  Thank you Max for the nudge to attend.  I was initially waiting till September.  But between Max and 'Pointless Pockets" encouragement, I decided to attend and now I can call myself a Rifleman.  I will continue to train hard and improve the skills that Max has given me.
So to all those out there procrastinating, get out there and train.  Anything is possible with the right mind set and the determination to see it through!  You owe it to your loved ones!
Steve aka Airforce