Student Review: HEAT Night Operations November 2019: George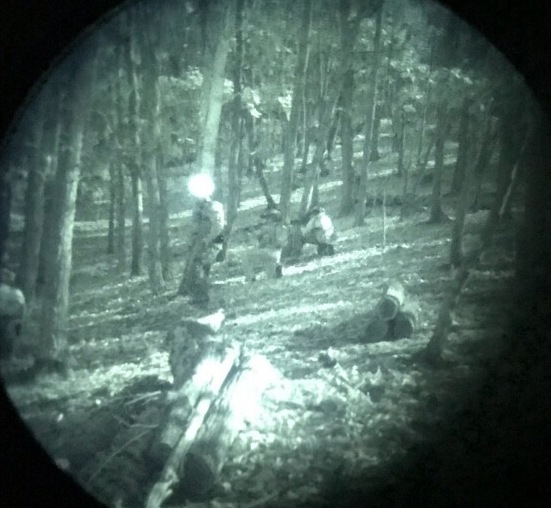 I recently had the privilege of attending the "inaugural" HEAT NIGHT class at MVT. For context, I've attended several classes at MVT over the past few years, including HEAT 1, HEAT 2, CQB, FoF, Long Range etc., so I was really looking forward to this one after getting into NV shooting somewhat recently (at a very basic level). As a quick side note here, I've purchased my NV equipment (including my BNVD Ultralights in White Phosphor) from Robert at JRH Enterprises and I cannot recommend him enough. The guy is not only knowledgeable and prescriptive on everything he sells, but he's out there practicing what he preaches. In fact, he also attended this same class with his son James.
The class ran over 2 nights with a well-thought out progression and execution plan. We started off the first evening with square range drills to get comfortable with our NV equipment. Basic up drills were followed by turns, shooting on the move (single and buddy teams) and team assault line drills. While everything went smoothly and safely, students had the opportunity to work out bugs and kinks with their equipment. My recommendation to future students is to have some basic familiarity with their setup, and ideally get a little practice with it before the class if possible. Also, make sure you bring extra batteries and backup gear (pressure switches, J-Arms, etc.). After the square range session, we headed down to the cabin and ran a "jungle walk" course under NODS individually. It was one of the main highlights of the class. It required concentration to identify the targets (and trust me, they were not that easy to find) and neutralize them. Unless you've spent hundreds of hours under NODS (which we hadn't), simple things like walking on a trail become challenging in themselves. Before wrapping up for the night, we drove over to the tactical ranges and did a brief team-level fire and movement exercise against the pop-up targets. Again, what a big difference between running this in daylight vs. at night. We all left the drill humbled and talking about things we could have done better (such as using our IR illuminators and/or lights to look for the targets).
On the second evening, we started off again at the square range. This time, First Sergeant led us through some low-light drills with our weapon-mounted white lights. This was a good "in between" transition exercise between the daylight weapon manipulation we are all so comfortable with and full-on NODS. After a few more drills under NODS, we went into "HEAT 2 mode" and ran a full ambush drill, followed by a full raid at the respective exercise locations at MVT. I expected "watered-down" versions of each under NODS, but we went all out on both (with a few minor adjustments to account for the nuances of operating in darkness and for safety considerations). We wrapped up the night shortly after midnight with the class AAR, feeling tired but also very confident about our newfound competencies under NODS.
To conclude – and as usual with MVT classes, the experience greatly exceeded my expectations. There are NV classes you can take elsewhere that will introduce you to your gear and to basic weapon manipulation under dark (and they are helpful), but HEAT NIGHT took it to a whole new level in 2 nights. You will leave this class with full confidence in not only running your NV setup, but also being able to perform team-level tactical operations in full darkness. Low-light and no-light training is something that 99% of armed citizens out there completely ignore for a number of reasons (lack of training facility access, equipment cost, denial, etc.), even though it is the most likely backdrop where something could go down under. How confident are you in your abilities to operate there? Think about your answer and train accordingly.