Student Review: HEAT 1 Combat Tactics OK – Elicia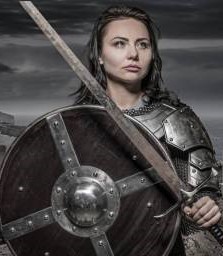 What an amazing introductory AR training class! When I say introductory, I don't mean that this class is only for beginners, but that the instructor can take someone with absolutely no previous experience with rifles of any kind, and in 4 days have that same person working safely in teams, practicing the most life-like scenarios one would find in a training course.
While I am not completely new to firearms in general (taken a few defensive handgun classes), before this class I had zero experience with rifles. I can say after taking HEAT 1, I feel extremely comfortable with my AR, and all the stress I had in my mind going into the course was virtually gone by day 2. I was actually amazed how easy it was to add on new maneuvers and skills once you understand the basics. By the end of the third day, when I saw all the rifles laid on the range toward the targets, I felt very comfortable in the knowledge that I could pick up any of those rifles and would know how to run and handle that weapon if needed.
The safety incorporated in this course is top notch, I never once felt unsafe even though others in close proximity to me were also performing fire/maneuver skills. One of my favorite experiences from this mobile Heat 1 class was (in an extremely safe and controlled environment) getting to hear what AR & AK bullets sound like overhead. I found this priceless.
On my first day of class I learned a valuable lesson about the need for quality equipment, and the importance of regular rifle care. In fact, while at class and shortly after, I decided to up my game in that department, and I know I will not be disappointed. In a live scenario, I want my rifle to work as seamlessly as possible. However, even with the best equipment, malfunctions can happen. In this class you will learn to recognize, clear, and manage malfunctions. This information is then applied in various live scenarios where one must not only fix the malfunction, but also consider safety and cover when your weapon is down. Remembering to take a breath and not panic, as the instructor taught, was beneficial to keep in mind.
Another way to not panic in a real-life scenario is through continual training.  I will be attending more classes with MVT and recommend that other women give it a try as well. You won't regret it, and this training may very well save your life or the life of a loved one.