Review: Close Quarter Battle Course & Long Range Marksmanship Course: Chris
Due to my time constraints and I am going to combine two testimonials in to one.  Both of these classes were run by John who is absolutely outstanding.   John has first-hand knowledgeable and holds the bar high.  True understanding does come with a first time pass and John works with the students to gain the understanding necessary to make great advances more quickly.  He is patient yet firm when necessary and I greatly appreciate his first-hand experience and his sharing to pass along the knowledge which was obviously hard fought to gain.  Fantastic instructor.  I will be signing up for other classes with John.
2017.05 CQB: This is a must take class.  Everyone lives in a house and almost everyone works in or around a structure.  The ability to clear or escape a structure with an active shooter or threat is unfortunately all too real a situation.  As with any mastery, the fundamentals are essential and John and cadre were fantastic at ensuring the building blocks were obtained while progressing to more advanced principles and theories over the class's progression.  CQB is not an individual action.  It is always team based and while each team member will have its strong and weak points, we continuously built on increasing performance with each evolution.  Also it should be noted, that CQB is also fluid and not a "only my way" action.  The class allowed me to expand on my fundamental knowledge and tactics learned, while allowing me to experiment with numerous situations and use creativity which was exercised in the force on force scenarios.  Evolutions involving no targets, to stationary targets to Force on Force scenarios built on each other perfectly and drove home the tactics learned of angles and slicing the pie, dynamic and deliberate entry, speed and footwork, teamwork and elevation changes.
This was my first CQB training and I learned more in that weekend than the vast majority of my officer and agent friends currently know.  In fact, I trained with a SWAT team the following week and I was confident in my own performance and fit right in, not letting down my team members as an operator with far less experience in that realm.  Another double thumbs up was John's cadre of Ben and Kang.  Both of these guys were there to help and teach, and their time with John on his team kicking down doors in theater showed, as they demonstrated how a professional team should work together.  They were extremely complementary to John's lead.
(Sorry Ben for a shot or two as I came in the door while you were filming but your camo looked like everyone else's and my lenses were fogged from the rain.  I thank you.)  Ben and Kang's help and insight were incredibly valuable and I appreciate the extra time in discussion and coaching.  Their ability to see things from other angles in addition to John's supervision really allowed me to have a greater understanding of the concepts taught.  (As an aside, Vortex is good on their promise to replace sights as I took a UTM round dead center of my Strike II shattering the lens.)  In summary, I have suggested to every person I know who is tactically oriented to take this class as the tactics learned are extremely valuable to the art of CQB.  Fantastic class.
2017.09 LRMC: This was my 5th MVT class and I signed up specifically because of John and my experience with his instruction in my last CQB class.  Well John took it to a whole other level with long range.  I had just taken a long range class a month earlier and I didn't get near as much as I did at the MVT LRMC.  Long range precision is an art and John is a master at it.  He certainly taught the basics and was patient with the questions as there is a LOT to digest.  Just getting started, his ability to jump back and forth between platforms, optics and ballistics was just shy of amazing.  There is so much to know but things were conveyed in a way I could clearly understand and consume them.  On the second day, I had never chrono'd bullets before and it was a real lesson to see how the ballistic values stated on the box and actual velocities differed with each shot and the variance that existed.  Even with Hornady ELD Match (300 WMag) there was a significant variance in velocity per shot.  I now understand the need for loading your own cartridges.
As we got out on the range, it was great experience to work through the challenges that the range presented.  The various winds between the peaks make the shots a great learning experience.  John patiently worked with each shooter till success.  You could have full 5-10 mph wind in your face with zero at the target.  We were taught how to build out our DOPE charts and work our optics for proper compensation of distance and wind.  John spent a LOT of time behind that spotting scope with one eye watching our shots and calling wind.  I appreciate the sacrifice as eye strain I am sure set in but he never let up.
Perhaps it was the time of year or the range but we were able to see the effects of temperature on that ridge which was educational in how the various parameters can really make a difference in your shot accuracy.  John is clearly is a professional and my ability to reach out and touch someone has improved, that being said my understanding of the art has increased significantly.
NOTE: Be sure you read the instructions before you go to LRMC.  The right gear for precision shots makes a difference.  Being unprepared will suck and leave you frustrated.  You need to do your homework before you go and I would ask someone who really knows their stuff about gun, ammo and optics selection prior to investing in a platform and going to class.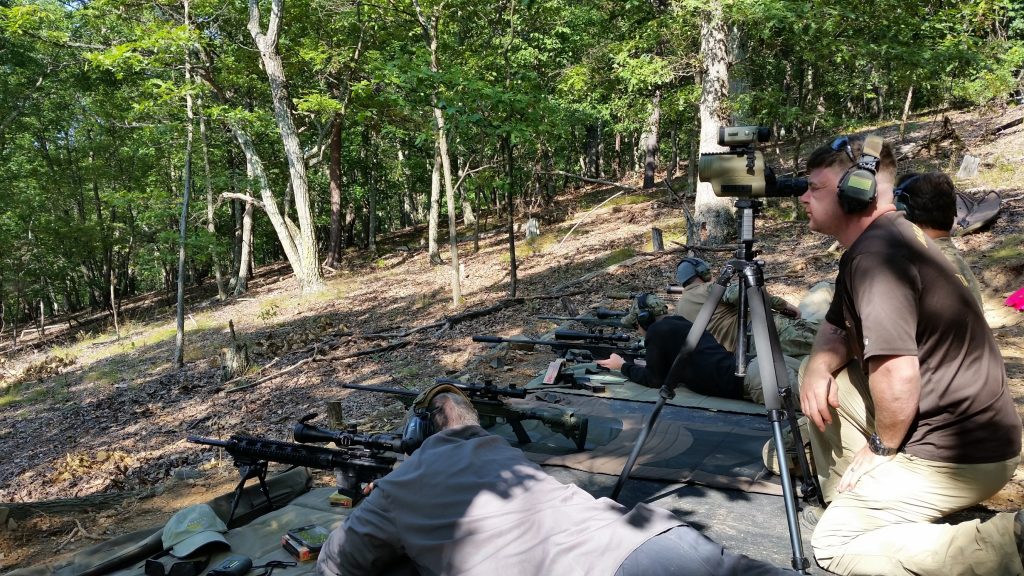 MVT Note: See THIS POST for comment on spring / summer 2018 scheduling. We will be working with John on his availability for upcoming CQBC and LRMC classes.