PT: 12 Weeks to the Rifleman Challenge: Starts June 15!
The next MVT Rifleman Challenge is on the 4-6 September.
We have MVT Tactical Fitness Training Plans available. These are professionally designed and delivered in partnership with Hunter Allen (Olympic Coach)/ Training Peaks. Check it out at the link: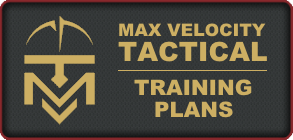 One of the available plans is the '12 Weeks to the Rifleman Challenge – Intermediate/ Advanced levels'. If you are attending the Fall Rifleman Challenge, this program will start on June 15!
Earn your MVT Rifleman or MVT Vanguard patches!

Frankly, if you are not making these standards, or at least striving and getting close and working hard to get to them, then you are not taking this seriously (physical disability aside). Some of the competitors on the inaugural Challenge in March did not make all the standards, but they worked really hard. They will get a free return to another Challenge. Either way, patch or not, there is a lot of training value to the 3-day weekend, including real CQB training.
Get on it.
Max