Patriot Dawn: Free Kindle Download – Sat/Sun Nov 23/24.
'Patriot Dawn: The Resistance Rises' will be available for FREE download on Kindle this weekend November 23/24.
H/T to Matt Bracken for the tip on how to do this – and for telling me that it does make sense to give my book out for free!
According to the Amazon Kindle information, the free download should be available from approximately midnight pacific time (Friday night) through midnight on the Sunday night.
HERE for the Amazon Kindle Page
Patriot Dawn is also now available in Kindle Select for Amazon Prime members to borrow and share.
If you don't have an actual Kindle, you can download the kindle reading app for most devices,  including your laptop/smartphone, and read the book that way.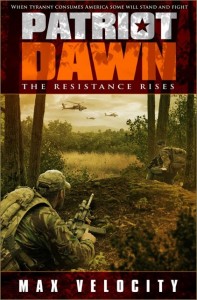 From the back cover:
The United States has descended into Civil War.
The storm was rising for some time, a Resistance in the hearts of American Patriots to the strangulation of liberty by creeping authoritarianism. 
The scene was set. It just took a little push. A terrorist attack on the United States leads to war with Iran, followed by collapse, as the economy goes over the cliff.
The final blow is a widespread opportunistic Chinese cyber attack, taking down the North American Power Grid.
From the ashes, the Regime emerges. Liberty is dead.
What remains of the United States of America is polarized. 
The Resistance Rises.
Jack Berenger is a former Army Ranger Captain, living in northern Virginia with his family. Following the collapse, they fall foul of Regime violence and evacuate to the farm of an old Army friend. Jack is recruited into the resistance, to train the fledgling forces in the Shenandoah Valley.
The fight begins. 
Live hard, Die Free.
Resist.
Patriot Dawn was written as more than just a novel. The concept was to use a near future scenario of collapse and civil war as a vehicle to portray real combat and tactics; to bring to life the concepts described in the manual: 'Contact! A Tactical Manual for Post Collapse Survival'. It is open to opinion which is the best order to read them, but either way they are designed to be  complimentary to each other.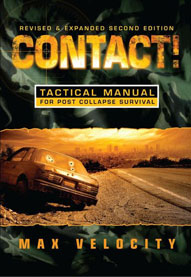 Live Hard.
Die Free.
Max