MVT Rifleman Challenge: 27-29 March: Initial Report
I am just back from the inaugural MVT Rifleman Challenge this past weekend.
There were 11 competitors. Everyone worked really hard and it was a great Challenge.
7 were successful with the  Rifleman Patch.

Above: Riflemen. L to R: Jim, Chris, Rob, Hunter, (Max), Jon, Steve, Duane.
2 of those 7 also achieved the Vanguard Patch.
Above: Vanguard. L to R: Hunter, (Max), Jon.
Jon won the competition overall, also winning the 2-Miler with a course record of 17:56 at 51 years of age! Hunter came second, and Chris was third.
The main events that made up the individual scoring were: 2-Miler, Qualification Shoot, Navigation Exercise (NAVEX). Other events were pass/fail/team building. All events had an elements of instruction prior to testing, and overall it was a training weekend with some challenging testing thrown in.
PT and navigation were the main areas that competitors had problems with. MVT offers Tactical Fitness Training Plans which several of the competitors were able to take advantage of and which made huge improvements to their fitness.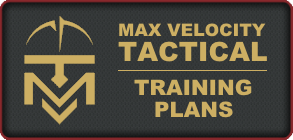 We are considering adding an optional Navigation Training day on the Thursday prior to the event. Navigation Post HERE.
The event received sponsorship from JRH Enterprises and UW Gear. Multiple prizes were awarded, including a $200 gift certificate for each competitor and several UW Gear chest rigs.
Attendance at Combat Team Tactics (CTT)  is going to be added as a pre-requisite to attendance at the Challenge. All the competitors were MVT Alumni and it would have been difficult to run the live offensive and break contact drills on the ranges with random untrained attendees.
Above: Dinner at the Main Street Grill
Above: Lee and Max at the NAVEX EXCON.
Above: Lee and Max instruct high threat CQB.
Above: Lee and Max instruct high threat CQB.
Above: Heading downrange for break contact drills.
Above: CQB
Above: CQB
Above: CQB
Above: CQB
I have GoPro video and I will edit it into a summary video of the event.
More to follow.
Max