Loaner Rifle Kits + Ammo + Misc Pictures
I have got hold of 2 x AR15 loaner rifles plus EOTech sights. I am going to make these rifles available, with standard capacity magazine rifleman kits, for students on classes.
I am also able to sell you ammo, at my cost shipped to me, for classes. I usually buy 55 grain brass in 1000 round loose boxes as training ammo, so don't make the numbers complicated. Don't make me take my boots off to count above 10!
I am doing this due to the numbers of students who have to transit occupied states, or transit airport security,  on the way to class.
Just bear in mind that it is always better to train with your own gear and weapons, and this is designed for those who have problems transporting their weapons/ammo/gear to class. .
As we go forwards, I will probably invest in more loaner rifles. This will also mesh nicely with my plan to expand into simunitions & urban training.
Cost:
AR + EOTech + 8 x Magazines: $50 per day. Post-class cleaning included!
Photos:
Below: RMP class today – practicing clearing unseen stoppage drills, set up by their buddy, after running onto the firing point: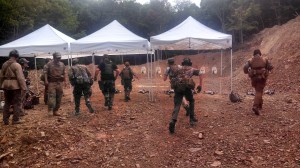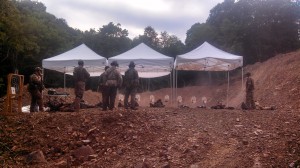 Below: Aaron running RMP: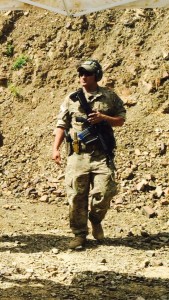 Below: The Kill  group from the squad ambush on the last 5 day combined class:
Live Hard.
Die Free.
Max