Idaho Classes May 2017: Initial Announcement
Idaho Classes in 2017 will take place on private land in the vicinity of Midvale, approximately 1.5 hours north of Boise ID.
Combat Lifesaver: Wed 10 May. $100. Max Class size: 16
This is an 8 hour period of instruction on Tactical Combat Casualty Care.
__________
Combat Team Tactics (4 Day ): Thu 11 – Sun 14 May. $775. Max Class size: 16
This class combines the Combat Rifle Skills Class with the tactical range potion of Combat Team Tactics, making an excellent progression course. This is a live fire class.
__________
Combat Team Tactics / Mobility (Convoy Tactics) (5 Day): Wed 17 – Sun 21. $950. Max Class size: 16
Combining the 3 day Combat Team Tactics class with 2 days of Vehicle Tactics / Immediate Action Drills, this is an excellent 5 day progression. This is a live fire class.
__________
Direct Action Live Fire (3 Day): Tue 23 – Thu 25. $575. Max Class size: 16
This class is for Combat Team Tactics (CTT) alumni only. This is a hybrid of the Combat Patrol class. In summary, it will focus on:
Day 1: CTT Revision: fire & movement, assault, break contact.
Day 2: Ambush: teach, conduct ambush, live fire, multiple iterations.
Day 3: Raid: teach, conduct raid, live fire, multiple iterations.
This is a live fire class.
__________
CQB / Force on Force Team Tactics (3 day): Fri 26 – Sun 28. $575. Max Class size: 18
This class utilizes UTM Man Marker Rounds for force on target and force on force training. There is no live ammunition requirement for this class. There is no training prerequisite for this class.
Day 1: CQB Training. Structure entry and clearance. Force on Target / Force on Force / Scenario training.
Day 2: Force on Force Team Tactics. Force on Force / Scenario training.
Day 3: Force on Force Team Tactics. Force on Force / Squad Assault Cycle / Scenario training.
There is a $600 additional charge for UTM ammunition. You will not expend your own live ammunition.
_______________
Bookings:
A $300 deposit secures your place on a class. Email ahead to check class availability, and ensure you put the details of the class down on the order form when you book. Information packets will be sent out with specific class location / details.

_______________
Discounts:
There is no specific discount policy for these classes. Classes have already been discounted from MVT daily rates. If you are booking more than one class, or multiple people, email me and I will see what I can do for you.
_______________
Fitness Basics
All MVT classes require a basic level of physical fitness. This includes cardiovascular fitness for the tactical ranges, and basic body/arm strength / endurance for tasks such as charging your rifle on repetitive weapons manipulations.  The physical fitness standards are easily attainable and are not onerous. However, if you ignore the requirement, you will be reducing the value you gain from training, and being an impediment to your teammates. We do offer tactical fitness training plans, including advice on basic standards and how to test yourself HERE.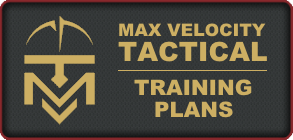 _______________
Gear Basics
One of the problems we have at class is poor gear negatively impacting the training experience of the student. For that reason, we have begun designing and selling MVT gear, designed for best tactical performance and functionality. Many do not understand gear, and it is a constant source of questioning on the MVT Forum. We have several chest rigs available that are ideal for both training and potential unconventional combat operations. Keep your eyes on the blog for more gear coming out in the near future, such as the the MVT Lite Belt. I strongly encourage you to have a look at the 
MVT Gear Store
 and get you and your family fixed up with quality, 100% made in the USA, tactical gear from MVT. If you are motivated enough to invest in quality tactical training, you should also invest in the right tactical gear, which will improve your performance and training experience. MVT Gear features kydex inserts in the mag pouches, for lightning fast reloads and one handed tactical reloads. We are light years ahead of others, because we designed this gear to work for you.
___

___
___
___
___