Helmet: A Recommendation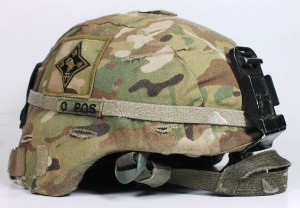 Above: ACH with multicam cover and night vision mount
Helmets.
To wear or not to wear?
A debate all in itself.
Mission/Situation will drive it, but I know that if I am in a kinetic environment, I would like to be wearing one.
There are almost two strands to this thought process, and the point of this post is not to get too much into the weeds on it:
1) You want a helmet for bump/ballistic protection.
2) You want somewhere to mount your NVG's.
If you decide that you want one for both ballistic protection and mounting NVGs, then you have a few choices. The current trend is for the 'gunfighter'/FAST style helmet where it is cut high over the ears. That's the cool guy stuff right there. I have one just like that.
However, I also have an Advanced Combat Helmet (ACH). And you know what, there is absolutely nothing wrong with these helmets. They are great. Really, many people deep down  want the gunfighter style because they want to look like one of the cool guys. As in "I'm so special operations tacticoolaid that I don't wear an ACH."
Granted, there are good reasons for the gunfighter style (mainly for ear accoutrements). But the ACH is better at protecting you from flying dangerous stuff. Also, you can get improved chinstraps for them and even better pads for the inside, even rails and ballast, so that it closes the gap between the gunfighter style and the crappiness of the ACH with NVGs.
So, I was looking for an ACH, and for how much, because it would be a pain in the butt having to change out the current 'ICU' cover on mine for a multicam one every time I actually want to be camouflaged (i.e. on MVT Combat Patrol weekends, when using my night vision gear, for SHTF etc).
Guess what:
Fort Bragg Surplus,  Advanced Combat Helmet (ACH) Kevlar, U.S. Military: $164.99
FORT BRAGG SURPLUS ONLY SHIPS THIS ITEM TO U.S. CITIZENS WITHIN THE UNITED STATES.
Advanced Combat Helmet (ACH):

The Official United States Military Issue Kevlar Advanced Combat Helmet – A.C.H. – provides improved ballistic and impact protection. Advanced Combat Helmet is based on the MICH (Modular Integrated Communications Helmet) design and provides an improved helmet to Soldiers, replacing the older PASGT (Personal Armor System for Ground Troops). In addition to providing the Soldier ballistic and impact protection, it can be used as a platform to mount electronics such as communication devices, and Night Vision devices (NVG mount sold separately). It provides increased 9mm bullet protection. The reduced edge cut of the ACH, although reducing area of coverage, will improve the field of vision and hearing, leading to better situational awareness over the current helmet.
The ACH Features:
Helmet Kevlar (Shell O.D. Green)
7 Pad Suspension System (NOTE: Some Helmets we are recieving are coming with the New Team Wendy Epic Suspension System)
4 point Retention System, Chinstrap/Napestrap (O.D. Green or Black)
Pre-drilled hole for NVG Mount
All Pads, Covers and Suspensions Systems have been Cleaned, Disinfected and or Replaced with New.
Condition
Prior Issued, Excellent Condition
You want a better strap system?
ACH Head-Loc Retention System H-Nape L/XL TAN
The Head-Loc RS was developed to improve safety, comfort and stability of chinstraps used in MICH/ACH ballistic helmets. Every component, down to each stitch pattern, was designed specifically for this purpose, giving the ACH greater utility than ever before. Custom adjustment tabs allow the helmet to be adjusted while wearing it, without any hanging loose ends.
I have one on my ACH – this makes wearing NVGs equivalent to a high speed gunfighter style helmet. .
You want a multicam helmet cover? Advanced Combat Helmet Cover – Multi Cam
You can buy any number of cool functional accessories, such as side rails like on the gunfighter style helmets.
"just saying"
Max