Duritium Level III+ Special Threat 'Green Tip' Plate – available from MVT!
Max Velocity Tactical is proud to be a dealer for Shot Stop, body armor plates with ground breaking Duritium technology.
The Duritium III+GT plate: a  special ultra-thin, light weight multi-hit protection option rated to green tip (SS109/M855) protection.
Protection Level : NIJ III+ (special threat)
Outer Covering : Polyurea
Plate Material : Hybrid / Composite : This is a plate that has both the alloy composite facing and the Duritium® Polyethylene as part of its makeup.
5 Year Manufacturer's Warranty
SPECIAL THREAT TESTING:
5.56 x 45-mm, 62-grain M855 Ball*
Commonly Known as SS109 (Green/Brown Tip)
Note: This plate also stops M193. These plates are not affected by heat (i.e. locked in a hot car) or by cracking (i.e. as per ceramic plates).
We are stocking these plates as standard:
Model#: D1789SSB, Part#: SE3+10x12MCGT. Size: 10″ x 12″ x.55″. Weight 4.8lb. Multi-Curve, SAPI/ESAPI Cut (SE)
See below for  information on other Shot Stop products.
***Alumni discounts via the Alumni Forum on the MVT Forum***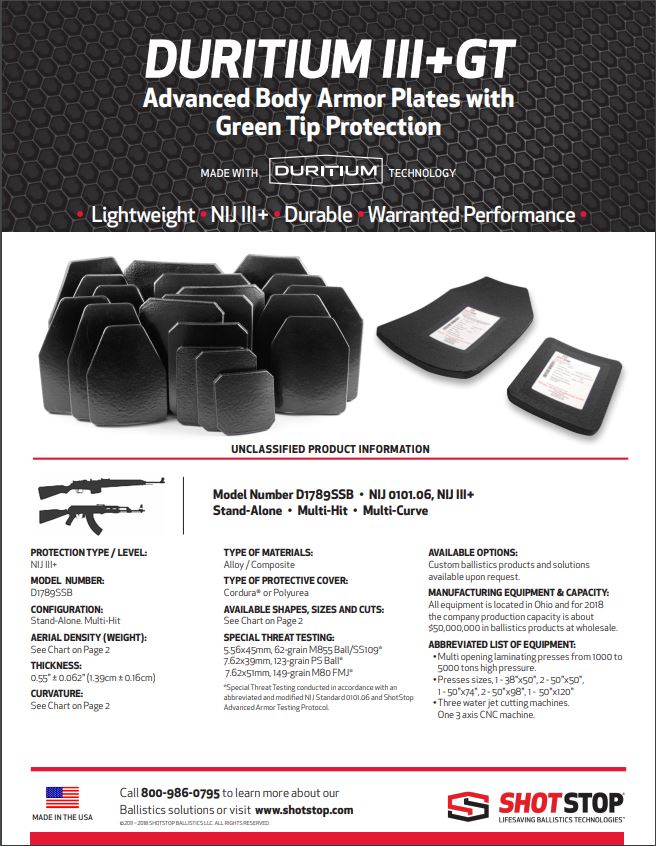 If you are interested in other plates by Shot Stop, please take a look at their website HERE. Max Velocity Tactical is an authorized dealer: Contact Us (maxvelocitytactical@gmail.com) and we can order the plates for you.
Depending on in-stock availability, orders may be may be shipped 7 to 10 days (plus manufacturing lead times) from placement.