Comment on Training & Training Standards
I recently posted this in response to some silliness that had been reported to me, re-posted on blogs that I no longer read:
And while I'm at it: yes you need to train, and you need to patrol, and you need to form tactical teams. If you have a defended location at the very least you need to conduct local security patrolling. Any other opinion shows a lack of ever having to live/operate in/from a defended location. You do not protect your house from your porch.
The above is in response to comments I read in an article that it is legitimate to learn to defend your home, but not legitimate to ever go on a 'patrol.'

More:
As I said to the Texas class, with the training resources available there is no reason why you and your civilian team cannot become an excellent light infantry force. Those who have been to MVT training get it – they realize how fast and well we progress you with live fire oriented training. Stuff that most of the military does not do, or as well,, or very often at all. Look on it like a fun hobby. It will cost you a bit of cash, but less than most adrenalin style sports/hobbies or activities. And if you do it enough and become competent, you become a trained trainer.
Didn't go to boot camp? So what. What's the point of most of it anyway, other than obedience conditioning? Marching up and down the square…. Training schools like MVT, and trainers like Mosby and Sierra12, are running excellent training. You don't have to be at a disadvantage to anyone. Just look at these videos: 5 days! Most of these guys have no prior training off the square range. Look what they are doing after 5 days. Makes you wonder – WTF is the military doing? Health and safety, risk assessments, bureaucracy, and ass covering, mostly……;-)
Lately, quotes have been sent to me which are essentially criticizing the training that MVT offers simply because, it would seem, it is too good. Too 'elitist.'
So let's set the record straight.
Here at MV T we are a professional training organization which strives for excellence. The original purpose in my mind when I wrote 'Contact!', before I ever started the training school, was to pass hard won information on to "keep good folks alive." Alumni know that all shapes and sizes have passed through the CRCD, later becoming CTT classes, and have all been trained to the best of our ability.
Many who haven't yet got a grip of their PT have been trained. And I love them for it, because they all showed heart and determination and went up 'Max's Mountain' without complaint. Where the physical may have been lacking, the heart was there. Fathers and sons, fathers and daughters, husbands and wives, have all trained to fight and survive as a family unit.
That is, at its very basis, what MVT is about. "Training good folks to survive" a collapse situation. We are about good honest folks, armed citizens, protecting their families. And yes, I know it is mostly about the guys, but I have always encouraged the girls to show up too, because they should be fighting alongside their menfolk, or at the very least capable to fight on and defend the babies if the men folks fall.
Now we have created the MVT Rifleman Challenge. More competitive events may be on the way in the future. Run and gun, maybe 2 gun competition etc. We shall see, when time permits. But now certain elements are carping that MVT is too elitist. That this is all too much, and that we should set low standards and consistently fail to reach them. Really. Sounds like weakness to me.
No.
MVT is a professional tactical training organization and we will continually strive for excellence in training, and to make those who wish to train reach ever higher standards. We are trying to change the meme. Real, effective, tactical training. No longer do we want you to be unfit and unskilled. We offer you the ability to be all you can be tactically.
What is 'elitist' about surviving enemy action?
And yes, I am an elitist, always have been. I always wanted to be all I could be, and I want you to be the same. That is why we offer the training.
So we will continue to cater for all levels of PT and all levels of skill, and there is no discrimination at any of the classes. Combat Rifle. Combat 2 Gun, Combat Team Tactics will allow anyone to attend, as they always have, with a modicum of fitness and weapon handling skills. We are, and will remain, here to train you to have the best chance of survival in a collapse situation, or wherever the skills are needed.
A quote from this Student Review:
"As a lot of students before me have said, Max is an excellent instructor.  You have read about "crawl, walk, run".  In hindsight, it's very easy to see how he did it.  However, during the training, he managed to keep everyone, all with different skill sets, interested and engaged.  It was amazing how much we accomplished in 5 days.  From day one on running your rifle and malfunction drills to day five with the squad attack.  Was that really the same group?"
However, because we are a professional training organization, we are offering more. We are encouraging you to be all you can be. It's purely voluntary, of course, no one is forcing you. Additional training events such as the MVT Rifleman Challenge are designed to be fun, challenging, rewarding, and to encourage you to attain a higher personal standard with both your fitness and your tactical skills.
We also offer professionally designed tactical fitness training plans: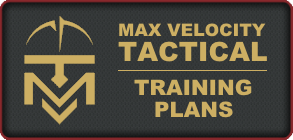 If anyone ever tells you that you don't need to be better, they are full of shit. Can you keep lower, move faster? You can learn the basics at a class, but who knows what the margin of survival may be when it happens for real? Fitness will always be a winner.
I also stand by what I said in the quote above about the ability to privately train, as a form of 'survival hobby' if you like, to be an excellent light infantry fighter. We offer the training, it is there for the taking. I will not allow false modesty to inhibit my telling you that the training that MVT offers is excellent. I am very proud of what we are bringing you, and I continue to try and improve it. I've got to get up to site this weekend to dig a few more target pits (they keep getting dug!) to improve the tactical ranges and thus the course of instruction on CTT. That is one of the benefits of having invested in a permanent facility, although the recent Texas class has shown that we don't need that facility to bring the training.
Questions?
Let's go!
Max