Class Updates & Space Available
Class Updates & Space Available
February looks like a slow month. The Brady, Texas Combat Team Tactics/Mobility class filled up (I can squeeze a couple  more on without breaking the number quality limit if there are takers). There are spaces available on other classes:
Combat 2 Gun Inaugural Class 6-8 February
Combat 2 Gun 27 February – 1 March
I'm looking for some feedback on the MVT Squad Operations Tactical Seminar: Manassas – January 24/25 2015. I ended up cancelling this class because there was not enough interest to justify booking the conference room at the hotel. This class was a direct response to student requests, but once scheduled, did not garner the interest I expected.
It was organized because:
Organizational/leadership/planning exercises/seminars had been requested and the online exercises I had been doing were very popular.
The January/February winter months are slow for people wanting to get out and train (see above) and we thought a conference room would be a lot more comfortable.
This type of training is important.
This does show that, although I know that training is important, I can't make people do it. This is not a military training organization where we can require people to show up. Civilian training is a business and it is entirely voluntary. If there is no demand for this type of training, it simply won't happen.
There are a number of new classes in the offing and I have posted about them HERE.
It may have escaped people's attention that I initially proposed the III Rifleman Challenge and it has since become the MVT Rifleman Challenge. There have been some questions on the forum about who and what the III% is, and who is who HERE. Also asked in that thread is whether MVT has an affiliation with any of the particular groups calling themselves III%. The answer is no. I had proposed the III Rifleman concept in order to try and push standards and professional training across the armed civilian spectrum. I was disappointed when the group of trainers associated with the III% Society for America, who had asked me to come on board as a senior policy adviser, did not show interest. Lead by example. So I have simply forged ahead with the concept as the MVT Rifleman  Challenge, and it is shaping up as a really good training challenge that will bring some real identifiable standards to those who achieve the patch.  You get to do some really good tactical fitness, shooting, and some excellent skills training to standard. This is the real deal. I still hope the concept spreads, but until it does, we will run it at MVT. Lone voices in the wilderness!

***NEW / UPCOMING CLASSES 2015***
Do you consider yourself part of the III%? A proud American Patriot ready to defend hearth and home against all threats? A proud armed civilian with the physical and combat skills readiness to act as part of the unorganized militia when called upon? Are you former military, a combat veteran, but out of shape and the skills need dusting off?
Are you an individual looking to link up with the Max Velocity Tactical network? Are you are small team looking for some real effective professional training?
Max Velocity Tactical offers real combat proven tactical training, as well as specific tactical fitness training plans, to make you all you can be. MVT is a community of like-minded Patriots who are serious about tactical training. The students are professional hard-working Americans who are making themselves as prepared as they can be for the hard times ahead. You won't find a better group of people to train and network with.
Have you trained at MVT? There is no room for excuses or poor tactical fitness and readiness. It's time to get a grip, and get trained!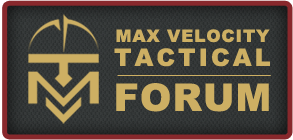 ______________
In case you missed these announcements over the Christmas period: Class Schedule
The following are either new classes or special classes scheduled for 2015:
Combat 2 Gun (C2G)  – this is the inaugural C2G class, Feb 6 – 8 (Fri – Sun)!
Combat Team Tactics/Mobility Class, Brady Texas Feb 18-22- this private class was opened up to open enrollment. There are up to 4 spaces left available on this class. Come fight in the bush country of Texas, dismounted and vehicle mounted!
Mar 27 – 29 (Fri – Sun):  MVT Rifleman Challenge (RC) – this Challenge is designed as both a series of physical and skills test events to establish real rifleman standards, blended with instruction – including Tactical Clearance (CQB). Come test yourself against the standard, earn the patch, and enjoy a challenging weekend with like minded folks. You talk the talk, but can you walk the walk? When the hammer falls, the MVT Rifleman Patch will be a recognized symbol of competency. Got yours?

Tactical Fitness Training Plans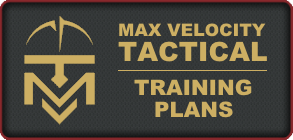 Live Hard.
Die Free.
Max