Chris Sends: Gear Review: Hydro Flask
Gear Review: Hydro Flask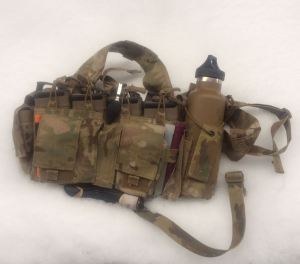 Now that winter has fully arrived and made its presence known, it's time to do a seasonally appropriate gear review.  As many of you know, water is life in all seasons and many an outdoorsman or prepper will neglect their water intake in the winter time due to the lack of sweating.  I can personally attest to the most dehydrated I've ever been in my life was after reaching a summit in mountain phase of ranger school in a snowstorm after all my canteens froze.  That being said, good kit will always help you go a little farther and stay hydrated, healthy and in this case, keep your colds cold and hots hot.
The Hydro Flask vacuum insulated bottle is a top contender for me in my kit and I'll break down why.  Its insulated stainless steel and small mouth means no sweating condensation to get the rest of your gear wet and little spillage when pouring or drinking strait from it while on the move or in the great outdoors.  The designers claim that hot liquids will remain hot for 12 hours and cold liquids cold for 24 hours; a very useful device for transporting 24oz of your favorite beverage (coffee, hot, tea, ice water etc)! I had a chance to test this out last week at Max Velocity Tactical with some of his trademark British tea.  Temperatures hovered in the low 60s midday day and dropped down to the 30s at night.  I poured a fresh kettle of tea at 5pm and after a night of classes, with me drinking from it regularly, I woke up the next morning at 6am and had a piping hot drink waiting for me. I was very impressed!
To back up this experience, Off Grid Magazine did a sampling of many water bottles and had some test results for hot and cold beverages.  The Hydro Flask was one of the top contenders:
Hot Water Test
Air Temp 72 degrees
Start   195 degrees
2 hrs   165 degrees
4 hrs   128 degrees
8 hrs   111 degrees
12hrs    92 degrees
 Cold Water Test
Air Temp 78 Degrees
Start   36 degrees
4 hrs   44 degrees
8 hrs   50 degrees
12 hrs 54 degrees
24 hrs 61 degrees
So all in all, pretty decent.  And when you wake up in the morning, crawling out of your fart sack into thirty-some degree weather, a ninety degree sip of something will launch you from zero to freedom fighter hero right quick!
Ok well that's the effectiveness of the product actually doing its job but of course it has to have other advantages before I'll put my name on it.  Things like price: $30 online, $25 at field and stream, put it competitively with most Nalgene type bottles and all other thermos bottles at the 24oz level.  Size:  This thing fits right into my utility pouch on my mayflower chest rig (pictured above) which means any MBITR or 3 AR Mag pouch will hold it.  Color options: Flat Dark Earth (I would paint the world that color if I could, in the meantime my water bottled and rifles will have to do), Hunter Orange, Blue, White, Silver,Red, Green, Arctic White and for some reason pink.  Anyways you can pick one up at their web page hydroflask.com or head over to any major outdoors shop.  I highly recommend it to keep you warm this winter and look forward to using it in conjunction with my new mini-life straw kit that I will write about soon.
Live hard die free!
[Max adds: after Chris's experience with the tea, I purchased the same one as him and also a 32 ounce version. I was just out at site today drinking hot tea from it. It has now replaced my thermos flask]