Arctis B110 Windproof Smock – Field Trial
HERE for  my previous post on this subject.
Noting that there was a "Severe weather alert" out for windchill, I headed up to my training site Monday/Tuesday to get some work done on the ranges.
I'm not one to usually be too worried about the cold, but was it ever cold! Colder than a snowman's testicles! The external temperature in my car was -16 Celcius (that's a useful temperature for you Fahrenheit people, you know, where zero is freezing….yep. -16 C is about 3 Fahrenheit). That was without the wind chill. We can all deal with cold, just put another layer on, but when it is combined with windchill it is a killer, you will rapidly find yourself hypodermic, more so if it is also combined with rain.
When out working in the woods, I was wearing Danner boots, jeans, thermal top, down jacket, windproof smock, hat and gloves. Very comfortable. Normally I would overheat rapidly in all that gear, but given the biting cold I would get a little warm and cool down rapidly. It was the sort of weather where at night, outside without gloves, your hands would rapidly be in pain and hypothermia would be minutes away.
Here is a 'selfie' of me on Tuesday, working on range 1, in my smock: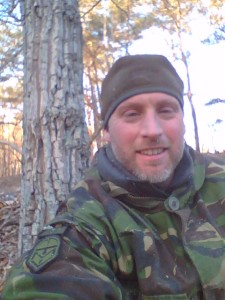 The Arktis smock is excellent, hard wearing. I was carrying logs in my arms, on my shoulders, chainsawing and similar. Great pockets for gear. There was a noticeable improvement in warmth when wearing the smock over just the down jacket.
Disclaimer: with my order of the A310 waterproof layer, Arktis have thrown in an Allen Belt freebie. I used to have one of those. I'll review it when I get it.
It is supposed to warm up for the Patrol Class on the 18th!
Live Hard.
Die Free.
Max