AAR on Snowmaggedon & Training/Gear Comments: Greg
Just received from Greg: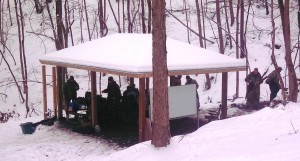 Thoughts after participating in Snowmageddon CRCD class (Dec 14/15). This was my favorite class of last 30 years. I have no military experience so team training is hard to come by, but individual training is as easy as 1,2,3:
Get out of bed.
Socks, underwear, and camo pants.
Camo shirt, elbow pads, and jacket if needed.
Boots,knee pads, face camo,ears,hat,and gloves.
Old style military assault harness with two 3mag
pouchs (27 rds. each) of Federal xm-193, winchester white box, or prvi. 55gr .556.
Magazines pointed down with the inner curve closest to the body so when you fumble your snap closing, your mags won't fall out.
2 1-qt. canteens, butt pack with rain gear, easy to eat food. Also, mini binocs., tourniquet, quick clot, and padded belt.
Next, grab your well balanced ar (to allow one handed carry either side), with either a t-1 with homemade sun shield or an a cog with flashkill
body attached but ard lens removed. Zero at 40/240 metersand forget the ballistic reticle. Buttstock 3 clicks out to avoid harness buckle
Use a standard military sling with buttstock sling swivel removed as it will catch on any thing and get you killed.
Out the door! Choose offense (movement), or defense (fixed).
Defense. Go to work in progress fighting hole- DIG for 1-2 hours. Work on deception, dummy positions, grenade toss, 1st aid (can you reachand apply your own arm tourniquet with both left and right hand only), react to combat, ambush, spotting and target detection, range,
wind, night skills, patience, 7 human nature vulnerabilities, 6 s's, booby traps, wires, etc.
Offense. Map and compass, grenade toss, 6 s's, 1st aid, react to combat, ambush, spotting and target detection, range and wind, night
skills, shadow walking, patience, booby trap, wire, wall of green, Roger"s rangers.
Sincerely, Greg