AAR – MVT Improve your Tactical Fitness Plan weeks 1-8 – Intermediate level: MikeQ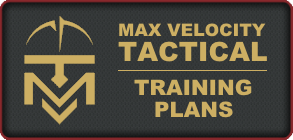 AAR – MVT Improve your Tactical Fitness Plan weeks 1-8 – Intermediate level: MikeQ
I should state that you'll get out of this plan what you put into it. If you half ass it, you'll get half ass results. Remember the only person you're cheating is yourself. Well yourself and your family. If you can't get off the "X" because you're too big to maneuver then you die and so will your wife and children (or perhaps a fate worse than death for your wife…)
Pre-plan: Let me begin by saying that I'm 36 years old and was in fairly decent shape. I used to run every single day approximately 4 miles. However I did not do any strength training. I am 5'-11" and weighed 174 lbs. I ran the 1st 2-miler in 23 minutes 14 seconds. I give you all of these numbers as a baseline for the results which are shown at the end.
During-plan: The plan is well thought out with plenty of alternating exercises which allows a one day recovery. In other words your basic cardio one day, strength the next day, etc. The weekends are usually the harder cardio times with "days off". The days off are spent doing dry fire exercises and range work. On average there was at least 1 to 2 trips to the range per week. The 1st two weeks of the plan were fairly easy for me but after that became real challenging.
The plan also includes a heart rate monitoring portion which will push you into another zone. I failed to follow this step because I don't have a heart rate monitor. (I cheated myself on this level) I'm going to modify the plan starting around week 3 or so and start over, using the heart rate monitor and push myself to get better. (once I recover from my hamstring pull I acquired this weekend at CTT) Even being in good shape a simple muscle pull can really slow you down. I was able to push through however, since it was not a major ordeal. (Thanks to Diz for his "stick", without which I could not have completed Sunday's portion.)
Post-plan:  I'm still 5'-11" (well maybe a little less because of the ruck pushing me down! J ) I now weight 166 lbs. My final 2-miler was completed in 21 minutes 18 seconds. Therefore I lost a total of 8 pounds and shaved just shy of 2 minutes off my 2-miler time. I was also able to complete CTT without too much muscle fatigue. Nothing different than what I normally have after each weekend on the plan!
Take-Aways:
1.)    I really enjoyed this plan and actually looked forward to it every day.
2.)    Make sure the shoes you wear are well broken in before you start.
Moleskin is your friend!
3.)    Pick the best time of the day for you to do these exercises and stick to that. If you don't stay with that schedule, life will get in the way and next thing you know you've missed 4 days.
5:00 am everyday was my magic hour…
4.)    Only equipment needed is appropriate clothing, shoes, rucksack, and a pullup bar.
I simply used a medium Alice pack I got off Amazon for $17.
Installed a pull up bar in my basement using black iron pipe and scrap 2'x4's from Home Depot.
Well you need your rifle, etc for the range work, and dry firing.
5.)    Stretch.
I'm looking forward to the release of weeks 9-16 plan. I suspect there will be a lot more 8 mile TABs…
Thanks,
MikeQ