6 Day Class Sep 28: Combat Patrol Phase Available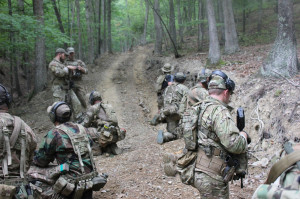 It is a little short notice but I am opening up the patrol phase of the upcoming 6 Day Combined class to CRCD alumni. It can be taken as a standalone patrol class.
Dates are as follows:
Saturday 27 Sept: Combat Lifesaver (TC3) is running. This can be taken as standalone class.
Sunday 28 – Tuesday 30 Sept: CRCD portion is running.
Wednesday 1 – Friday 3 Oct: Combat Patrol is running.
We ran the first full 3 day CRCD class this weekend. It worked really well and the addition of the first day on the square range made a difference to the student's learning experience once we moved into the woods.
Email me if you are interested. You can bring payment to class.