5 Day Combined Class – Update + Some Photos
I'm just back in from the 5 day combined class. It was great. A really good bunch of students. It is good to have the full 5 days to work with people, and although the class is a sequential CRCD / Combat Patrol combination, having it all together allows greater knowledge transfer and flexibility in the schedule as required.
We had two students leave from the class. My sympathies and best wishes go out to John, who had to leave on the Monday due to a family emergency in Alabama. We have been in touch and he will be coming back. Alan, who was there with Fred to help me out with safety/enemy, was able to fill the slot and ensure no-one was without a battle buddy.
We also had another gentleman withdraw on Monday night; the class was too much for him. Please bear in mind that, more so with the Combat Patrol class, this is an infantry class. My students are not 18 year old recruits, and part of what I bring as an instructor is the ability to work with varying ability levels. There have been many in their 60's on CRCD, and even a 71 year old spry USMC veteran (with an M1 Garand!) So if you are an older gentleman, don't be off put. But bear in mind what I say on the class PAGE:
"Fitness: Tactical training requires a basic level of mobility. Instructors will tailor the level of physical intensity to the capabilities of the trainees and rest will be incorporated into the training day. A moderate level of physical activity will be involved with the training.
You will be required to walk over rough wooded terrain carrying your rifle and battle load; fire your rifle from the standing, kneeling and prone positions; make short rushes and get up and down from standing to kneeling and prone positions. You will be exposed to the prevailing weather conditions at the training site and there is no air conditioning and limited shelter."
And perhaps more importantly, you must have the mental alertness and spacial awareness  to understand what is happening with the drills, and your role in them. Otherwise, we have to stop and adjust for safety more often. Random behavior is not encouraged – moving slowly is OK, just not in the wrong direction! If you are unsure of the suitability of your age and PT ability, I recommend that you book a CRCD to gauge this, before committing to a Combat Patrol Class, or combined class.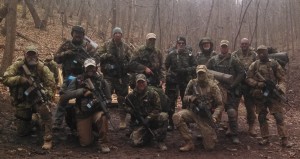 Above: The class prior to moving out on the tactical phase to the patrol base. The colorful tape on the magazines is a safety measure to designate empty magazines/cleared weapons for this phase of the training.
Above: First rally point after leaving for the patrol base. Moving into a 'herringbone' security formation.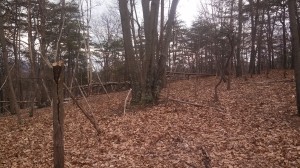 Above: View from the trail looking directly at the 12 man hasty ambush, established after breaking track to ambush the patrol's back trail, where the photographer is standing. This is part of the patrol base occupation procedure. A useful exercise in camouflage and concealment – can the hasty ambush be seen from the back trail? What, if anything, is giving it away?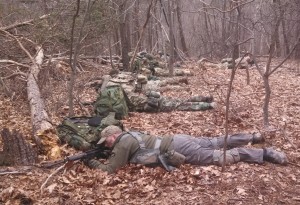 Above: Yes, there are 12 men in that hasty ambush!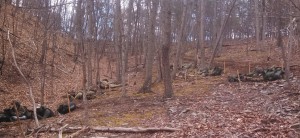 Above: Occupying the patrol base/LUP. The site is selected for concealment and terrain masking. And to put it on the ranges, to allow further tactical activity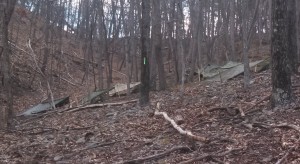 Above: Bashas (tarps) up.
Above: Tea in the patrol base, of course!
I am introducing a new class variation, for the day prior to all CRCD and combined classes. I am going to do a follow-up post on that later today. I will be amending the current TC3 full day offering to a split day: TC3 in the morning, and a Combat Transition Class in the afternoon. More to follow on that.
Live Hard.
Die Free.
Max