4 Spots available last minute on Combat Patrol 14 – 17 July
4 class places have come available on Combat Patrol 14 – 17 July. I know this is last minute and hard to schedule. Sadly, this being the first CP class at the VTC this year, and the first of the new 4 day classes, it has been sitting full for a long time. Last minute I had a family emergency result in a cancellation for one group, and another individual cancel also. The class now stands at 8, which is a very viable number, but there are 12 places available on these classes and 12 makes for a better situation with 3 x 4 man teams, rather than 2 teams.
If you can / want to join the class, and are a CTT alumni, then please contact me at maxvelocitytactical@gmail.com and we will work something out.
If you fill any spaces prior to July 4th, I may even be pushed to offer you an Independence Day discount. Email me and ask.
Class details below. Click Here for the full class page with gear etc.
(If this class interests you, but you cannot make the short notice, the next one is October 13 – 16).
COMBAT PATROL
This is a four day class which moves beyond the basics of the Combat Team Tactics (CTT) class, covering essential unconventional warfare tactics, techniques and procedures. It will give you the knowledge and training that you will need to not only defend your home base, but also to know what techniques hostile forces may use against you. Topics include:
Patrol Techniques.
Gear: carriage and use.
Living in the field.
Patrol Base.
Reconnaissance.
Ambush.
Raid.
Ground Domination Activity (GDA) / Security Patrolling.
It is a requirement to have attended Combat Team Tactics (CTT) prior to Combat Patrol. This class will involve living in the field, tactical movement, actions on contact including break contact drills, ambush, raid and reconnaissance patrols.
Classes are open to prior CTT students only. Priced at $650 per person for the four days. There will be a requirement for one night in the field, in a patrol base / bivouac learning environment. Gear and patrol pack/ruck will be required for the patrol base operation. This will be a practical patrolling and live firing course.
Class size: max 12.

Combat Patrol Outline Curriculum:
Class outline (subject to rearrangement):
Day 1 'Basics:'
Patrol Theory: Principles and mechanics of planning and organizing a patrol.
Gear: ruck/patrol pack theory, equipment and packing.
Ground Domination Activity / Security Patrolling.
Live Fire Revision from CTT:

Assault Drills.
Team Break Contact Drills.
Day 2 'Reconnaissance:'
The following is conducted as a mix of classroom and practical instruction:

Fieldcraft
Patrol Movement/Security.
'Actions On'
Enemy Contact
Enemy pre-seen
Hasty Ambush
Linear Danger Area (LDAs)

PM: Live Fire: This follows on as a progression from the drills learned on CTT:

Bounding Overwatch & multiple team break contact drills.
The MVT Box Peel – an MVT designed drill for withdrawing for contact front/flank simultaneously. Think L-Shaped ambush or enemy flanking move.

Reconnaissance Patrol: Close Target Recce.
Night: Practical Reconnaissance Patrol Exercise.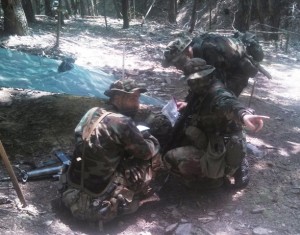 Day 3 'Ambush:'
AM: Ambush theory & Rehearsals.
AM: Live Fire Ambush Patrol

potentially several iterations.

PM: Patrol Base Theory & Rehearsals:

Patrol Base / Lay Up Position (LUP)
Procedure for setting up a Patrol Base
Sentries
Stand-To
Conduct & Routine in a Patrol Base

PM: Practical Patrol Base occupation exercise:

Patrol Out
Occupy LUP / Patrol Base.

Night: 'Exercise Virgin Soldier:' Patrol Base Practical overnight.

This is an overnight bivouac exercise in a patrol base format, focusing on the basics of sleeping and living tactically in the field.
 Day 4 'Raid Day:'
Raid (Deliberate Attack) – live fire raid.

potentially several iterations, different methods and techniques.

Class AAR