Student Review: Combat Leader Course (CLC) October 2018: Tango
Student Review: Combat Leader Course (CLC) October 2018: ST4T3S
Background:  I have attended MVT three times now, to include last year's CLC and this year's CLC.  I have also attended well over 20 training events with other instructors (mostly manipulation stuff, a smattering of tactics), was a Hospital Corpsman in the Navy, and am currently an infantryman in the Army National Guard.
Discussion:  This is my second time at CLC, and right off the bat I would like to say it was better than last year.  Being one of the four repeat students, I can say with confidence that I got more value out of this the second time, and that CLC is definitively worth the financial and opportunity costs.
Mechanically, CLC is an eight day class, with each of 13 students getting one appointment as the squad leader, multiple opportunities to be a team leader, and the remainder being as a regular joe.  Most days will contain two missions, one in the morning and one in the evening; each mission consists of a mission brief delivered by the Squad Leader, a period of mission-specific rehearsals directed by the Squad Leader, the mission itself, and then an on-the-ground AAR.  Missions are any of the traditional small unit missions (raid, ambush, etc), and are run against live enemy (called the "opposing forces, AKA OPFOR).  This year all the students except two were MVT grads, and that higher level of individual skill was very beneficial throughout the class, as it allowed leaders to have a degree of trust that their subordinates would know what to do.  Also, we had a great group of guys (and a gal) this year, who managed to get along very well, with only a few personality clashes.
A quick word on our training weapons: last year's CLC was run with UTM, and this year was planned to be UTM as well.  However, shortly before the class started UTM had some rather significant QC issues, and Max made the decision to switch airsim rifles.  I won't lie, I was originally pretty skeptical, and came to the class curious and mildly apprehensive about the new rifles.  After a full week with the new airsim stuff I can definitively say that it is better in the woods.  It's probably a wash with UTM inside structures, but overall, airsim takes the cake because it is just massively cheaper and more accessible.  So please don't boo-hoo the class out of some misplaced machismo directed at the training tools.
Fundamentally, CLC is akin to a miniature Ranger School.  It teaches, and selects for, leadership through the vehicle of small unit tactics.  It trains one's grasp of the fundamental principles of war and one's "grip" of a chaotic situation.  It develops and conditions the ability to follow orders, which is crucial for any leader.  What you get out of CLC is entirely unavailable at any other civilian trainer I know of, anywhere in the United States.  If you are the type of person who will read this review, then you should probably attend the class.
Another key differentiating factor between many training venues and CLC (MVT generally, but CLC specifically) is that chaos is the real teacher at CLC.  To wit: you can lead people pretty easily in a predictable situation (even if it is highly dangerous) but leading and controlling people in highly dangerous and unpredictable situations is a whole 'nother can of worms.  Then add to that problem the fact that you have to lead through people (in the case of CLC, a squad leader using his team leaders, who themselves are using their team) and you can see the unique value you get.  Learning how to grip your people and operate in the chaos is the key to success.
I certainly got my money's worth out of the class.  I developed myself in ways that aren't available anywhere outside of the military (ask me how I know) through gritty, realistic training; I learned more about tactics in a week than a year of reading books would do; I became a better follower, which is just as important as being a good leader (one presupposes the other), and I did it all in the company of some amazing people.  Oh yeah, did I mention we all looked cool while we were at it? 
Summary:  If you are serious about learning how to fight, not just how to shoot (which is only the smallest part of fighting) you really need to attend MVT (because no one else teaches small unit tactics to civilians in the same way that MVT does).  If you further think that you may fight with other people, you need to bring them to MVT as well, and then at least some of you need to attend CLC.  The Army doesn't send people into combat without organized, repeated practice at SUT, and if you think you're going to go into combat with your group - without rigorous, valid training - and survive you are either ignorant of the facts or delusional.
---
Student Review: Combat Leader Course (CLC) October 2018: Dan M
I recently attended the eight day Combat Leaders Course (CLC) at Max Velocity Tactical (MVT) and want to share my experiences and opinions on this training program.  
To start I want to give some background on myself.  I have owned and run a business for twenty years and have managed and coordinated actions among employees, vendors, supply chain and other resources extensively in managing the affairs of the business.  In addition I have six years of experience working in a wilderness survival program during which I coordinated the movement of multiple groups over rough terrain in many weather conditions with participants of various skill levels.  I have also done extensive high altitude mountaineering and alpine climbing around the world as part of a small team.  Additionally I have leadership experience as part of a wildland firefighting Hotshot Crew.   All of this past experience has taught me about principles of leadership and developed my ability to grasp many moving pieces in the moment and make decisions then implement those through directing the resources at my disposal.
From a training standpoint I have been actively engaged in pursuing training on many levels for the last twenty years.  I have trained at fourteen different facilities with over twenty different trainers for weapons alone.  This does not include training taken professionally or for similar pursuits such as orienteering, communications, medical etc.  I have a broad background and exposure to many training programs and topics.
My hope in attending this course was to supplement what I already know in the areas of leadership, small unit tactics, fieldcraft and equipment selection and application and hone my current skillset further.
During the week we were given multiple missions each day that the participants planned, briefed the group on, and executed.  Each class participant was given multiple opportunities to perform the leadership duties of the thirteen an squad that comprised our class.  The missions for which we conducted the process of planning, mission briefing (orders), rehearsals, leaders recon  and mission execution consisted of variations on small unit missions. This included iterations such as raid, ambush, hostage rescue, route clearance, tracking to contact; involving woodland and CQB environments. Missions also involved surprise action by OPFOR, and included counter-attack from quick reaction forces on or around the objectives. We also performed some voluntary night operations.  These exercises were designed to expose us to opportunities to apply the fundementals of leadership using small unit tactics against an opposing force.
All of these operations were performed using AirSim Rifles.  This allowed extremely realistic force on force engagements with opponents (OPFOR)  The OPFOR was comprised of MVT Alumni who were trained, competent and well led.  The realism of the force on force engagements using AirSim rifles was fantastic.  It allowed units to maneuver on each other, suppress the enemy and eliminate them.  In addition, it created the chaos of an engagement and allowed class participants to experience being engaged, suppressed and maneuvered against as well.  This forced the class participants to remain calm, grip the situation, assess options and deploy resources.  The AirSim rifles were extremely effective at creating the force on force engagement.
The operations were extremely well run.  The entire mission would be planned, rehearsed and executed.  The OPFOR can and did ambush the patrol on the way to the objective area providing realism and forcing tactically sound movement by the three teams that comprised each patrol.  The entire patrol was run according to the plan created by the assigned leader of that patrol for that mission thus giving each student the opportunity to put into action the plan they created by following the planning process.  
I originally thought on my way into the class that the majority of the learning would happen when it was my turn to plan and lead a mission.  I was very mistaken on this.  On each mission, regardless of my assignment I had a huge opportunity to learn.  I learned better ways to organize and employ my equipment, how to work in a small unit, the ability to follow chain of command, tactical formations etc.  I am reluctant to even try to list all that I learned due to the fact that the lessons I learned were so numerous across such a broad range of areas that it would be extremely difficult to list them.  I will say that in 20 years of business ownership and management and over $50,000 I have spent to personally attend leadership courses this one course was by far the best I have taken in learning leadership principles and applying them.  
The realism provided the ideal learning environment to accomplish the objectives of the class which in my opinion were fulfilled well above my expectations.  I have already scheduled to take two additional courses from MVT in the next year and if my calendar permits I will be adding a third course in that same time frame.  If an individual wants to learn an very large amount of information and how to apply it in a relatively short time, this class is fantastic.  If you don't have a strong background in these areas I would still recommending attending the course because the process MVT and staff employ will take you from whatever level you are and build you from there.  This is money well spent on training and I fully recommend it.
---
Review: Corporate Team Building (Force on Force) Event September 2018: MQ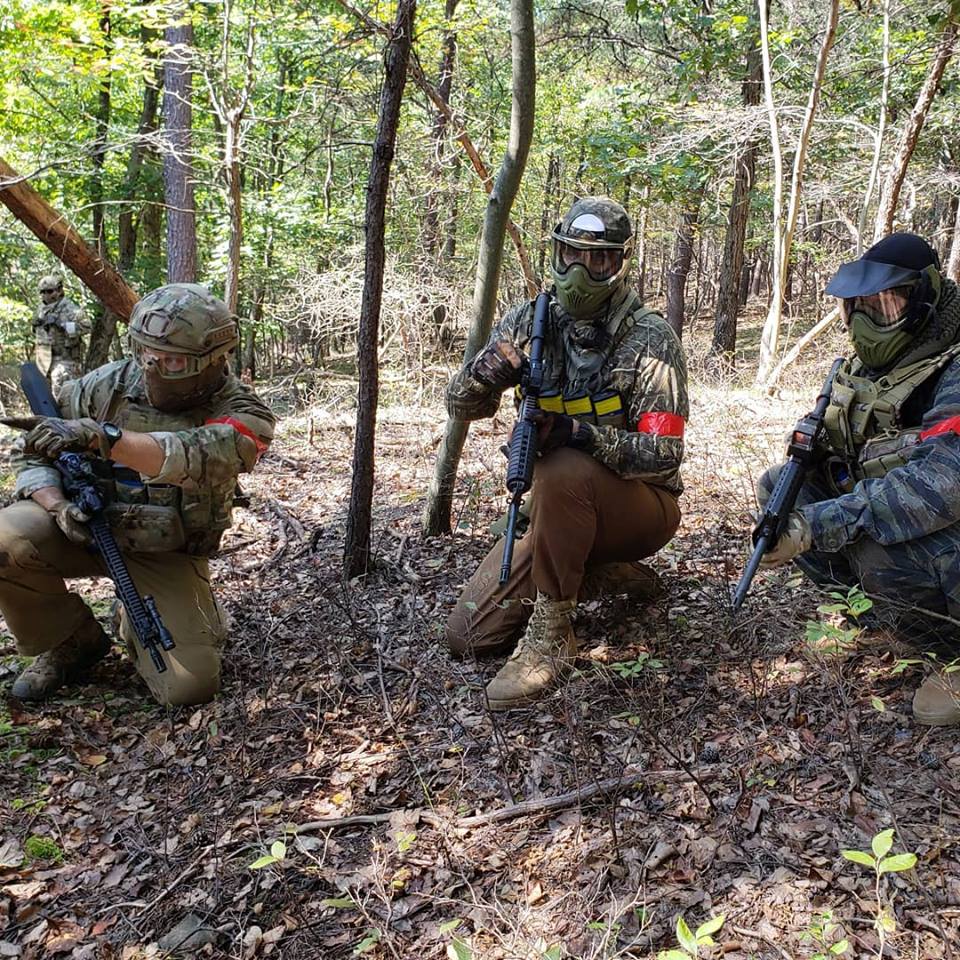 Above: Command Group led by alumni squad leader plans the next move
Review:
We just attended a 2 day force on force corporate event at MVT. There were a total of 18 guys of which 2 were alumni of multiple classes. 6 of the students do not even own AR 15's and had to borrow them. None of the 16 non-alumni members have had any sort of training with the AR-15. So to say the group was green is an understatement. However their results far exceeded everyone's expectations.
The two alumni (myself and one other) acted as squad leaders for the majority of the exercises. We stepped down from that role midway through the second day. The teams were split into two 4 man teams with a team leader and assistant team leader. We rotated the team leader positions so each person was a team leader at least once. This allowed each person to lead a team. Thus resulting in a VP of a company leading a team one exercise followed by a 16 year old high school student leading the same team the next exercise. As many alumni will recognize, going from a team or squad leader to a rifleman is very hard to do; however each of these guys did so with ease.
We spent the first 2.5 hours of day 1 going through the admin, safety brief, and then rehearsals. The first exercise was to acclimatize the group to the force on force action by each squad walking, in a skirmish line, into the other squad's line and just engaging them. This allowed the players to get use to firing their weapon at another human being and then moving in a real world setting. (Since the square ranges the players have previously attended do not allow you to move outside of your lane…) This was a real eye opener for most to realize that movement and cover is life; standing still, in the open, is a quick way to die. After that first "icebreaker" as we called it we went into the normal capture the flag scenarios for the rest of the day. A cookout was hosted onsite the first evening and everyone had a good time. Day 2 started with 2 attacks on the bunker hill area followed by more capture the flag exercises for the rest of the day.
Everyone was tired but in good spirits at the end of the second day. Many guys expressed a desire to come back and perform this training again. Some have since expressed interest into coming back for different classes. Many guys also stated going to a "regular" range would be very boring now…
At then end of the 2 day class here are some observations.
All of the guys were open to direction and listened when given directions.
The squads came together well and performed as good teams.
The teams were bounding, peeling, and adjusting fire very well by the end of the second day.
There was very little "cross talk" which often occurs with more experienced guys.
UTM rounds shit the bed and many weapons went down. A total of 4 weapons could not be cleared onsite.

If UTM is still used then the barrels need to be pulled through after every exercise.
MVT Note: the UTM issue is being addressed as a general issue.
All in all this was a great team building experience. The camaraderie shared by all is unlike anything I've ever seen from any other "team building" I've been forced to go through. I would recommend this to other companies.
MQ
If you are interested in a Corporate Team Building event please Contact Us. This can be organized with airsim training rifles to avoid complications of supplying sufficient ARE-15's etc.
Above: Squad preparing to move off to attack 'Hilltop.'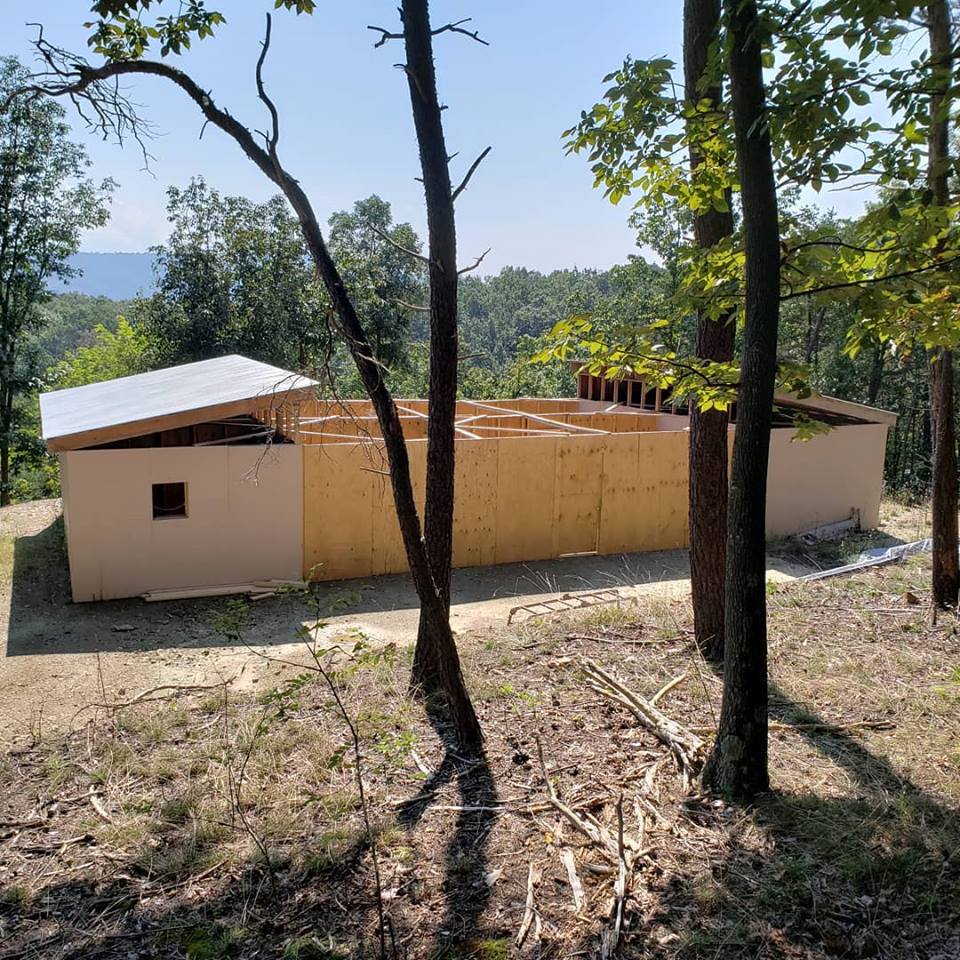 Above: Mega House prior to being attacked.
Student Review: Idaho Fly-In Mobile Class September 2018: Dan
Note: This was the first of the new format 'fly-in' mobile classes. We ran a 4-day HEAT 1 class.
Review:
I have been actively training for 20 years and during that time I have attended and been instructed by a large number of trainers across the country.  I have attended shooting courses instructed by a lot of the big name trainers as well as many local instructors.  I have attended a number of the large shooting schools as well.  I have never written a review of a course until now because none of them really stood out above the others I had taken.
The challenge I faced was that those courses of instruction revolved around manipulating the weapon and if I was lucky would include an extremely abbreviated course of instruction on how to employ the weapon as a team.
Enter Max Velocity Tactical.
I have been self studying small unit tactics during the 20 years I have been training.  Reading and rereading the Ranger Handbook, Youtube videos, everything I could get my hands on.   Max published his latest book "Tactical Manual" and I ordered a copy.  I already owned all of Max's prior books as well so I knew the content would be excellent.
In reading the "Tactical Manual" I was extremely happy to have found a book of instruction that was comprehensive in nature and easy to understand, formatted in a way that lends itself perfectly to anyone who wants to understand and apply small unit tactics.  It is easier to read and understand than any other source material I have come across so far.  I immediately went to Max's website and arranged for him to fly out and instruct a private course for him to instruct me and eleven other individuals.  This was Max's first fly out course he has instructed.  He provided the instruction in our area and away from the Max Velocity Training Center where he usually instructs.
Day one and two we covered weapon manipulation, clearing stoppages and some immediate action drills.  This material was extremely eye opening.  For example the instruction on malfunctions was different than I had been given in the past.  Total, in all of the classes I have attended thus far, I probably have had, collectively, 10-15 days of instruction on malfunction clearances alone.  Max was the first instructor to cover them in a way that the thought process of diagnosing the issue under stress, reducing the stoppage and getting back into the fight was organized as a simple sequential process,  where one malfunction clearance technique flowed seamlessly into another thus reducing the potential to turn an easy to clear malfunction into a malfunction that is much more difficult to clear.
Days three and four are where it really came together for me.  These are the days we covered small unit tactics and drills.  Using a simple yet extremely effective progression Max took us from individual movements to buddy pairs and then to four man teams.  We covered team movements, reactions to contact, techniques for assaulting through an objective, techniques for disengaging from an enemy along with a number of other highly useful team actions.  Additionally, we incorporated a number of these actions into a single drill, thus building the ability to be highly fluid and continuously change our actions based on the environment.
Max did an amazing job building teams that worked well together.  We had a huge range of student abilities and experience.  The spectrum included students such as me with a large background of prior training all the way to guys who just bought their first rifle and are starting out.  Max took the class through the material in a way that those with a large body of prior experience were not bored, yet the new students were not overwhelmed and were brought up to speed.
Max is extremely personable and it is very apparent that he genuinely cares about his students and wants them to be successful in this class.  He was more than willing to give instruction tailored to the questions or needs of the group.  It is somewhat rare to attend a class and at the end of the first class with the instructor feel like you have developed a friendship with him.  I feel like I can say that all attendees felt a friendship with Max by the end of the class, because of the way he relates to people and wants them to succeed.
Overall, this class is the best class I have attended by any instructor over the last twenty years.  It picks up where other classes stop.  Most other courses are so focused on weapon manipulation that they never get to point of how to employ that weapon in a cohesive team in a tactical environment.  If you think you can learn small unit tactics by watching Youtube and reading the Ranger Handbook, you are completely wrong.  If my teenage son thought he knew how to drive because he watched Youtube and read a book on driving, but had never once been behind the wheel I would tell him he was crazy.  So if you think there is more to learning to drive than just watching a video and reading a book while sitting on your couch, then you will also realize the importance of actual real life, live fire team based training.  No one to my knowledge provides this other than Max Velocity Tactical and fortunately Max does an extremely good job doing it.  I was so impressed, I signed up for Max's upcoming Combat Leaders Course and will also attend two additional classes next year.  To give you an idea of the quality of the course, by course end, every single attendee in our group had committed to taking an additional course from Max next year.
All in all, I wholeheartedly recommend Max Velocity Tactical.  I wish I had attended a class from him sooner but will make up for that by attending as many courses from Max as I can in the future.
Dan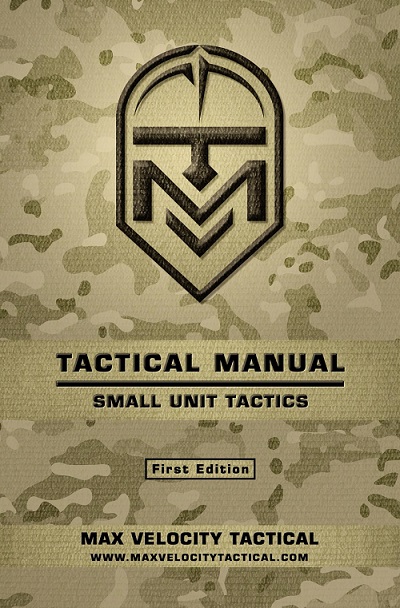 ---
I attended the Defensive Concealed Handgun class on July 14-15 and I couldn't be more pleased with the instruction from Scott, the experience, and my interactions with fellow students over the two day course. This was my first formal firearms class, and I was anticipating a high level of instruction based on prior class reviews and the reputation of MVT. I was not disappointed.
Day 1 started with a discussion of gear, the importance of investing in a quality belt and holster, and the pros and cons of the different carry alternatives (OWB, IWB, etc). Scott also pointed out different considerations for males and females that could influence choices for carry style. This was particularly relevant as three of the ten students were female. The importance of carrying spare magazines was reinforced, as well as the reason – most malfunctions can be traced to the magazine! A review of medical gear, and the rationale for carrying medical gear was presented similarly – you are more likely to need medical gear than the gun, so what's the logic in not carrying medical gear?
These last points are examples of one of the things I really appreciated about Scott's instruction. He supported the "what to do" with the "why we do it this way", drawing on examples from personal experience as well as the historical record – often unfortunate situations where preparation, presence of mind, or technique could have led to a different outcome for those involved.
The live fire portion of Day 1 was structured in a very measured way. Scott started us off building a solid concealed drawstroke, and by the end of the day we were drawing from concealment and shooting supported, unsupported, performing one-handed reloads with our support hand, and handling malfunctions. Every new skill introduced built on those before it, and once we learned it, we were accountable for performing unprompted. The instruction was perfectly paced, and it was a good balance of challenge and quality repetitions. I'll also note that Scott kept a close eye on safety in addition to proper technique.
The night fire session was absolutely time well spent. Scott covered a variety of techniques with the handheld light as well as the pros and cons of using a weapon-mounted light (WML). Those who brought a WML in addition to the handheld had an opportunity to drill with both, and I left with a clear preference. We learned in one of the drills that a quality light is an effective defensive tool in its own right!
I don't want to give away too much, as Scott has obviously put a lot of thought and effort into the program of instruction. Let me just say that Day 2 was at least as valuable as the first day, and we exited the class with hands-on experience with various failure drills, movement, and use of cover in addition to all the foundational skills we had learned and applied the day prior. Oh, and the Tueller drill was an eye opener… You should enroll and find out for yourself.
We had a great group of students from a variety of backgrounds and experience. Scott met everyone at their level, and it seemed like everyone gained something from the class, including returning alumni. In addition to great instruction and solid techniques I can work on, I came away with a better understanding of the pros and cons of the platform I was using (Glock), as well as the carry setup that I used. I would recommend this class to anyone who owns a handgun for self defense.
Thanks, Scott for a great class. I look forward to more training at MVT!
Scott B.
---
Company: Max Velocity Tactical
Course: Defensive Concealed Handgun (DCH)
Instructor: Scott
Location: Romney, WV
Dates: July 14th – 15th, 2018
Website:  Class Page Link
I had the opportunity to previously take this class back in 2016, my original review can be found on the forum:  https://forum.maxvelocitytactical.com/forums/topic/student-review-active-shooter-ccw-may-2016-batsoff/
The class name has changed from Active Shooter CCW to Defensive Concealed Handgun.   The class has certainly evolved since 2016, but a lot of the content was familiar as to what you'd expect for a concealed handgun class.
Scott does a great job of setting a level playing field for everyone…   lots of theory on why we carry, how to carry, what to carry, etc…    The difference between good gear and bad gear, what works and what doesn't…   with the realization that everyone is different.   What works for me, may not work for you depending on a wide range of factors.  Scott does a great job of teaching "a way," but readily admits that his way is not the only way.
This is a class for beginners and experienced shooters…  we had a wide range of ability at our class and everyone made it through successfully.   Beginner shooters will get an excellent foundation on shooting basics, handgun grip, sight alignment, trigger pull, the draw stroke, etc…    Advanced shooters will enjoy the different drills and definitely be able to identify weaknesses in their own shooting and firearms manipulation as they move through the different exercises.
A few thoughts after taking this class for a 2nd time:
Night Shoot:
Still a great option for those that can do so.   Shooting at night is something most of don't get to do often (or at all) which is really unfortunate given the amount of "bad things" that happen after hours in the dark.   Scott sets up several different shooting scenarios and use of handheld and weapon lights.   There are multiple techniques to master here, and there is no one size fits all.  We were able to learn all of the different techniques and then apply them to see what worked best for the individual shooter.   There were also a few scenarios with just the blinkers of a car running… it's another great drill that simulates a real world environment and the challenges that come with positively identifying targets under limited or blinking lights.
Note:  We talked a lot about the power of current flashlights as they are now at 1000 lumens.   1000 lumens is enough to temporarily blind most people for several seconds (more like half a minute).   Scott ran a drill where he would give an individual shooter a burst of light directly at your eyes.  After that you were given instruction to draw and fire on a white target when you could see it in the dark.    A few students were able to spot that target after 10-20 seconds…   but there were many of us that stood on the line for a good 30-40 seconds before regaining enough eye sight to spot the white of the target and positively identify it.   It was more food for thought around non-lethal responses.
Tueller Drill:
Scott runs a great version of this drill that really shows the distance that can be closed in the time it takes to draw and fire a handgun.   When shooting well, the 2 second / 20 foot rule holds true…   but miss clearing your cover garment or fumble the draw… and 2 seconds turns into 4 seconds and more like 40 feet.
Class Size:
Class size is limited, and that is a good thing.  We ran a single relay all day, so everyone participated in every exercise.   There was no downtime waiting for a relay to get off the line etc…  lots of shooting time for those present.
Round Count:
600 – 700 rounds.
Real World Examples:
One of the primary strengths of this class are the real world examples that accompany each instruction block.   Again, Scott does a great job of bridging the gap between real world experience and what happens on the range.   The real world examples provided lots of background as to why we were running the drill to begin with.   I'm convinced that most of us will be able to avoid a violent encounter by just paying attention to our surroundings.   So many of us walk around totally oblivious as to what is going on around us in our daily lives that most people miss the signs that violence is headed our way.   But the real world examples are powerful.   They are events that many of are familiar with and have probably watched on YouTube several times.    Spend some time watching these violent encounters on YouTube, the violence happens very quickly, but there is almost always a pre-curser or warning to the violence that is about to take place.
Balance:
The class has a good balance of "target shooting" and practical self-defense shooting.   After most of the drills, the class always circles back to the basics of the draw, pistol grip, sight alignment, and trigger pull.   I like this, some may not, but getting back to fundamentals always seems to allow me to "reset" from the previous exercise and focus on the basics before the next drill starts.
Firearms and Ammunition:
All the firearms ran well in this class…   it always amazes me how poorly some firearms run when putting a lot of rounds downrange, but everyone had good equipment in this class and there were no problems.   We did see some malfunctions caused by steel-cased and dirty ammo, but it wasn't consistent enough to slow the class down.   Those students just got extra malfunction work.
Wrap Up:
I can't recommend this class enough to the beginner or advanced shooter.   If you carry or are thinking about carrying a firearm to protect you and yours, this class is an excellent primer and an even better refresher course for anyone who takes it.
There are lots of things that make a tactical class great…  I continue to be impressed with MVT's class offerings and progression.   I'm also amazed at the caliber of students that show up to these classes.   This class in particular had students from all walks of life and the side conversations that took place during breaks were just as instructive and enlightening as the primary instruction blocks.
---
MVT Defensive Concealed Handgun Class: A Wife Who Went…and sees more clearly now
For the past three years, my husband has been zealous about all things MVT. I have resisted accepting the time and attention he has placed on guns, training, and strategizing in respect to things that might go wrong. He's left our family of seven, including three small babes, and ventured from Ohio to West Virginia often enough to have left me eye-rolling with the prospect of another trip. When he asked me to attend the handgun class this July, I was resistant. Flat-out declined at least twice. Yet, I ended up next to him, handgun holstered, in a class of unexpectedly interesting and intelligent people.
It was initially encouraging to see that two additional women were there. One, a daughter, another, a wife whose husband would be in attendance for the next class. People there were from different and busy lives, and I wondered: What is the point of learning how to use a handgun effectively and why it is worth our time and money to attend such a class?
The wife-minus-husband mentioned she intentionally came without her husband. Instructor Scott commented that wives usually learn better from someone other than their husbands. Oh yes, so true. (Sorry, Dimitri.) It is difficult to see with fresh perspective when one's spouse, who is already more trained, tells one what to think. One gains understanding for why it is important to acquire the skills of using a handgun as one begins to consider the reasons for such concepts as: situational awareness, strategic thinking, and problem solving. The class was excellent because it provided real-life narratives showing how people used (or failed to use) skills to live, protect, and, ultimately, "stop the threat."
I resisted thinking about killing others with a gun, and that has not changed. People in the class, as well as our instructor Scott, stated the objective is to save and protect from evil. Of course, hurt and killing may be involved, but as one student mentioned, the decision is made for you when one chooses evil and directs it to you or your loved ones. Scott was careful and deliberate in telling me in confidence that he had no intentions of turning me into a "killer." Actually, just the opposite: we were together to learn tactics to protect life. This was a critical and important paradigm shift for me. Conversations were honest and probing among the group regarding how we perceived using a handgun in real-life against someone who chooses to act evil.
Our instructor Scott was particularly helpful and understanding of me—as I was the greenest among us, never having shot a gun. Scott was encouraging, though he didn't let me simply stay comfortable. He paced me. One time he commented that correction came one point at a time. His goal seemed to balance the degree of push and accept so that each person felt motivated. Others in the group followed this helpful way, and I actually left feeling capable and not at all defeated. Some friends are calling me "Leambo" (Lea + Rambo), but that's a bit of a stretch!
"Likeminded people," a catch phrase that my husband has been using, now has personal meaning to me as a result of this class. Such people as were in this group showed me that becoming situationally aware and capable of using tools of defense, such as a gun, is a goal set by people who have their eyes open to the evil that exists in our world and they care enough to do something about it. We cannot control everything, and this was a sticking point for me before attending MVT. No matter what survival skills I acquire, the "game of life" is called by One greater than I. I even went so far as to mention this at the debriefing session shared at the end of the weekend. Much to my surprise, no one objected to this. One man even shared that someone prayed for their SWAT team members before each raid when he served. The sentiment was shared; no one seemed oblivious to the spiritual dimension of life. This was very welcoming to me and encouraged me to take the skills in alongside my own epistemology that posits God as an Orthodox Christian.
As a mother of five, I believe it is my responsibility to protect my children and myself. Threats are real, and they are everywhere. In the class, we discussed the "spidey" sense that a woman (or man) sometimes gets when someone has their eyes on you and there seems something amiss. Scott encouraged us to listen to our own intuitions, and another in the class added the importance of listening to one's wife's. (I liked that!) I think we must listen to each other, learn from each other, and stop limiting ourselves by our ignorance. I am very grateful that I know how to use a handgun now, as I'd never even shot one before this weekend. Surprisingly, it's not terribly difficult to acquire marksmanship (if I can hit the target, anyone can), and it becomes a positive experience to acquire skills that may actually save lives, including one's own.
Scott Adds- We never know when we may have to defend ourselves or our loved ones. It can come through the front door as a home invasion, a carjacking, attempted mugging or just being in the wrong place at the wrong time. Defending yourself is up to you.
The most important weapon you have is the one between your ears. Being situational aware is the key element. The gun that you carry doesn't magically ward off bad guys like a crucifix for vampires.
You can be assaulted anywhere, for your money, your car, your political beliefs or just because. Evil walks among us on a daily basis. Most people are just too wrapped up in themselves to believe that.
---
MVT Defensive Concealed Handgun Class: William & Leah
Review – Defensive Concealed Handgun
July 13-14, 2018
William ('Wheelsee'):
BLUF – If you have a Concealed Carry (CC), or if you carry a handgun for personal protection, you NEED to take this class.  And, yes, we would air travel again for this class.
Participants – Ten adults from across the US, including 3 women.   Ages from mid-20s to mid-50s (my apologies if I underestimated someone's age).
Range of experience – from brand-new shooter to those who CC on a daily basis, including NPE (non-permissive environments).
Basic format – 10 shooters, on the line, drawing from concealment at various targets, including shapes, colors, numbers, and finally a humanoid paper target.
Lessons learned:
Your primary weapon is between your ears, use it wisely.
The best way to survive a gunfight? Not be there (see #1)
You have the rest of your life to put effective rounds on target.
Grip is everything. Having a good grip (on the firearm) gives you a solid foundation for what comes next.  Having a sloppy grip gives you nothing to work off of.
Singular focus on the immediate threat, engage, neutralize, then scan and assess (truly SEE, not just glance. Scott did a great job of bringing this out in us)
Challenge yourself EVERY SINGLE time you go to the range. Have a training plan for that time.  EVERY SINGLE shot must be planned, focused, and deliberate.
Work on as many different options as possible, i.e. one-handed dominant, one-handed support, using support hand as trigger hand, etc. EVERY SINGLE time you go to the range.
SLOW down. Practice drawing from holster (concealment) at home (dry-fire, EMPTY weapon) as many ranges may not allow drawing from holster.
It's about more than just carrying a gun, a "magic talisman" (see Scott's comments on his review of class). It's about having the extra tools that go along with carrying a gun.  How many carry a tourniquet (TQ)?  While I carry one in my work bag, I hadn't thought through carrying it on my person.  The vast majority of people will have the opportunity to use first aid before the need for using their firearm.  Do you have what it takes to stop major bleeding (from an accident, a car wreck, a mass casualty event)??
Night fire – while this is an option, consider it MANDATORY for life. I live/work in a 24-7 environment (work days and nights).  We went over how a light can be used as a deterrent, as a weapon, and as an adjunct for the firearm with at least 6 different options.  We were then able to spend time finding what worked best for each of us.  The most common ways were not the ones I found comfortable (I was told the way I liked was used by only about 1:100, figures).  We also were exposed to what a bright light does to an adversary and how long it can take to re-acquire targets (more than 10 seconds!).
Tueller drill – Thank you JohnnyMac for being the runner, multiple times!
An instructor can make or break a class. Scott MADE this class.  His ability to meet the student where they were (from first-time shooter, to experienced shooter) and to push to improve was refreshing.  He knew what the student needed to work on and adjusted one thing at a time.  His solution for left eye dominant, right hand shooter was ingenious.  When I used it, no problems.  But my right eye would create problems for me, closing it solved it.  His comment on European handguns versus American handguns and the sight picture was eye-opening, and it made a difference on how I started shooting.
Good equipment – don't skimp on holsters. While I used a paddle holster, it was primarily because I had recently (week before) changed weapon platforms and hadn't had an opportunity to change holsters.  Another shooter, using a paddle holster, would periodically draw with the holster still attached (they too were using a new weapons platform and were still figuring it out).  The caliber of Scott's instruction continues after the class – he is working with that student to find a holster that works.
Good ammunition – if your handgun will shoot steel or dirty ammunition, use it. But if it won't, DON'T.  There were several instances of malfunctions that could be traced back to the ammunition.  While it may work for malfunction drills (unintended), you need to know what/how your carry ammunition will function.
Sights – as we age, our vision changes. Mine has deteriorated over the years, to the point I can't even see the front sight with stock sights.  I had Ameriglo sights (https://www.gtdist.com/products/firearms-parts-accessories/ameriglo-spartan-tactical-night-sights-glock-17-22-1.html placed on my Glock and I could easily see the sights.
Quality training facility – the MVT training facility is an outdoor facility that allows a wide variety of options. Hot, yes – welcome to the South.  Humid, yes – welcome to the South.  Scott monitored all of us and we took frequent hydration/shade breaks. It's not about being comfortable for 8 hours but about using your firearm in a realistic environment without punishing the student.  MVT has a good balance.
Extraneous lessons
The Koolwink Motel is a good stay. Do NOT use Google Maps, Apple Maps, or Waze to find it – you will end up in BFE on a dirt road (5 miles away from the real Koolwink).  If you are headed west on Hwy 50, you'll go past a Tractor Supply on the right….keep going.  It will appear as you've left Romney, keep going.  The Koolwink Motel will be on your right.  IF you make it to the WV School for the Deaf and Blind, you have gone too far.
Sheetz (like a RaceTrac or QuikTrip in the South) has good breakfast options.
Traveling with firearms – Each airport is different. DFW was a 5-minute process and smooth sailing.  Dulles (IAD) took about 30 minutes and quite a bit more paperwork (at the counter).
Do NOT take ANY bag from the range through security (TSA) for carry-on. I had a single live round in a crevice in my backpack and set off alarms.  A friendly visit from local LEO left me with a report but no charges.  If I'd been flying through Reagan, it would have resulted in wearing silver bracelets and a resident of a state facility.  EYE-OPENING EXPERIENCE!!
Be part of the solution, not the problem. Fellow students may make comments that would be easy to sigh but look deeper.  They are genuinely asking.  Let it force you to rethink your position (not to change your position but to question why you do/believe the way you do).   NO ONE in this class denigrated another student.  We were all there to learn and the environment lent itself to same.
---
Leah:
I wasn't quite sure what to expect when I signed up for the Defensive Handgun class. I knew from my dad that the other classes he had taken through MVT had been "tactical" or "combat" classes and I wasn't sure if I was ready for something like that. But that was not this class. I recommend that everyone who carries, or anyone who is planning to carry in the future, take this class. Between the realistic discussions and practical exercises, I feel much more confident carrying in today's world.
I have had my License to Carry (LTC in Texas) since 2013, but I have yet to carry, because I didn't feel comfortable drawing from a holster. Scott was fantastic with working with new people who had never shot a gun before and people who had been shooting all their lives. It wasn't drill after drill after drill to the point where you're exhausted and don't want to shoot anymore. Don't get me wrong, after two days you will be tired, but it's worth it.
The amount of information given to you in the class regarding holsters, ammunition, scenarios, realistic applications of what we're learning was all soaked up like a sponge. I'm not only thrilled about what I learned in this class, but also excited about future classes and even doing a repeat of this class for extra practice. Overall, I would recommend this class to anyone, but especially recommend it to women who want to feel more confident carrying.
---
Review: Defensive Concealed handgun, Missouri: SgtMaj Bill Kinney USMC (retired)
MVT NOTE: We have run several classes down in Missouri for the same organizer. Over several years Max and Scott have traveled down there for HEAT 1 & 2, DCH and HEMS. SgtMaj Kinney has been an excellent presence at each class. Please note that MVT does run mobile classes. We have recently added fly-in classes to our capability. The first fly-in class (HEAT 1) has been booked for Idaho for September. Depending on range from Virginia, we will either truck or fly to you.
Please contact us to discuss a class at your location.
Note that Hostile Environment Marksmanship (HEMS) & Defensive Concealed Handgun (DCH) are run by Scott and only require a 25 yard flat range (or suitable substitute area) to run. HEMS is no longer on the schedule, being offered as private booking only. These classes are ideal for Scott to come to you. Scott is an outstanding instructor with years of service and combat experience, retiring as a senior NCO.
More info on mobile classes here: MOBILE CLASSES
---
Review Follows:
I recently completed the two day Defensive Handgun Class conducted by Scott here in Missouri. I learned more from Scott in the first ten minutes than I did over a 32 year career in the Marine Corps as it relates to the carry and employment of a sidearm. Over my career I carried both the 1911 and the Berretta M9. During my time in service there was no tactical training for the sidearm, just annual qualification. The military services at that time were risk adverse, so much so that during my first tour of duty I guarded nuclear weapons carrying a unloaded 1911 in the holster and two magazines in my mag pouch.
Upon retirement I obtained my conceal carry permit from the state of Missouri which required a half day course, but was more of the legalities of engaging someone in self defense in Missouri rather than how to "run a handgun". This course bridged the gap for me. The training was first class and this is a direct result of Scott who eats, drinks, sleeps and lives all things handgun. He is an outstanding instructor who has the ability to observe the entire firing line and is quick to correct bad habits, in which I had many. From my perspective the most valuable portions of this training were:
Dominant hand drills
Support hand drills
Barricades
Tueller Drill - This drill is a eye opener
Drawing and firing while moving
Scenario discussions (that can't ever happen to me) and proper gear which included holsters, gun belts, magazine pouches and medical gear with focus on the tourniquet
I recommend this course to anyone who now carries a handgun or is considering doing so. Another outstanding course offered by Max Velocity Tactical and taught by a great American.
Semper FI.
SgtMaj Bill Kinney USMC (retired)
---
Review: Mobile Defensive Concealed Handgun Class, Missouri - by Dana
I took the Defensive Concealed Handgun class with Scott and I cannot say enough about how incredibly valuable I found this training.  Two full days of practical, real-world application of concealed handgun defensive techniques that were at times challenging but always confidence building.  Incorporating situational awareness complemented with real-world examples was an invaluable part of the curriculum. I found that as much as I thought I considered contingencies given different situations, Scott identified more critical and practical things to consider all in the context of what will likely be a heightened adrenaline, stressful situation.  The training emphasized techniques and mindset to help me react in a measured way and with the ability to execute with accuracy if the need arises.
There are plenty of courses around for gun safety and basic shooting skills but I was unable to find anything comparable to this class.  The experience was invaluable and the skills taught were wholly practical and applicable for real world situations.  If you carry concealed and you are committed to protecting yourself and your loved ones, I highly recommend this class.  You'll learn skills you can use and gain a well-rounded foundation of situational awareness that you'll be able to leverage in real-world scenarios. When you're done with this class, if you ever have to draw your handgun, you'll do so much more proficiently and confidently.
Dana
---
Review: Long Range Marksmanship: May 2018. Greg.
I had the opportunity to attend the LRMS course taught by John Flynn, and the one word that I can use to describe the class is confidence. The concepts and practical experience that was gained in just 2 days gave me an enormous confidence boost with long range marksmanship. There was also ample opportunity to "stress test" my gear and determine which I could confidently depend upon to perform consistently. Most importantly our instructor John was extremely proficient and an excellent teacher who instilled confidence in our ability to use this knowledge to "put steel on steel" successfully.
I truly am a novice when it comes to marksmanship and had only shot out to 100 yards on a square range before this class. I had huge reservations about signing up for this training due to my inexperience. However, the classroom preparation and subsequent drills that John took us through ingrained the fundamentals. By the end of day 2 much to my amazement I was consistently hitting targets out to the 1000 yard mark! Although rumor had it that Max was in the background ringing a gong that sounded like the targets we were hitting. Of course John was always assisting with dialing in the scope and correction so were not left to mere guessing. Overall I went from zero confidence to the realization that LRM is not impossible with the right training and practice.
Just like every MVT class I had the benefits of using my equipment in the field to determine what worked and what turned out to be expensive, unreliable scrap. John knew equipment very well with his prior experience and made recommendations prior to the start. It became evident that MIL dot was more popular than MOA for scope gradients, however John provided formulas that worked for either. I also learned the importance of a scope level as you can't always trust the background for leveling. Also a good bipod is key as cheaper versions made for a very unstable platform. Surprisingly what I thought would make for poor shooting, an 18 inch barrel on a AR-10 platform actually turned out to not be such a big deal. I was reminded of how essential good equipment makes that long distance shot so much more accurate and the ammo costs much less.
What can I say except Max knows how to pick only the best cadre and the benefits far outweigh the price of the course. Since John was a prior sniper who taught snipers how to shoot, the knowledge base and way that he was able to break down the concepts was to a level that even I could understand. He was always positive and encouraging whether we were shooting, spotting, determining distance or wind estimation. I absolutely took away from this training how much of a force multiplier a good marksman can become in any tactical team. The affects of reaching out and touching the enemy at a thousand yards or longer has got to wreak psychological havoc on their collective psyche. Even better if every member of the team has trained and perfected this skill set.
Thank you John for the excellent training and for opening up a whole new world of the long range marksmanship shooting art. Thanks Max for the top notch tactical training that you offer at MVT for a civilian who would never otherwise have any clue how to do anything other than the square range.
Greg
---
Review: Long Range Marksmanship: May 2018. From: Brad L.
Spoiler Alert – The MVT May 2018 Romney WV LRMS class was excellent!!
My Background: A retired engineer, long time hunter with no previous military service.  Prior to this weekend, I can count on one hand the number of times I shot at something farther than 300 yards.  I attended CTT/MOB Texas in Feb 2017 but this was my first time at the Romney WV site.  Really wanted to attend the LRMS in the fall of 2017 but house construction made that a non-starter.  As soon as the 2018 class popped up on the calendar, I signed up.  It was a long drive, but hands down it was worth every hour spent on the road to get there.
I am focusing this review on three specific areas of the class, Facility, POI and the Instructors.
Facility: The class was held at three different places on MVT Romney, cabin for classroom, 100 yard range for zero checks and the absolutely beautiful 1000 yard range for the majority of the class time.  As others have posted and shared in the AAR, no picture can do this range justice.
- The cabin provided an excellent place for the classroom portion of day 1.  It allowed comfortable seating, organization of written materials and effective use of the dreaded PowerPoint presentation.
- The 100 yard range was nice, convenient and only utilized for zero checks and establishing muzzle velocities to input into ballistic calculators. There were also some drills we ran at that facility, more later.
-  The 1000 yard range is where it was at!  In addition to a stunning view over two ridges and the mountains beyond, there are three target areas specifically of unknown distances.  Multiple sizes of targets at different ranges in each area provided challenges for the balance of the class time.  And according to information shared in the AAR, this is not a static facility.  Many upgrades and improvements are planned and underway.  In fact the day before class, some additional clearing was done on the target areas.  These additions will continue to improve an already impressive range!
POI: The course was an appropriate mix of classroom and field time.  Although everyone naturally wanted to get out and shoot steel, a necessary understanding of ballistics and the process to shoot at long range was provided in the first half day.  A well organized, interactive presentation laid the foundation for our range work to follow.
As mentioned, we then spent some time on the 100 yard range confirming zeros while at the same time gathering muzzle velocities for each individual's rifle/ammo combination.  A few drills at this point drove home some of the lessons form the classroom presentation, in an eye opening manner.  No hints, you gotta go to class!
Finally we got to move onto the 1000 yard range where the rest of the class was conducted.  No messing around here,  we jumped right into a line of shooters firing at the near target area until everyone hit steel.  Then we moved to the medium range, same drill and subsequently to the 1000 yard target area.  Within 30 minutes of starting, everyone in the first group had connected at close to 1000 yards.  Impressive results for the entire methodology used.  Over the next day spent on this range the requirements gradually got tougher and required the students to do more and more of the work required to find a firing solution, until on late Sunday morning all you were given was a target designation and a time constraint to engage.
My previous record of 300 yards had been shattered. Small targets at just shy of 1000 yards and first round hits.  This is a no bullshit class and a fantastic opportunity to learn how to shoot that far.
Instructors: Bottom line, John is a great teacher and wind guru.  Kevin was an excellent AI, and no slouch on the wind calls either.  The way things shook out on the firing line, I was shooting with John making calls on the scope so that why I can attest to his wizardry with the wind.
- Being an effective teacher requires, among other things, Organization, Knowledge of the Subject, and a Passion for and Dedication to the Subject being taught.
-  Organization was an area that John could have used some improvement, as even he admitted during the AAR.  Not a huge impediment to results, just that some parts of the class could have been smoother with a little better organization.  That said, I will deal with a slight bit of chaos and take the rock solid calls on the scope ANY DAY!
- Knowledge of the Subject is self evident.  Read the bio, listen to the classroom presentation and then watch John interact as those lessons are put into practice.  The guy knows Long Range shooting.  Most importantly in this case he was able to relay that knowledge and how to implement it to the class participants.
- Passion and Dedication:  Just listening to John and Kevin talk about long range subjects, explain things with a mix of technical knowledge and war stories and become animated when things didn't seem to be working attests to their passion.  An instructor that will remove the scope from his personal weapon and put in on a participants gun to diagnose an issue is dedicated (and that was the case here). Turned out the scope had some issues so that person used Johns scope for the balance of the class.
- In summary, John and Kevin did an outstanding job teaching and coaching this class.
Suggestions for future participants:
- Bring all ammo from the same lot if at all possible
- Have your rifle zeroed at 100 yards and some rounds downrange with that zero
-  Come ready to exceed your expectations!
Conclusion: If you want to learn about Long Range shooting, this is an absolute rock solid opportunity to do so and I highly recommend it.  If the Advanced class that was the subject of discussion is scheduled, I will be one of the first to sign up.
---
Review: HEAT 1 April 2018 – 'Left Bob'
By Left Bob
HEAT 1 was a dynamic, information-filled class for me. As background, I am new to the carbine with little trigger time prior to the class besides some recreational shooting and zeroing. While the first 2 days of the class is a proper and excellent introduction to the rifle, I would highly recommend taking the Hostile Environment Marksmanship (HEMS) class if you have not had prior rifle/carbine classes. In my opinion it will allow you to absorb the information easier and make the maneuver part of the class on Days 3 & 4 more valuable. If you have had multiple training classes, I still strongly recommend you attend all 4 days or the HEMS class.
The first 2 days on the flat range were extremely valuable especially the stoppage exercises and basic fire & movement drills. Though most of the attendees had extensive carbine training under their belt, they all learned new things these first two days. I cannot overstate the quality of instruction and the information provided. All the early drills build, in a very structured way, the skills required for the team movements on Day 3 and 4.
Days 3 and 4 of the class on the tactical ranges was eye-opening and brain numbing at the same time. Shooting, moving and communicating are straightforward in isolation but complex in execution combining safe weapon manipulation, multiple team members, targets and terrain. Day 3 was a blur and I was at "40,000 feet" for most of it but it all started to slow down on Day 4. This is why so many alumni come back and take it over again and continue to learn.
The bottom line is that it was a superb class and learning experience that you should plan on attending multiple times. If you want to be coddled and can't check your ego, I recommend you stay home and plink at the indoor range – this is serious training. Other recommendations to improve your experience at this class:
Make sure your rifle is zeroed and in good operating condition. Have a spare.
The fitness test is no joke. You need to be in shape to do this class.
Koolwink Motel worked great and is very convenient.
Dirt roads are a little rough, make sure you have some ground clearance for your vehicles and 4WD is not a bad idea.
Practice with your kit and have the ability to carry at least 6 magazines.
In closing, Max and Scott are excellent, highly knowledgeable, experienced instructors with a fantastic training facility and a well-structured program. I really appreciate all for the support, especially from Scott, primarily delivered up close and personal! I only hope that I did not drive them to drink!
Safety is paramount and I feel more unsafe at any local indoor range than I ever did at MVT. My classmates added to the learning experience (thanks Dimitri!) and were helpful all along the way. If you want to take your training to the next level, MVT is the place.
---
MVT Notes:
1) There is no fitness test at class, but there are pre-class fitness prerequisites for all tactical classes. You can find links on the relevant class pages and in the training menu.
2) HEMS is a 2 day combat rifle / combat marksmanship class that closely mirrors the Thursday / Friday of the HEAT 1 class. It is standalone and is not a prerequisite for HEAT 1. Taking HEMS will allow you, within 6 months, to attend the Saturday / Sunday of HEAT 1, missing the first 2 days. As 'Left Bob' states, it is highly recommended to do both, simply because it will make your training experience more rewarding. More training with MVT = better.
3) You do not need to attend HEMS, in which case you would simply attend the 4 day HEAT 1 class. Depending on an honest assessment of your carbine skills, you should decide to attend HEMS or go straight for HEAT 1. None of these classes are 'too basic' for anyone, and attending HEMS will flatten your learning curve at HEAT 1.
---
Review: Heat 2, Texas 2018: S.Little
I am late writing this review. After getting back from a six day class, work was and has been super busy!
Background: I attended what is formerly known as Combat Rifle Skills and Combat Team Tactics last year at Brady, Texas.  I was amazed at how much we were able to go through, and retain day to day, and then roll right into the next drill without a hitch.  So as soon as the Texas 2018 Heat 2 class went up last year I was hitting the "take my money" button as fast as I could!
Leading up to Texas: Heat 2 in 2018 I was (still am) doing a lot of PT, I didn't want to be the guy sucking wind and not able to keep up.  I will admit though, I was still a little nervous before the class date….wondering had I done enough, had I pushed hard enough?  Would I remember the drills from last year?  Like a lot of guys, with work, family, and a myriad of other responsibilities…getting time to practice is hard.  Heat 2 started off with a review of the basic bounding, peeling, and patrol formations that we went over in CTT last year.  We were able to roll right into the drills like we hadn't missed a beat!  A true testament to the training that Max provides! We were introduced to a 6 man arrowhead patrol and several other patrol formations, along with move & fire forward bounds, whereas last year we only did a cover fire after our bound and we were set for the next buddy pair to bound forward.  Max had a theme for us this year and introduced us to a Rhodesian cover shoot concept, which was very interesting, and really hit home on that one of the hardest things to do is to locate the enemy!  We also had a daylight and night time reconnaissance that was a lot of fun!  We had to set up an ORP in an area where we could view the OPFOR that was guarding the lodge we were staying at.  We sent out satellite patrols to see what other kind of information we could gather on the force and possible hostage situation.  Once it turned dark we split up into 3 two man teams and tried to penetrate into the compound area in a clover leaf pattern to see how far we could get in and what other types of info we could gather.  It was a great learning experience!
Ambush day was a lot of fun, I don't know how many iterations we did, but they were all different each time and most everyone got a chance to get experience leading an ambush.  The last iteration was interesting as Max pulled out some tricks, with the pop up targets popping up again as a counterattack and our squad taking a casualty.  The casualty had to self-treat as best as possible while the squad went to work trying to win the fight.  Once the enemy were suppressed, part of the squad was able to get the casualty to an EVAC area while the rest of the squad followed up.  I will say this, PT is essential!  I can't imagine how much SUCK it would have been had I not been doing PT!  Raid day was very interesting with employing a support by fire team and having them shift fire as we were assaulting through!  Somewhere in here we had an evening that Max and my roommate Wheelsee put on a TC3 class that was superb!
The last couple of days were CQB and partly Force on Force. The House of Woe was an eye opener, never having cleared a house before by myself or with a buddy or a team……wow!  You need to do it, it will really get you thinking about angles, which as a land surveyor I can understand, but in a house with possible occupants wanting to harm you….it's a whole different game!  You really have to think your way through.  Getting to use UTM ammo and the rifle that you train with, I can't tell you how much that brings it all together!  That was a great learning experience, I did die several times, and each time Max was able to go over what we did wrong (usually not enough suppressive fire!!!) and each time we would get a little better! Max has a way of getting you to understand and see what you did wrong and how to fix it that is very admirable! Getting to use the tactics we had learned against live opponents, in my opinion is one of the best learning experiences you can have!  It will show you where you are at and what you don't know yet!  Without having to pay the ultimate price….  I also have to say that the group of guys I was with were an excellent group of guys and family men to train with!  No egos, no BS, eager to help, eager to learn, it made the experience all the more better.  By the way, I'm already signed up for Texas 2019!  Get out there, get busy, train, do PT and take a class you won't regret it!
~ S.Little - South Texas
https://youtu.be/XLDR8ikHgzQ
---
Review: Texas HEAT 2 February 2018: William
This was my second year taking a class from Max.  I attended Combat Rifle Skills and Combat Team Tactics (4-day class, which is now HEAT 1) in 2017, learning about a rifle platform I had almost zero knowledge of and how to work as a team.  I was impressed enough that I had already decided to attend 2018 before the 2017 class was even finished.  Max runs one of, if not the safest range (static and dynamic) that I've ever been on (public or local/state government).  This also made my early decision easy.
If HEAT 1 is about learning to crawl and stand up, HEAT 2 is about walking.  We spent the early mornings learning how to apply team concepts in varied situations through discussion, whiteboard, and going through the movements without our gear (adhering again to the crawl, walk, run concept).  Once we felt comfortable with this, we headed to a pre-determined location that Max had setup for the drill.  (Another conversation can be had on Max's ability to use specific parts of a >3K ranch to enhance the experience – the terrain chosen always lends itself to the lesson he's conveying).  During these drills, some of the more experienced students were given the responsibility of leading.  Different teaching styles and working with a group absent egos resulted in positive learning experiences.
CQB and FonF were also introduced.  This was one of my biggest learning challenges.  While SWAT has changed over the years, this isn't SWAT.  Suppressive fire??  WTH??  And yes, I was that guy.  I died multiple times, thankfully it was in training and I learned a little bit more each time.  Am I competent? No, but I'm aware of my limitations and some realizations.
Lessons Learned –
PT, and yes, more PT.  Walking/tabbing on flat ground isn't the same as going up and down the gullies of south TX.  This year will be spent walking the football stadium (think "running the stands") as often as I can.
Have spares. While cleaning BCG, I noticed the gas rings were crumbling (only 1 remained after handling).  I carry an armorer's repair kit (and a spare BCG) so the downtime was only temporary.
Team – one of the most enjoyable aspects of the class was working with people who, while I only knew a couple from previous training, had similar desires and NO egos. These were a GREAT group of people to work with.
What the heck?? When I stripped my rifle down to clean after the UTMs, a chunk of metal was found in the action.  It took several people to figure it out (thanks Dave!!).  The tip of the forward-assist had broken off……don't ask how, I have no clue……
YDKWYDK – You Don't Know What You Don't Know. While I'm still processing it, the term suppressive fire has a totally different meaning now.
Gear shakedown. EVERY single day, I was adjusting something.  Even something I'd adjusted the day before.
PT – did I mention PT??
REPEAT – this isn't a skill set that is a "one and done". Max knows the importance of adjusting and honing, even the basics, and it shows in his classes.    TX is already on my schedule for next year………
---
Review: HEAT 1 March 2018: Dimitri
HEAT 1 (previously CTT) is a very good cornerstone class for small unit tactics learning.  This class continues to evolve into a must take and repeat course.  Each time I have taken this class I am learning something new and get better understanding of the things learned in previous HEAT 1 (CTT) classes.  This class should be taken more than once or twice, as they say: "practice makes it perfect".
One of the things which I have noticed about myself in HEAT 1 is, things begin to slow down for me during the drills, movements, and communication.  The situational awareness is becoming less chaotic during the drills, which allows me to focus on practicing to shoot with both eyes open, better scanning of the surrounding environment, and most importantly better communication with other team members during the drills.
Max and Scott do a very good job at the layer-based teaching style of the class criteria.  They each have a way to present the information in a clear and to the point manner.  Each question is clearly answered, explanations are given to reinforce topics explained, any "tacticool internet" non-sense is quickly put to rest to be never seen or heard of again.
The group of guys at the class in Marxh was superb.  Everyone helped each other out during the training, exchanged ideas, guys shared thoughts on gear and gear preferences, even a few good laughs during the break times between training.  I am looking forward to returning to another HEAT 1 in the near future.
Dimitri
---
Review: HEAT 2 April 2018: JohnnyMac
HEAT 2 is the follow up class to HEAT 1. While HEAT 1 focuses on individual rifleman skills and the basics of team movement, HEAT 2 teaches students how the basics of team movement can be applied in direct action and reconnaissance. It's also the first time MVT students are exposed to Troop Leading Procedures and have the opportunity to volunteer as a team leader and/or patrol leader.
Walking into Day 1, the expectation is that your rifle is zeroed, you have your kit sorted out, and are able to effectively run your rifle in a high threat environment. With MVT's fitness prerequisite, there is also the assumption that you are capable of moving athletically across mountainous terrain and going into a kneeling/prone position while maintaining situation awareness and muzzle control. From this alumni's perspective, the physical ability of students at MVT classes has steadily been rising every year, and was especially noticeable during this class. This is important for not only safety, but also for the smooth execution of team tactics, especially when it comes to more advanced drills.
The Velocity Training Center (VTC) itself is continuing to develop in an effort to improve the learning environment for students. During the class, the team cabin was used for lectures, when possible. With its HVAC and electric, it allowed students to stay focused on the lessons without being distracted while trying to keep warm in the morning hours. There have also been additional pop-up target pits dug in certain lanes, allowing for greater realism in drills. Looking ahead, there will be further improvements to the facility that will provide students with an even better training outcomes.
Day 1 of HEAT 2 is primarily focused on reacquainting students with the fundamentals of team movement: RTR drill, bounding forward, bounding back and peeling. It's also time spent getting team members comfortable working together, remember, SUT is all about team work (aka "It's not about YOU"). For those who have not attended an MVT class in a while, some TTPs have evolved, namely Move Fire while bounding forward (and when appropriate). The morning of Day 1 is all about getting everyone on the same page. On a side note, Day 1 started with a few rifle malfunctions during drills, but seemed to disappear for the rest of the class. Make sure you've run your rifle recently and that it's properly lubricated. In some drills, you might already be working at your functional limit and a malfunction might move you beyond that functional limit. At this point, many students have learned "not to get sucked into Ivan," but can still succumb to being sucked into a malfunction. In the afternoon, students apply the basics at the 5-man team level to battle drills like react to contact, break contact, and assault. Everything is briefed, then rehearsed, then performed live fire. This ensures students know exactly what to do. The instructors maintained tight control of the students during live fire, making me feel comfortable from a safety perspective.
In the early morning of Day 2, we did some basic live fire drills, now working at a 10-man patrol level. Following that, we dove into recce/recon patrol theory the rest of the day. The personal highlight of the class for me was then briefly planning and executing a day/night recce that began slightly before sundown and finished sometime around 2230 hrs. This was a great opportunity for students to work independently, test out their skills (and equipment) at night, and work on the ability to move silently in the woods. In my mind, the reconnaissance patrol is the most important but least glamorous patrol type. Intelligence is VITAL. Having the ability to go out and get it is a key enabler for strong mission planning.
Day 3 is fully focused on ambushes- theory, TTPs, and drills. A few things that stuck out to me with ambushes:
Requires manpower to be effective (more than you might realize). We used a notional rear security element, for example.
It takes practice in order to spring the ambush quickly, with aggression, preventing the situation devolving into a firefight
Getting off the objective quickly also takes skill and practice. This can be severely complicated if casualties are taken.
Day 4 is focused on the hasty attack and raid. The raid is the culmination exercise and allow students to experience sequencing through support by fire and assault positions. By the end, I think we had meshed pretty well in our teams and as a patrol, and a multiphase drill was executed pretty successfully.
If you have only done HEAT 1, you need to get yourself to HEAT 2 so that you can "have a clue" in terms of using the skills of HEAT 1 in specific situations/missions. If you've taken Combat Patrol a long time ago, the course has greatly changed and would be well worth your time. Even if you consider yourself pretty squared away, these skills are highly perishable and require periodic refreshes in order to stay current and continue to grow as a warrior.
We had a great group of guys, with world class instruction, in a well-developed training facility. See you on the ranges.
JohnnyMac
---
Defensive Concealed Handgun March 3/4 2018: Jon R T
If you have a CCW permit, take this class.  When you really need a weapon, CCW holders usually (hopefully) have a handgun available.  Since your handgun is most likely going to be the tool used an emergency, becoming reasonably competent with your handgun should be a top priority.
Scott was a great instructor.  Not only did he teach us the "how to shoot", he also told us the "why this is a good way to shoot".  So much information was presented and absorbed in the two days that I am still digesting it at this point.  Don't think that you have too much experience or training to take this class.  I have had a CCW permit for many 23 years and have had other classes and such; however, the value and volume of quality instruction was far greater than the price of admission.
Day 1:  Consisted of a morning safety brief and discussion.  Equipment was discussed and displayed.  The value of having first aid training and supplies was discussed.  Holsters, magazine pouches, training vs carry magazines, gun types for difference circumstances, clothing, maintenance, etc. were discussed.  This classroom discussion was extremely enlightening for me.
We followed this with firing line range work.  All the activities were led by Scott including demonstration (dry and live) then follow through by the students.  The instructions and reasoning behind every drill and firing exercise was clearly presented and discussed.  Individual instruction was delivered when needed and training scars were identified and discussed.  Draw, grip, trigger, target, strong hand, support hand, concealment garments, and awareness were all instructed.
Night:  I highly recommend the additional night shooting exercise. Scott demonstrated the selection and use of flashlights. The night exercises were practical and useful.  As Scott stated, "We live half our lives in the dark".
Day 2:  We were on the firing line all day.  Use of cover, engaging from standing, sitting and around obstacles were demonstrated and practiced.  The Tueller drill was discussed and demonstrated.  Firing line drills included target selection and firing near no shoot objects.
Overall Scott controlled the class extremely well.  He was able to give each shooter the individual attention that they needed when they needed it.  If you missed a step or had training scars, Scott would notice it and address it appropriately with practical reasoning on why it needs correcting.
Take the class, take notes, and take the knowledge to your home range.
Jon R. T.
---
Review: HEAT 1 March 2018: Dave R.
From: Dave R.
Re: March 2018, HEAT 1 class
Bottom line:  MVT March 2018 Romney, WV HEAT 1 class was outstanding!
My background:  I'm coming from a law enforcement tactical background to include several SWAT schools, basic law enforcement sniper school and basic carbine school, with a fair amount of urban mission/CQB-type experience and a little rural patrol training and experience mixed in.
Overview:  Max and Scott ('First Sergeant') made this experience worth every penny.  Their complementing personalities worked great together to convey the learning concepts, brief the scenarios, then with the utmost safety, implement the drills with measured, but authoritative feedback.  I really felt like I learned a ton in just 4 days!
Gun knowledge:  It's expected that attendees at HEAT 1 know their way pretty well around their rifle.  That said, it's clear that the cadre have an understanding of fighting rifles (and other guns) that is a combination of both gunsmith and experienced combat shooter ...and they readily share this knowledge with the students as teaching points present themselves.  Translation:  I came away from the class with a much better understanding of my fighting rifle from the end of the buttstock to the tip of the muzzle.
Safety:  As good as or better than any LEO class I've attended, yet implemented with respect, i.e., treating us as adults.  Little micro mistakes made by students, including myself, such as bringing a rifle muzzle up to a less-than-perfect angle while moving on a mock assault, were quickly corrected by the cadre.  Not only are they focused in on every movement by the students but it was as if they could predict our movements before we did them.  Dry runs with no rifles were utilized effectively for good familiarization to achieve the necessary level of muscle memory for the upcoming drill.
Live fire:  As I said, I never felt unsafe whatsoever.  There is no replacement for live fire.  A little "good" stress and adrenaline make training more effective.
Classmates:  This was my first group training with Max so this class was my only reference, but I was very impressed with my fellow students.  A variety of backgrounds came to train with Max.  All were dedicated and serious at the training venues...very safe, yet were very decent and friendly and able to have a little fun at the proper times.  Max holds a class dinner at one of the local Romney restaurants one night...fun and team building for sure.
Scenarios and drills:  Crawl, walk, run was used to build to the lesson.  These were then very well broken down and briefed in the training pavilion via explanation and white board.  First the concept was briefed (why we're doing it and where it fit into big picture) followed by the manner it would be achieved, the details of the maneuver, along with miscellaneous details to make it happen.  Safety was always briefed as well.  Dry runs were used as necessary.  Reps at the drill were done to run home the lesson.
Venue:  MVT Romney lies on beautiful rural terrain that is so very effective for training the tactics.  The layout of the structures and square and tactical ranges made the venue much more conducive to efficient training as compared to many conventional LEO training venues I've attended.  Max clearly had a good eye for this when he designed his training center.
Bottom line:  I am both a committed citizen of our wonderful, but imperfect country and still an "active duty" LEO with access to training through my organization, yet I will pay out of my own pocket to attend MVT...likely again and again. Yes, it was that good!!
Dave R.
---
Review: HEAT 1 March & MVT Training Experiences – by 'Green Tip'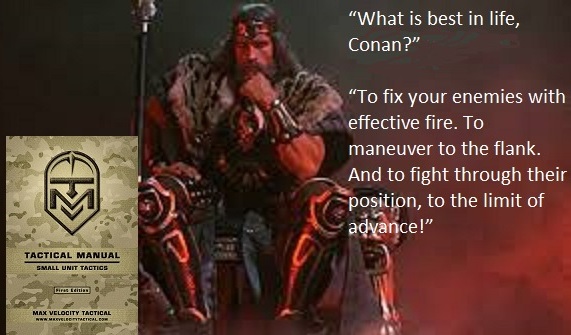 Conan Knows: Get the word on MVT Tactical Training via the new Tactical Manual. HERE.
I first heard about Max Velocity Tactical in 2012 or 2013. I started reading the old blog and recalled some of the first class reviews or After Action Reports. All of the review were positive and that peaked my interest. I am an 18 year State Trooper so I am a bit skeptical of most things in life. I kept reading the bog and enjoyed the detailed post Max would make about how to set up a battle belt or a ruck. Then I bought Max's fiction books and the manual 'Contact!' and enjoyed each. In December of 2016 I saw on the blog Max was coming to Kentucky to teach. I live in an adjoining state and this was a closer drive than Romney, WV. I contacted a work mate and we decided to attend CTT which is now HEAT 1.
I attended the CTT/HEAT 1 class in Kentucky 2017 in October. I had a great time and it was a real eye opener in regards to tactical movements. I thought because I had had some elementary CQB stuff at work I was good to go. Not the case at all. I was introduced to one rifle malfunction drill I had never been shown. All of the various tactical team movements were new to me. Class started at 0800 and was over at 1600 each day. Everything in class was done with safety in mind and Max was very professional and answered all questions. I was hooked by the class I wanted more.
In December of 2017 Max came up with the Cabin Club program. It was basically a buy in for a fee and you could attend all future classes at Romney for half price. By this time I knew I wanted to take more classes and was already planning for 2018. I didn't have the cash for the program but I wanted in. I sold a rifle and pistol and had the cash to buy in. I was excited and I was set to take all the classes and have my kids attend when they were old enough. The classes teach many things but most people overlook: discipline, team building, responsibility and attention to detail. Most people are focused on the tactics of the class and miss the other aspects listed above which I think are perfect for teens. Plus, you get bonding time with your kids or friends!!!!!
When the 2018 schedule was posted for the first part of the year, I had already been working on guys to go to class. You need a team of four when the zombies come right? I got Frank and Ron to sign up for HEAT 1 in March of 2018 and I scheduled HEAT 2 in April 2018. I was so excited as I had three guys and myself to make four who were all going to attend multiple classes in the future. What great fun.
So March 2018 rolls around and I attend HEAT 1 for the second time in Romney. It is true that so much knowledge is passed in class you need to retake classes. I thought at first this was a marketing gimmick. It is not, you get so much information you have never heard or read and didn't fully understand. You must attend again. I can verify this is true. My group and I arrived on Wednesday night and stayed at the South Branch Inn. It was a nice hotel and close to several restaurants. We had a positive experience at the hotel.
Class started at 0730 each day and ended around 1600. The first two days were on the square range. Safety from the first moment is preached and reinforced. We worked on loading, malfunctions, shooting positions and various movements over the first two days. The third and fourth day we moved to two range areas that are wooded and have multiple pop up targets and we worked up to running various tactical movements live fire. Everything in class is talked about, rehearsed and then live under supervision. It is a very safe environment and every instruction is very clear by Max and Scott ('First Sergeant'). I did participate in the night vision class that is offered in you have night vision. Scott showed us a quick way to zero our lasers. I had never heard of it but it was effective and very quick. During the night class we worked on shooting and progressed to a simulated raid. Great fun!!!!!
When you go to class you need to have knee pads, a bunch of loaded magazines and equipment that works. Make sure your gun is zeroed in and you put lube on the rifle. Several rifles went down because they were dry. Scott gave a good class over rifle care. Because of the class I know of two issues that were corrected by students; a set of worn gas rings and a bad extractor.
I almost forgot to mention the quality of people in my class last week. We had a Doctor, Pharmacist, three small business owners, Police Officer, State Trooper, Fireman and a supervisor at a factory. Quality experience and am sitting here waiting on HEAT 2 next week. Hope to see you then!!
Green Tip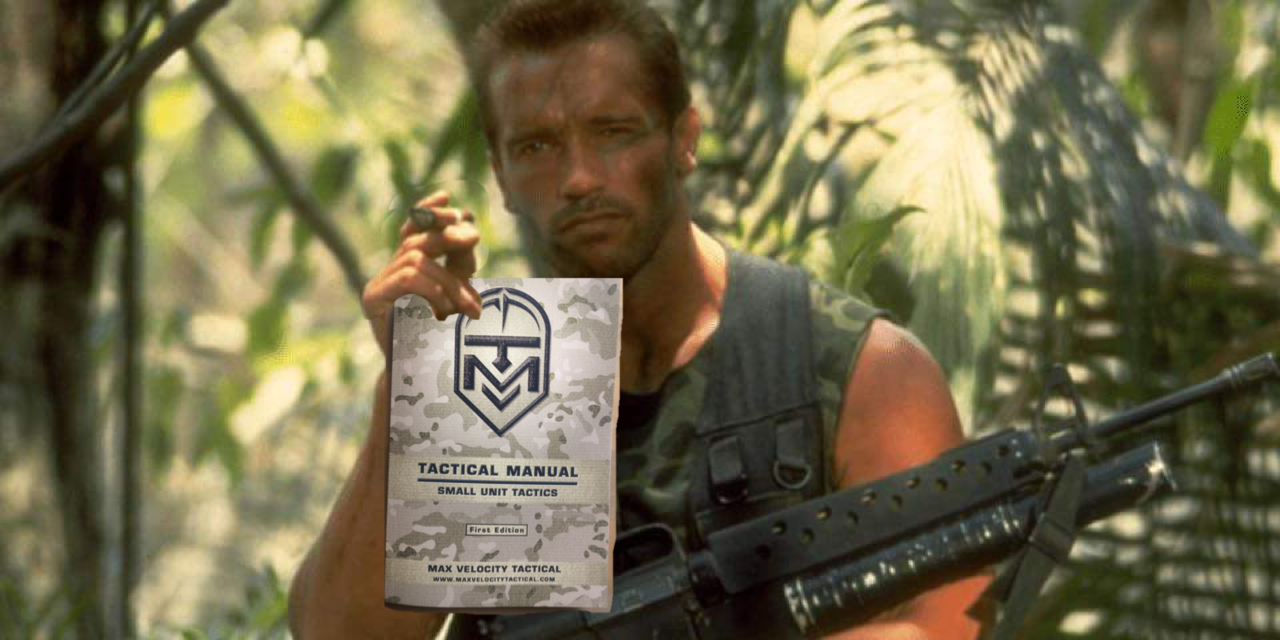 Dutch Knows. How did he defeat the Predator? MVT Tactical Manual. HERE.
---
Review: HEAT 2 Texas 2018: Dave P
This is a review of the HEAT 2 class conducted in Brady, Texas, 2/24/18-3/1/18.
By way of background, I attended HEAT 1 (the class formerly known as Combat Team Tactics) and Mobility Operations in Texas in 2017.  I also attended the One Day CQB Intro class in Missouri in 2017.  I have been to several pistol, carbine, and precision rifle classes.  I also have a fair amount of police-based CQB training.
The first day of the class was a review of the basic bounding and peeling drills learned in HEAT 1, although Max did introduce a six man arrowhead patrol formation, as well as the "MOVE/FIRE" concept while bounding forward.  I was relieved to learn that I was still able to do the drills after a full year with only a few chances to practice.
The second day of the class began with a Rhodesian-style cover shooting exercise.  This same drill also introduced the concept of bounding forward as buddy pairs during the assault through an enemy position; previously, we had only trained to assault through the position on line.  Max had mentioned this variant of the attack at HEAT 1, but deemed that we did not have the experience to pull it off safely.  I was happy to be able to try this method of attacking, although it took us several tries to get it right.
We ended the live fire portion of the day early, in order to prepare for the recon patrol section of the class.  After a thorough lecture, the more experienced members of the class were assigned to be the OPFOR guarding the lodge where we were sleeping.  The remainder of the class, myself included, were assigned to perform both a long distance reconnaissance during daylight, and a close target reconnaissance after dark.
My three man team didn't do so well during the daylight reconnaissance.  Due to poor route selection, we were spotted while trying to move around the lodge, and the OPFOR sent a foot patrol after us.  However, this was actually something of a confidence builder for me:  when the OPFOR spotted us, rather than freezing up, we immediately rolled into a break contact drill and withdrew to the rear.  Because we had drilled the break contact drills so much in HEAT 1, everybody knew the drill to perform without any orders or coordination.
We had more success during the close target reconnaissance after dark.  Two buddy pairs were able to penetrate within 50 yards of the lodge without being detected, despite roving foot and vehicle patrols equipped with night vision.  I did not have night vision, but the moon was so bright we were able to navigate from our patrol rally point to the lodge and back without any difficulty.  I was pleased at being able to navigate in the dark, and also at the opportunity to practice crawling up to the lodge without being detected.
The next day was Ambush Day, which began with another thorough lecture.  I never realized the level of control and attention to detail needed to set a proper ambush before.  After lunch, we moved to the live fire range and ran the ambush four times on a combination of fixed and pop up targets.  All of these drills were supervised by Max, but the leadership of the squad was done by students.  In the last two drills, Max began to introduce some free play elements, in the form of enemy counterattacks and friendly casualties.  It was at this point that the quality of previous training began to show.
In 2017, on the last day of Mobility Operations, the introduction of free play elements led to total chaos and epic failure.  The squad was unable to work together, and there was no leadership or coordination; Max eventually had to step in and tell us what to do.
This time was very different.  The pop up enemy counterattacked while the squad was trying to withdraw from the position.  Largely without being told, the squad redeployed into line and suppressed the targets, while flanking elements broke contact and pulled back to the main body.  On the next iteration, we sustained a casualty, followed by an enemy counterattack.  Once again, part of the squad suppressed the counterattack, while the remainder pulled the "wounded" man to safety, tourniquetted his wound, and loaded him onto a litter.  It was extremely gratifying to work with a squad who were able to work together smoothly and efficiently, and speaks to the quality of the previous training.
The next day was Raid Day, the final day of live fire.  We began with a repeat of the hasty squad attack drill first learned at the end of HEAT 1.  This employed the basic principle of using one part of the squad to suppress an enemy position, allowing the other team to maneuver onto a flank and assault the position.  In the afternoon, we practiced a raid on an enemy position - the same basic tactic, but employing the element of surprise.
On day five, we began the CQB portion of the class, at the aptly named House of Woe, an abandoned house several miles from the lodge.  The first day was spent on the basic maneuvers of CQB, including room entries and basic team movements inside a structure.  By the end of the day we had progressed to live firing with UTM rounds on paper targets inside the house.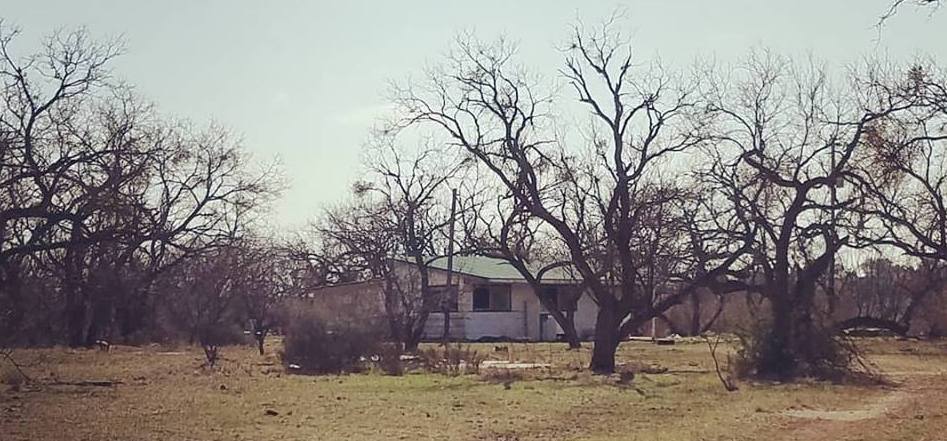 Above: House of Woe
Day six was the capstone of the whole class for me.  The entire day was given over to Force on Force drills in and around the House of Woe.
 I will digress briefly to explain my philosophy of Force on Force training.  I have done a fair amount of it, in both private and law enforcement contexts, and I like to compare it to boxing training.  To continue the analogy:  shooting on the square range is akin to practicing punches on a heavy bag - it is necessary and has value, but if all you do is hit the heavy bag, you aren't learning how to fight.  Live fire and movement training off the square range is a step up - more like having a trainer hold focus mitts for you to punch.  But it is still not a fight.  You aren't fighting until you're facing another man who is trying to hit you as hard as you are trying to hit him.  Likewise, you aren't really practicing fighting with a rifle until there is another man with a rifle shooting at you.  Thus, Force on Force training occupies the same place as live sparring.  It is live sparring for gunfighters.
The first several iterations of Force on Force had a team of 6 assaulting the house held by a team of 3. The OPFOR was confined to the house, but was able to fire outwards, so quality fire and movement was required to even get close to the house. On the first run, only two of the attacking force survived as far as the door. Both were hit entering the structure.  This was a lightbulb moment for me: when we viewed the house as a CQB problem, and tried to apply only CQB techniques to solve it, we got slaughtered.  This was one of the biggest limitations of my previous training: in police CQB training, we almost never consider the approach to the house.  The scenario begins at the door, and only CQB techniques are ever applied.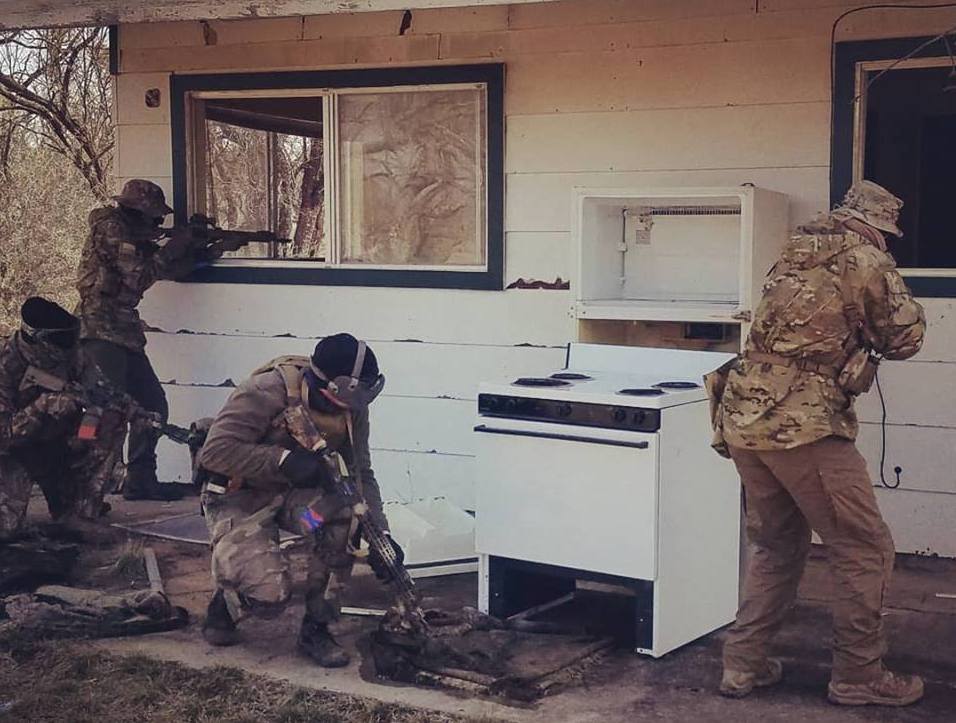 Above: Assaulting the House of Woe, Force on Force.
As the day wore on, the attackers got better and better. After three or four iterations, we were able to approach the house and kill everyone inside, with the loss of only one or two members of the attacking force.  The key to succeeding in the scenario turned out to be good team movements outside the structure, and suppressing the house from the outside windows before making entry.
At this point, we switched to a "capture the flag" scenario, with two roughly equal teams starting away from the house and trying to move in and capture it. This was my favorite part.  It was less CQB oriented, and more classic SUT, which gave us a chance to practice our team and individual movements.  The highlight of the day came when my team of four defeated an opposing team of five.  One buddy pair engaged them from one corner of the house, while my partner and I peeled around their flank and attacked, rolling them up.
Throughout the FoF day, as students we continued to work well together.  Everybody had a level of tactical competence, there were no ego problems, and the chosen leaders did a great job of stepping up and leading.  Interestingly, we did the same "capture the flag" scenarios at the 1 Day CQB Intro class in May 2017, and it was a complete goat rodeo.  We had no coordination, no leadership, no plan, and were unable to execute any of the basic SUT movements, let alone more complex CQB maneuvers.   Having a well-trained, well coordinated team made all the difference.
At this point everyone was running out of UTM ammunition, so we ended with a couple of every-man-for-himself free for all rounds, and returned to the lodge to pack up and leave.
I thoroughly enjoyed HEAT 1, and I learned a lot; but HEAT 2 was truly amazing and extremely rewarding.  HEAT 1 teaches basic movements, and HEAT 2 is where you are able to apply the techniques into real world problems.  The FoF was an absolute blast, and the confidence boost from successfully applying SUT techniques against live, resisting opponents is huge.  I am looking forward to the Combat Leader Course!
On the fourth evening after class, wheelsee and Max put on a impromptu bonus TC3 class.  I got more from this than I have from 8 hours of LEO TC3 training.
I can't close without saying a few words about the food and fellowship.  Having the whole class living and eating together and hanging out in the evenings made it a really fun time.  One of the class brought some of the best steaks I have ever eaten.  One night we even had a viewing of the movie "Contact", with live commentary and English to American translation by Max.
All in all, this was an incredible class; a great group of guys; and an amazing experience all around.  I can't wait to do it again in 2019!
Dave P.
---
Review: Texas Classes 2018: James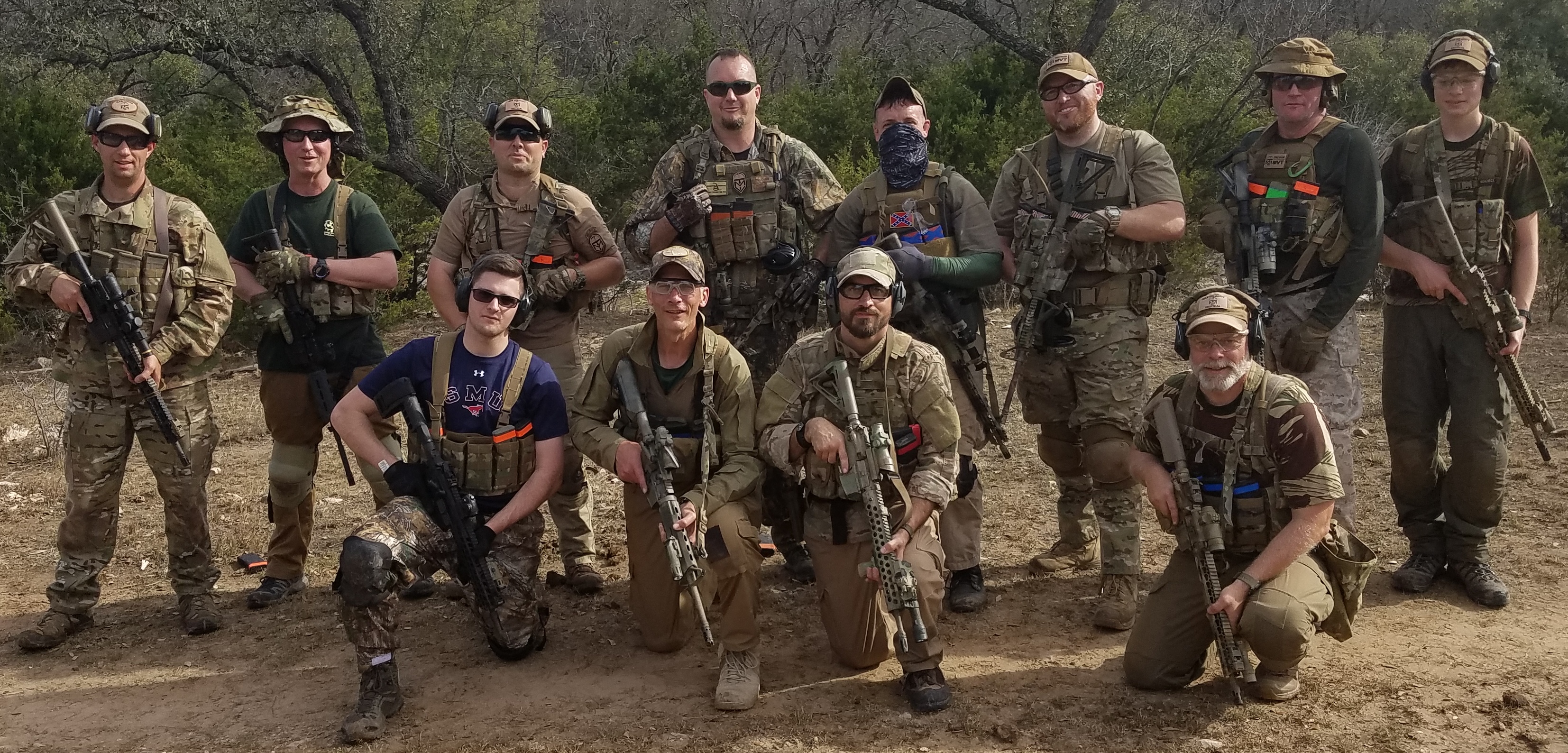 This was my second year training with Max in Texas. The first year I took the Combat Team Tactics / Mobility courses and they were great. This training is highly applicable towards situations that could be encountered in a hostile environment. I immediately started planning to attend classes in 2018 as soon as the classes in 2017 concluded. Max's classes can seem intimidating before attending but are brilliantly sequenced for safety and so the lessons are retained by the student. Everything Max teaches has value on both a civilian and military application.  This year I attended 8 days of training which was comprised of 2 days of HEAT 1, 4 days of HEAT 2, and 2 days of CQB/FOF.
HEAT 1: I am always amazed that there are people who turn up their noses at spending a day working on the basics of shooting, weapon manipulation, and movement drills, I have taken many carbine courses and still find  a lot of value in Max critiques and suggestions. The basics are the most important thing you can be competent at as they are the basis of anything else you will do. Max will have you competent at running your weapon very quickly if you pay attention to what he says. The movement drills that you will do during this class are well thought out and will begin to get you up to speed on the movements and tactics that are practiced in the second half of this class and the advanced drills that are part of HEAT 2.
HEAT 2: This class consists of both lecture and drills, which is very unique to Max. Most carbine courses just have you run drill after drill on a square range which is tedious and leads to safety issues by students that don't fully understand the concepts. All of the drills we did were discussed, diagrammed, and rehearsed to give us a more thorough understanding of the drills tactical purpose and sequence of movements. Max' real world experience allows him to give you context about tactics and movements that are used in the SF community.  All of these things lead to an amazing amount of retention of the material taught. Even after a year between trainings with Max I felt like I hadn't lost any of what I had learned from him previously.
CQB/FOF: This was an extremely fun and fast paced class that combined lecture, tactics and drills to give us an introduction to best practices for room clearing and securing a building in hostile environments. By the end of this class we were taking many fewer UTM casualties than when we started. In many instances UTM training has the inclination to devolve into an airsoft or paintball free for all mentality which is marginally useful at best. Max attention to detail and his specific sequence of training kept us on task, learning and improving for the duration of the class. Additionally as in all of the time I have spent training with Max safety was the first priority and in no instance were unsafe practices tolerated among the students.
Thanks for the great training experience Max! I'm looking forward to next year and ready to book as soon as it is scheduled.
James D. in Texas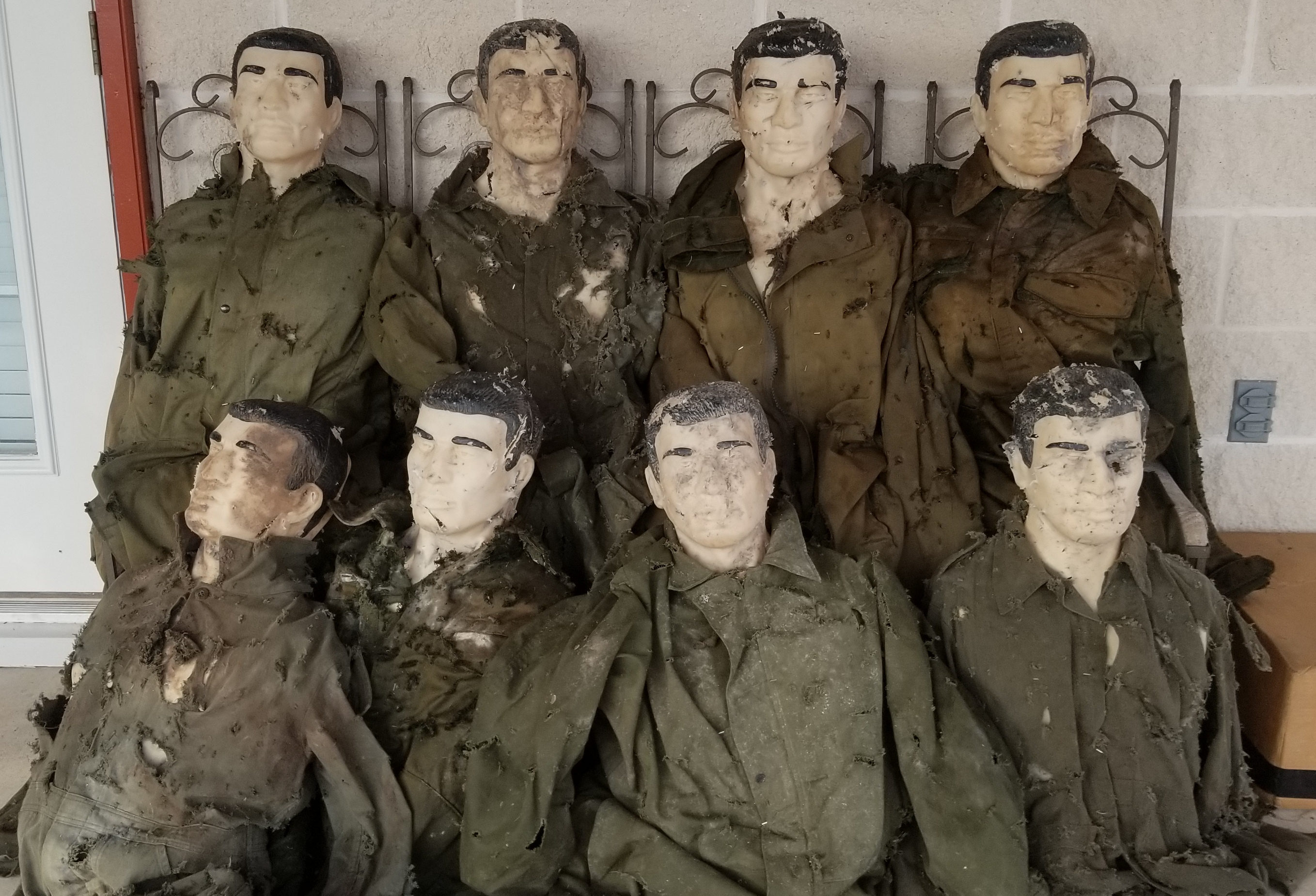 Above: Ivan Class Photo, Texas 2018.
---
Review: H.E.A.T. 1 Texas: February 2018: Ken
The bottom line: MVT training is an excellent choice for anyone serious about improving the odds of surviving in a dynamic, non-square range environment.
Background: I have attended previous MVT classes in WV and in Texas.  This time I brought one of my sons for his first firearms class.
Class content includes rifle manipulation, reaction to contact, team fire and movement (break contact and assault through), communication.
Teaching:
- For each drill: lecture, demonstration, rehearsal and live fire.  Immediate critique and student feedback.  The drills build in complexity and provide common sense solutions to tactical problems.  Max added a drill based on a historical scenario that fit the terrain quite well; I thought it was compelling.
- There are alternative ways to move on the battlefield and Max explains why, given the circumstances, one approach might be more appropriate than the other.
- Max uses popup targets as appropriate.  These are useful, but hardly necessary.  How a contact is initiated is not nearly as important as learning what to do in response.  The ultimate goal is to break any contact paralysis and immediately roll into the correct battle drill.  Knowing when to change the drill to another (for example, from bounding back to a peel) is equally important.
- This class featured unusual local weather with continued heavy freezing rain the first day.  Max adjusted by moving everyone back to the lodge for front loading of the lectures, as well as some welcome shooting from covered positions, so that all subjects were addressed with ease during the course.
Safety:
- I have never felt any uneasiness about my safety at MVT and I certainly would not have brought my son for training if I had ever seen anything worrisome.  Max explains safety angles, demonstrates proper weapon handling when moving around teammates and enforces all safety rules by carefully observing for developing situations (typically a student surging/delaying slightly off the line of advance of his team).
Students:
- An excellent cross-section.  People you would very much want to associate with outside of the training environment.
Location:
- A central Texas ranch, some low mesquite cover, minor elevation changes, river beds.
- Comparison with MVT home base in West Virginia:  WV is hilly and covered with a hardwoods forest; Texas has much longer sight lines.  WV has both cover & concealment, Texas has some concealment, very limited cover.  This affects the number of bounds necessary to break contact and the duration of fire necessary to suppress the target during an assault.
Accommodations:
- The ranch has a great lodge with WiFi, cell phone coverage (at least my ATT cell phone worked fine), a full kitchen and a comfortable great room with satellite TV.  Students take turns preparing breakfast for the group and typically go into town for (outstanding) BBQ each night.  Thus, learning continues after the days' drills have concluded.  Also the camaraderie helps make possible frank group evaluations; there is a remarkable willingness by the students to accept the suggestions of one's peers.  I do suggest driving a pickup—a passenger car can traverse the roads on the ranch, but a pickup is better.
Fitness prerequisites:
- Max requires that each prospective student self-certify completion of a simple fitness test prior to the course.  The standard is not difficult at all; I am 61 years old, a non-athlete, and the test was a non-issue.  If someone can't meet the standard, then he is delusional as to his capability to fight in anything other than a static scenario.
Ego prerequisites:
- Check your ego at the door and approach this training with an open mind.  I imagine that some potential students may worry "how will I look", or "can I handle it".  If you have rudimentary rifle skills, you are ready to benefit tremendously from this training.  If my son can walk in cold, learn a lot (including important areas for improvement) and have a great time doing it, then you can as well.
Summary: MVT provides training that you are not likely to find anywhere short of joining the armed forces.  Because MVT trains in both Texas and WV, you can train in terrain that is probably similar to that around your home.  An added bonus in Texas is the co-located lodge (and the local BBQ).
Ken
Here is a video from the HEAT 2 class, currently ongoing. This video is probably the only one we will produce from Texas this year:
5 man patrol. React to close contact. Cover Shooting. Skirmish / Fight Through. Move / Fire technique. The Theme of the Texas Class this year is 'Rhodesia.'
https://youtu.be/XLDR8ikHgzQ