Doc Sends: (Doc's website is: TACMEDICINE)
Many readers are familiar with the Signal Corps blog written by Sparks31 (
http://sparks31.wordpress.com/
).  You may also know that he ran his first grid-down commo course about a week ago in Timonium MD.  As a student of Max's and a commo enthusiast, here is my report and a hearty recommendation to attend future offerings…
The first grid-down communications course was held April 4-6 in MD.  We had about a dozen attendees from varied backgrounds (no experience to grizzled vets).  The Friday evening was really a meet&greet with learning activities starting Sat am.  Saturday day was a guided tour of one of the larger ham radio shows on the East coast, with gear and equipment tips from Sparks.  I bought a couple of handheld radios and got into a lively discussion of the pro/con of the $50 Chinese VHF/UHF radios.  The evening (1800-0100) was spent in classroom lecture, Q&A and discussion of topics such as AO spectrum awareness, scanning, intercept, and portable radio gear and procedures.
Sunday was the FTX at a local park – we arrived, walked 100m into the woods, and proceeded to set up 4 portable radio stations.  See pics on the site for more flavor.  We were able to check into a local HF net with a 5W transceiver and a wire thrown up into 2 trees…  There was lots of opportunity to review portable power sources, antenna logistics, and gear.  There was too much information (but a book to take home); the most benefit seemed to be for those with some radio background.  As well, given that it was the first iteration of the closs, things went pretty smoothly – only a few bumps.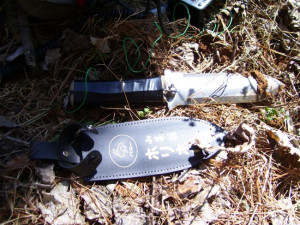 The pic is of a Japanese gardening knife (for digging cat holes) modified with a welded-on bolt and wire to be a ground rod for a radio antenna.  Dual purpose gear!!!
If you are going to be the commo guy for your AO, take the class.  Schedules are posted on the site and the cost is very reasonable.
Doc