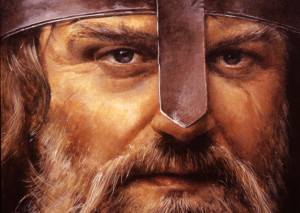 In comments on my previous post, 'An Historical Perspective on Religion', 'Asatur' made the following comment:
"……..some interesting points, especially the one on control. I understand that traditional Americans see themselves as rugged individualists in stark contrast to the older European aristocratic order from which they divested themselves. Instead of being a thrall (slave), each man is sovereign of his life- his own king. However, on the other side of the coin we find that our pagan/heathen ancestors did not generally see themselves separate from their culture, tribe or people- living or dead, which for them would have been a fate far worse than a death sentence. Honor was everything and it determined not only our position in the afterlife, but also our family's position in the afterlife. If we are to succeed or survive against the "Borg", we must place emphasis on family, tribe and folk. In this multi-cultural, corporate feudalistic mono-culture, we must determine who our tribe is and what our traditional culture is and pursue it, ignoring the distractions of the "Matrix." Some may be able to sojourn through life on their own "might and main" but most of us will need others- "Faith, Folk, Family." Warriors are bound by their oath negating a certain amount of their personal sovereignty for the benefit of their people. The problem is the "people" and traditional cultures have been betrayed and enslaved to be thralls on the corporate estates, we are nothing more than "human resources." Our political masters are not of "the people" or they are traitors to "the people" and their cultures; we must be prepared to secure our own way. …."
This part of the comments section was discussing the old Folkish religion, the Norse Gods, now known as Odinism or Asatru. What is uncanny is that what 'Asatur' says chimes exactly with much of what myself and others have been saying: Tribe. Local. I have made specific comments in previous posts talking about how you have to submit to a team, a discipline, if you are be be successful on the battlefield. Such teamwork does not enslave, or enthrall, you. It is consent given willingly by a warrior in defense of his or her Folk. Such discipline limits personal sovereignty for the time of service, but this is needed to allow a military team to function. It does not equate to communism.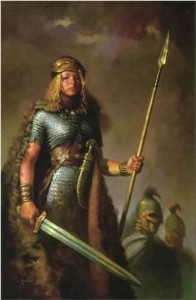 The comparison between the extreme 'rugged individualist' and the tribe, or clan, member is very interesting. Particularly against the backdrop of today's lack of any real culture or society. I have often talked about network.
If read in conjunction with this piece 'Becoming the New Barbarians' (WRSA) it makes you realize that nothing is going to change unless it is made to change. Our Masters, the statists,  are not good people who will suddenly realize the error of their ways and rush to make it good.
So in the meantime, build Faith, Folk and Family. It may be that, in lieu of a spontaneous restoration of rightful liberty by Freemen, there really is no choice but to kick this thing off. That, or death by soft tyranny, by the tapping of the bureaucratic keyboards, punctuated by the occasional flashes of violence as the raids go in on select victims.
Faith, Folk and Family. Sharpen your spears, strengthen your sword arms.
For surely, they are coming for you in the night, to burn your hall around you. 
Will you burn, or will you go out to meet them?
Who will take their place in the shield wall, to stand?
I will stand with you.
Live Hard.
Die Free.
Max