There was a good series of comments veering towards urban defensive fighting in the post 'Gear, Guns….What's Missing? On a  general note, I am impressed by the high level of the commenters that I am seeing right now on this blog. Please keep it up.
The point being discussed was the ability of a small force to hold up and attrit a large force in urban fighting. The other point was the need to be able to conduct limited urban assault operations. Sure. Let's look at that:
Firstly, I'm not telling you that you don't need to know how to conduct urban operations. I am saying that you should concentrate on rural operations as a strategy (more in a bit) and also that you should get the basics squared away before you move on to other techniques, such as urban assault. So, let's concentrate on light infantry rural basics. If you can get those drills down, then you have the basics. Those basics, such as fire and movement and flanking attacks,  very easily translate to any further training you want to do in urban  operations.
However, when looking to move to urban operations, you need to train in the right way, whether that is defensive or offensive in your intent. You need to stay away from the 'SWAT/CQB/Hostage Rescue/Tacti-cool stuff.
Really, urban operations are a light infantry specialization, just like jungle warfare, that you can train in once you have the basics. You then add this kind of operation to your skill-set. But don't try and get to it until you have fully trained in the basics.
It is very likely, if you are engaged in any kind of offensive operation, that you  may have to assault a building, small cluster of buildings, a farm complex or enemy camp. If you are to do so, you will conduct the raid based on all the sound principles of a light infantry raid (camp attack). You have to take account of the need to breach and enter buildings, conduct fire support from building to building, and move up to and into buildings, from one to another. Any fighting in such an environment adds another dimension. If you haven't trained in it, it will quickly go to a cluster.
If you think for one moment that this is the same as a dawn door-kicking raid, or a SWAT raid, then you are sadly mistaken. It is the application of sound mechanics and sequencing, in  order to suppress, move to, breach, enter, and clear each subsequent objective. Unless you have time to rehearse, as well as floor plans, there is no real forward planning once you breach and enter a building. You must do so with speed, flexibility, violence, surprise if possible (choice of breach point along with violence of breach), and a huge amount of aggression. Leadership and communication is vital, with squad leaders firing assault teams into the next room on the fly in order to clear the floor, and other squads coordinated outside the objective building suppressing depth and mutually supporting buildings.
Regarding the ability for a small group to defend an urban area and inflict massive attrition on an attacking force (Grozny was used as an example): True. But you will also suffer casualties. If you adopt a fight-back to a strong-point approach, you may well die in place. Better to adopt a fight-back and fade away approach, where you ultimately do not care whether you hold the place or not – you are simply doing it to inflict casualties on the attacking force. That is what happenned with the 'Battle of Harrisonburg' in Patriot Dawn. That's why I put it in the book. (Yep: method to my madness).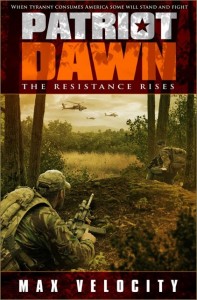 If you are going to attempt to delay and attrit an enemy force in an urban area, here is a quick list of things to consider:
1) You need to be light on your feet, in small groups, falling back before the enemy advance. Ambush, snipe, hit, run.
2) Use of obstacles to channel the enemy into killing areas. Time to prepare in advance is vital.
3) Streets are kill zones. Prepare rat-lines to provide rapid egress routes from fire position to fire position, within buildings or otherwise in cover.
4) Prepare mutually supporting fire positions. Fire from places other than windows. Remove bricks, tiles, cut holes etc.
5) Booby traps to delay follow up.
6) Prepare buildings to slow down enemy advance/follow up. Examples: fill rooms with furniture except where you have rat-lines. Wire. Booby traps. Murder holes. Grenade chutes. Nail boards over stairs, throw oil over it. Fire. Use thermal smoke to obscure the battlefield.
7) You must use obstacle and weapon systems to stop vehicle/armored thrust up the main thoroughfares. Otherwise they will 'thunder run' it towards your strong points and take them out. Collapse buildings, dig holes, use piles of vehicles. You need plant machinery to properly do this!
8) Enemy use of artillery will create more obstacles for their movement. Shelter in basements.
9) Consider use of strong-points or the fade-away method. Do you need to hold it and die in place? If you plan to fall back to better defended fighting positions, they need to be prepared: sandbagged or otherwise protected positions within rooms, roofs shored up with beams etc. – fighting positions within rooms.
10) Hit, then run. Slow them down and kill them on obstacles. If you stay too long in a  firing position, and they bring up a thermobaric and put it into the house, you are toast.
That, above, is a few pointers on how you may want to fight an urban delay operation. Delay, not hold and die. Do you want second Fallujah coming down on your head? I didn't think so.
"He who defends everywhere, defends nowhere."
Which leads me on to the strategy (not the tactics. Yes, if you want to be able to conduct limited urban assault and delay operations, that is good. So long as you grasped the basics and are able to move onto it. Oh hell, now I am going to have to build a kill house and do isolated building assault drills! Give me time!)
This is the strategy that I  would recommend if facing SHTF with the potential for tyranny from enemies foreign and/or domestic:
Abandon the urban areas. They are centers of gravity not only for massive killing by the Regime of the former entitlement types, and general rioting and killing, but they are also where they will concentrate force. The Regime will also need the main supply routes (MSR) between the urban areas.
Move your tribe to the rural areas with a supply of food and the ability to grow more. Move the families to protected areas.  But don't get too comfortable – be able to pack up and move if the tides of war wash your way. If you look at the history of this kind of SHTF, such as Europe in the 1940's, you will see the massive killing and tides of war that went on. Often it was only the 'big battalions' that survived.
Operate in vehicle unfriendly areas such as forest, swamps and mountains. Do not operate in 'tank country'.
The Regime will ultimately need the rural areas for food and resources. This is where you are. This is where the guerrilla campaign is waged. Hit and run. The federalized forces will be vehicle based and flailing around in the boonies – although never underestimate them, if they get some good units together that will be very effective. Hit them on the MSRs and if they come to raid into your territory.
But the enemy force will be concentrated in urban areas? I ask you – so what? They have to come out to try and defeat you. They will establish FOB/COP locations, mainly trying to control areas and defend MSRs. That is where you concentrate force and conduct limited raids, as well as ambush on convoys moving on the MSRs.
Remember, due to the absence of morality in modern federalized murder teams, you can't just pick up your musket and leave the farm for the front lines. Hellfire missiles will rain down into domestic terrorist houses. Villages will be surrounded by einsatzgruppen and rounded up/wiped out.  Families will be killed. You have to get them out and protect them. You must move them to a defended hidden area. It will be hot/cold/miserable. It is the long war.
What is to be hoped is that over time the Resistance will gain enough momentum to form larger units and move to the 'big battalion' model of full civil war. If that happens, offensive operations can be conducted to destroy the elites in their urban protected areas. Until then, operate in rural areas in small light infantry teams.
I encourage intelligent comments and development of my summary, and in  the meantime I will investigate the forum idea, where we can take it a  level farther.
Much of the detail on this is covered in 'Contact!'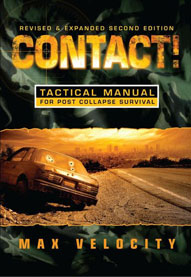 Live Hard.
Die Free.
Max