We offer a variety of training locations.
The Velocity Training Center (VTC) is our main permanent training facility, and is located close to Romney, West Virginia. We also have training locations in Texas and Idaho where we return annually for classes.  We also offer a number of mobile training classes, taking place in different locations. Get in touch with us to see where these training courses will be and book your course now.
Training Locations Available
Velocity Training Center (VTC), Romney, West Virginia. Primary Training Facility.
Texas & Idaho Annual Mobile Classes.
Mobile Training Classes - countrywide.


---
Velocity Training Center (VTC), Romney, West Virginia
This is the primary facility. Max Velocity Tactical has a 100 acre training facility in West Virginia. The Velocity Training Center (VTC) is located in the Appalachian Mountains, close to Romney WV, 40 miles west of Winchester VA. Those attending classes will get site maps and joining instructions. VTC has excellent terrain for tactical drills and movement and offers natural live firing areas as tactical ranges. The live firing areas have been enhanced with the addition of electronic 'pop-up' targets for greater tactical realism. There are also purpose built square ranges at the facility.
The full array of MVT classes is held at this location.
Training in Romney, West Virginia
---
Remote / Mobile Classes – Your Location
MVT runs open enrollment classes across the country. See the Mobile Training Page for more information.
We are available for group / private bookings or to host an open enrollment class at your suitable location.
For class bookings and general MVT Inquiries: maxvelocitytactical@gmail.com or 'Contact Us.'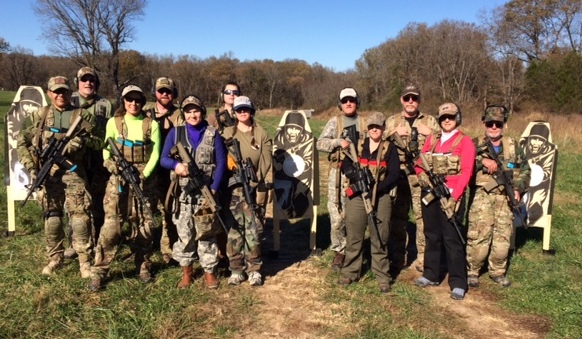 Mobile training CRS Class in Missouri.