OPTIONAL AT COMBAT TEAM TACTICS AT VTC ROMNEY AND MOBILE CLASSES
OPTIONAL AT MVT WEST COMBAT RIFLE SKILLS
This is an optional class that takes place after the training day.
Available September thru April only.
Class start time is confirmed at close of play of Friday's training / depending on time of year. Note: this class is designed for you to bring your own equipment.
ROUND COUNT: 
400 rounds
COST: $200
NIGHT OPTICAL DEVICE FIRING
NODF is designed to introduce students to their night vision, weapon and aiming devices. Students will learn how to integrate different systems to allow them to effectively use their weapon at night. Students will also be shown combat proven TTPs for night time operations. Students will get the most out of this class if they come with quality night vision, a reliable weapon and some form of infrared aiming laser. If you are unsure of your gear please email MVT.
TOPICS COVERED
NOD capabilities and limitations
Introduction to night operations
Equipment selection and set up
Movement
Tactics, techniques and procedures for NOD usage
Understanding common countermeasures
Night firing: square range and a simple tactical exercise
NECESSARY EQUIPMENT
Functioning, modern, magazine fed, center-fire rifle (ex. AR15 family of weapons, AK47 etc.)
Quality hands free night vision device that will not fail on you, with head mounting ability (skull crusher minimum)
Infrared aiming laser (DBAL type or similar), ability to mount it on the weapon
Ability to carry at least two reloads on your person (battle belt, magazine pouch, chest rig, etc.)
Ear protection (electronic is preferred but we understand the limitations of equipment integration)
Clear eye protection
Positive attitude and an open mind
RECOMMENDED/OPTIONAL EQUIPMENT
Seasonally appropriate clothing (obviously the temperature drops at night so be prepared)
Light weight helmet for your NODs or Crye Precision Nightcap (w/ shroud)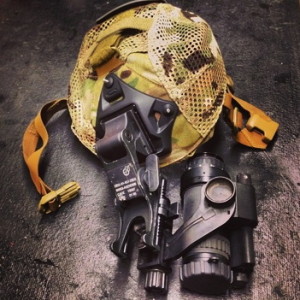 Above: Crye Nightcap, PVS-14  w/ shroud, mount and arm
Spare batteries for all electronic equipment
Red lens flashlight
Notebook and pen or pencil
Weapons maintenance gear (lube, cleaning kit, sight or weapon specific tools, etc.)
Knee and elbow pads
Best Set Up:
The ideal setup for this class, which applies to the actual use of night vision gear at night, is:
PVS-14 night vision monocular, head mounted.
You should mount it on a helmet, bump or ballistic type, or a Crye Precision Nightcap with shroud (awesome lightweight option). The standard skull crusher is not ideal because it does not allow you to flip up the PVS-14 (and it crushes your skull!)
DBAL style rail mounted IR laser, preferably with a rail switch to turn it on and off (so you can have  a momentary on only option).
Weapon mounted IR flashlight is also useful, although we will tell you when and when not are good times to use this.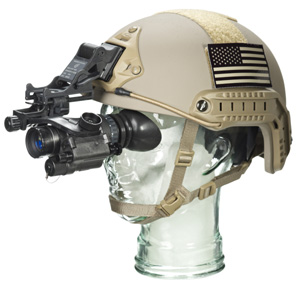 Above: PVS-14 on Helmet, either a bump only or ballistic type
If you are able to rig this gear to your head/weapon in advance, that will save time, rather than getting it out of the box on the night. If you don't have a clue, we will help as necessary. We will give you the basics, and also show you the utility and limitations of this gear. You can't pull it off the shelf and suddenly own the night! Hours under NVG's are precious training. If it is dark night and you have never used this gear before, you can feel a frustration and claustrophobia that we will help you with. Training time is vital with this gear. Under safe and controlled conditions, we will zero your IR laser, get you night shooting, do some controlled movement /target engagement on the square range, and take you out on a simple controlled night ambush on the tactical ranges.
Above:  example DBAL fitted on top rail, with helmet with NOD monocular attached.
  Recommended sources of night vision equipment and aiming lasers:
JRH Enterprises