OPEN ENROLLMENT. NO CLASS PREREQUISITE. HELD AT VTC ROMNEY AND AT MOBILE CLASSES.
Max Velocity Tactical (MVT) offers TacGun 2 Day Force on Force (FoF) Team Tactics Events. These are immersive scenario based TacGun Events utilizing Ultimate Training Munitions (UTM) Man Marker Rounds (MMR). The TacGun FoF classes involve the practical application of team based small unit tactics (SUT) in controlled training scenarios.
TacGun Force on Force events are an excellent training opportunity as part of the MVT training progression - these events fill a vital role in developing your combat effectiveness, with a focus on teamwork, leadership, and team communication along with effective tactical application. 
These events are also an excellent way to introduce people to TacGun. The events incorporate a learning element as well as the team tactical competition. New students will get 'on the job' training at the event, by both experienced alumni and MVT cadre. 
Max Velocity Tactical is approved as a Professional Training Organization (PTO) by Ultimate Training Munitions (UTM).
The FoF Team Tactics events are woodland based, utilizing the training range of the UTM MMR out to 50 meters, and incorporating the CQB buildings / structures into the training environment.
Outline:
Prerequisite: None.
2 days of scenario based tactical application of team skills.
Team / Squad scenarios from team on team, tactical exercises to squad attacks.
Immersive scenario training.
No live ammo purchase required.
Cadre will accompany teams to act as umpires / safety / debrief.
Leaders will be nominated / rotated per mission.
Individuals will be formed into teams, pre-organized teams are welcome.
This is an opportunity for either individuals or formed groups to test the application of their tactical training.
---
MVT also offers a '1 Day Close Quarter Battle – Intro Day Class' prior to FoF Team Tactics events at the VTC, Romney. We also often offer CQB Intro Days as part of Mobile Classes.
2 day Class Cost:
$400 class fees

$400 UTM ammunition.

Total cost: $800
Cost of the 3 day CQB Intro / Force on Force Package:
$550 Class fees.

$560 UTM Ammo.

Total: $1110

NO LIVE AMMO COSTS!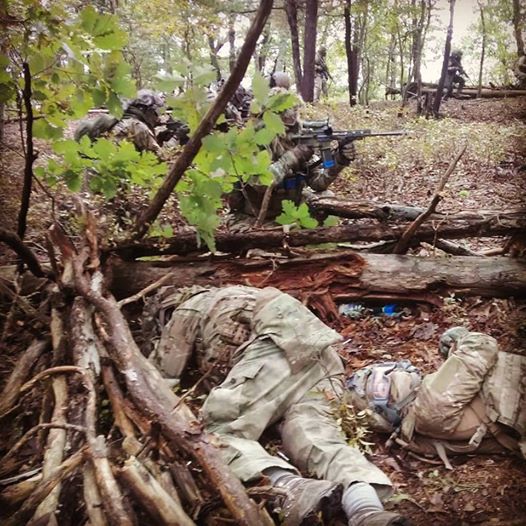 What FoF Training is, and what it is not:
FoF Is Not:
Paintball
Airsoft
Free-for-all games
FoF Is:
Scenario based TRAINING.
It follows on from CTT/CP (or CTT only) and is an opportunity to validate skills and training in a dynamic scenario based environment.
Think of the FoF training you may be familiar with in CQB training, applied out in the woods to Small Unit Tactics (SUT).
This is an excellent environment to develop both teamwork and leadership skills in a simulated combat environment. The specific scenarios will be student-led and cadre adjudicated.
The FoF Man Marker Round travels at around 375 m/s and is thus about the same as a paintball round, and thus there is not a significant pain penalty if you get hit. All exposed skin is covered and safety gear is worn. The UTM round is accurate out to 50 meters and is thus good for use in the restricted sight-lines of the wooded VTC training area.
UTM Man Marker Rounds:
The MMR is an excellent product that will run through your rifle with a replacement 'blue bolt,' supplied by UTM. We have purchased UTM bolts in 5.56 for the AR15 platform. Otherwise it uses the same magazines, however the rifle fitted with a UTM bolt is be unable to fire live ammunition.
The technology of the UTM MMR is ingenious in that it fires a low velocity projectile, designed in a way to provide enough gas to cycle the rifle, which is low pain on impact. The MMR is not as hard hitting as simulation, but you will still feel it. The MMR has an effective training range out to 50 meters, which is ideal for use in woodland conditions.