OPEN ENROLLMENT. ONLY AT THE VTC ROMNEY LOCATION.
Summary: This is an infantry combat leader class designed to teach you leadership, decision making, and the planning and the execution of combat missions at the team and squad level. There are no training prerequisites for those coming from alternative tactical training backgrounds. There is also the option to attend as a rifleman with no command responsibility. This is not a live fire class, and runs utilizing UTM Man Marker Rounds. This class is currently intended to be an annual event.
How it works:
Class runs Sunday – Sunday. First Sunday is reception (1500 hrs) / lecture.
Monday AM is lecture / practical planning exercises.
Monday PM first Mission.
Each subsequent day has a morning and afternoon tactical mission.
Nominated Squad Leaders will be given their missions the night before, to allow planning time.
Voluntary night recon patrol missions are available.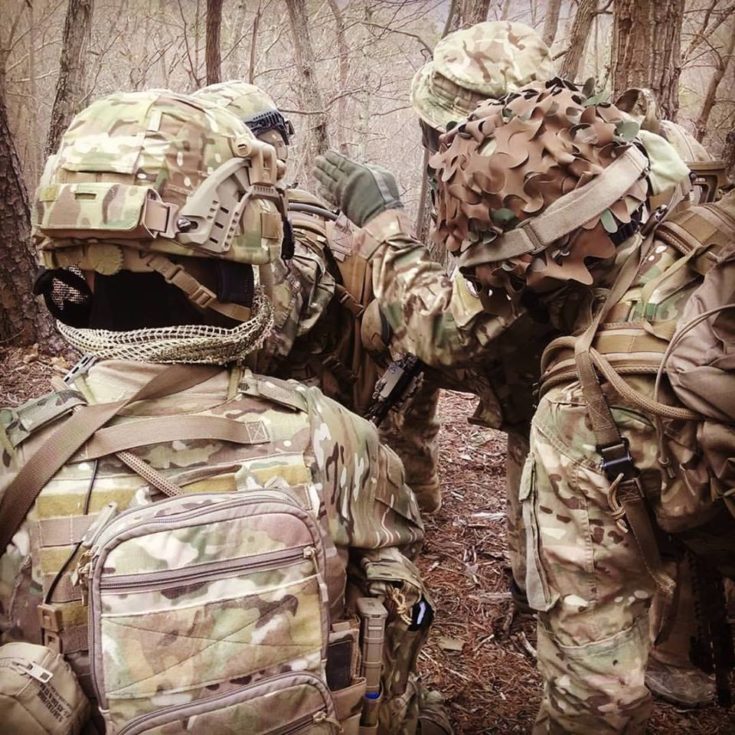 Students will rotate through command appointments, with each leadership student getting the minimum of one full rotation as squad leader. Each scenario will allow time for those nominated as leaders to conduct full battle procedure:
Receive Mission.
Battle Procedure: planning, mission brief, rehearsals.
Execute Mission: UTM force on force battle exercise.
Debrief / lessons learned.
When not in a command appointment as a squad or team leader, you will be a part of the squad, supporting execution of the mission. Although the class will at times be demanding and tiring, it is a learning environment and will be managed accordingly.
Type of Attendance Available
Leadership Student (with a command appointment).
Rifleman Student (without a command appointment).
OPFOR volunteer: 4-6 non-paying volunteers required per class.
The intent of this is to allow those with the confidence and training in basic small unit tactics to attend the class and develop their leadership skills via a mix of command appointments and rifleman roles. Those who simply want to learn from the class without assuming a command appointment can attend as a rifleman with no command responsibility. Up to 6 non-paying OPFOR volunteers are required for each class.
Duration
Class runs Sunday to Sunday.
Arrival / reception at 1500 hrs Sunday.
Training Monday thru Sunday.
Depart Sunday.
Numbers
Cost
$950 tuition.
$800 UTM ammo.
This is NOT a live fire class.
Deposits:
$400 deposit holds a space on the class.
Deposit is non-refundable, but transferable.
If the class does not meet minimums, students agree to transfer the deposit to another MVT class of their choice.
Ammo:
This is NOT a live fire class.
Ammunition will be UTM Man Marker Rounds.
You are required to purchase 1000 UTM Man Marker roundss @ $800. Student ammo expenditure is anything from 1000 – 1250 rounds, Additional UTM ammo will be available on site to purchase at $40 per 50 round box (cash). This price is cost to MVT, there is no profit involved.
You will need your FoF protective gear as per FoF Team Tactics.
For the detail on Personal Protective Equipment (PPE) for Force on Force (UTM ammunition), click the link below:
Guidance on UTM Force on Force / CQB Personal Protective Equipment (PPE)
Accommodation:
You are encouraged to camp at FOB Velocity at the training site, for the team building / scenario factor.
You can camp in whatever comfort you want at the FOB.
A Team Cabin is available at the FOB.
You are not prevented from staying in local hotels if you wish, for all or some nights.
Fitness:
Your fitness will need to be adequate to be mobile across the Velocity Training Center with a combat load, at times carrying gear to stay out overnight / self sustaining. You have advance warning to conduct a fitness regime, so that fitness is not your limiting factor. See Tactical Fitness Training Plans for more information.
Gear
AR15 rifles only, due to the UTM bolt requirement.
Protective gear as per FoF Team Tactics.
Personal gear as per:

Combat Team Tactics
Combat Patrol
You will mostly be moving with a basic combat load for short duration (up to 12 hour) missions. Lite battle belt, chest rig / plate carrier and lite daypack are recommended.

Class joining instructions will include guidance on the number of MREs/alternatives that you will need to bring for tactical exercises.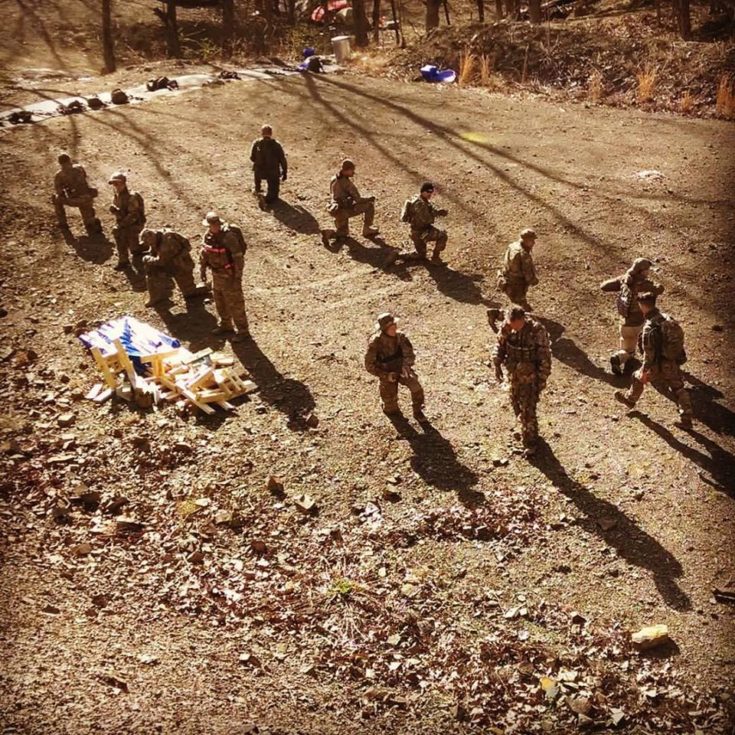 Prerequisites
No MVT Class prerequisites, although CTT/CP/FoF is recommended.
You must have some appropriate infantry or civilian/other tactical training. This class will not be taught from the ground up of basic tactics. The focus is on the planning and leadership. If you need help with specific techniques for your mission, of course it will be given. It is a learning environment, not sink or swim. Cadre will shadow you through your appointment, helping or hindering, as deemed most beneficial to your training development.
OPFOR
There will be a requirement for a 4-6 man volunteer OPFOR to support the training objectives.
OPFOR will require the same gear as the students.
There learning opportunities for OPFOR, by taking part as enemy and listening to debriefs.