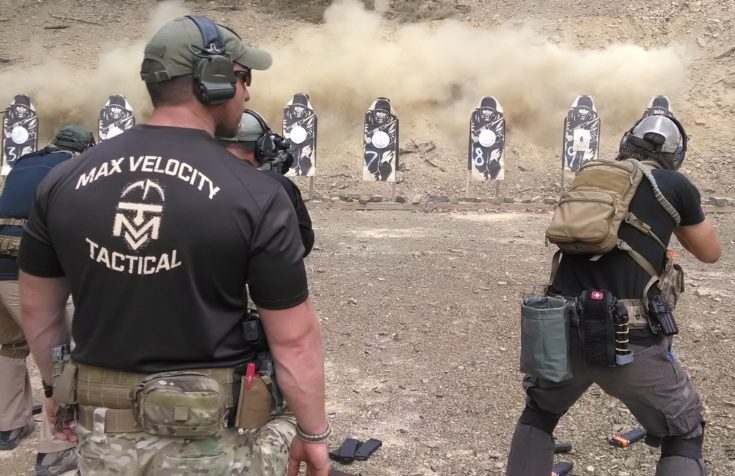 Training Programs
Max Velocity Tactical classes specialize in the teaching of combat proven, adapted, legitimate light infantry tactics, techniques and procedures. Training is informed by a background and experience in SOF / elite forces, and additionally by close protection / paramilitary contracting work. These classes are the real deal, and the tactics, techniques and procedures are familiar to any graduate of Ranger School or  SFQC. Tactical classes are not simply a regurgitation of basic military manuals or training, but are adapted to the students whether civilian, military, or contractor, based on real world operational experience in hostile / combat environments.
Physical Fitness
Due to the nature of the training, in real combat tactics, a basic level of physical fitness is required for all tactical classes that move off the square range. You need to have a basic level of physical fitness and agility, as well as be mentally alert. See HERE for more detail.
Accommodation/Facilities
As part of the information packet sent to you once you make the deposit to secure your place, there is a list of local hotels/motels and campsites. The KoolWink motel in Romney is affordable and popular with students.
Camping
We offer camping on-site, free of charge. It is basic backwoods camping with no electric. The campsite is next to the main parking area and square range. There is a porta-potty, fire pit, solar shower stall and some picnic tables at both sites. Families are welcome to join you for camping, even if they are not participating in the training. There is plenty to do in the surrounding area.
Shipping Ammo for Training
VTC ROMNEY
: If you are flying in and wish to have ammo shipped in advance, you can ship it to the Max Velocity Tactical UPS Mailbox: Max Velocity Tactical 15191 Montanus Dr #127 Culpeper, VA 22701.
Rules
Communicate this well in advance (maxvelocitytactical@gmail.com). The shipping address is Culpeper, the training site is Romney (2 hours apart) – if you are attending a class with another instructor, Max may not be around to collect this ammo for you in Culpeper and bring it to Romney. Check and confirm.
Don't ship anything illegal. MVT is not an FFL.
Send a reminder prior to your class about the ammo to ensure it goes in the truck.
MVT WEST
: Communicate directly with Chris (
mvtwest@gmail.com
) for arrangements for Spokane classes.
MOBILE CLASSES
: Communicate with Max (
maxvelocitytactical@gmail.com
) for local arrangements.
Loaner Rifles / Magazines ( VTC Romney Only )
This service is designed for those who may have difficulty travelling to the training site with their rifles and standard capacity magazines, or have a problem owning standard capacity magazines in their home State: We currently have two (2) AR15 rifles with Eotech sights available to rent, along with a set of eight (8) standard capacity magazines.
Cost
: $50 per day.
Due to DoS ITAR regulations, tactical training is only available to US Citizens/Legal Residents.